by Nidhi Singh
A specific nationality is not required to pursue a certain style of dance.  At least that is what Jin Won believes about the liberty of dance forms.
"It's basic human emotions," she said. "Every culture has different customs and traditions, but every human being feels the same thing."
The idea of communication beyond language triggered Won's interest in pursuing dance in India. Kathak, in particular, appealed to her because of the natural and suggestive nature of the music and dance, which provided more space for imagination.
Won, originally from South Korea where she studied theater and worked to save money, is a professional kathak dancer, choreographer and teacher. She studied kathak and tabla in India for 15 years, and her journey led her to become an ambassador for Indian classical arts. Although it is not uncommon to see a non-South Asian practitioner of various Indian art forms, Won, no stranger to breaking barriers within the beats of Indian classical music and dance, has a unique story.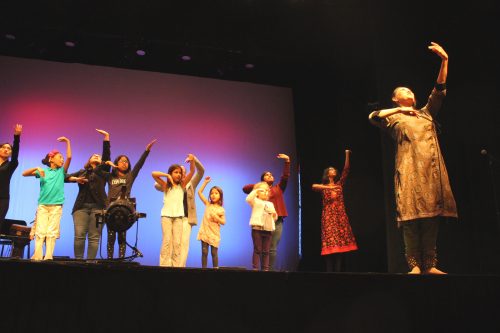 [Jin Won practicing before a show/Photo Courtesy: Nidhi Singh]
As any newcomer in a foreign society, Won met good people, bad people and supportive people, among many other types of individuals, and she gradually assimilated into a community that embraced her and her interests.
"Many people ask me 'How do you like India?' she said.  Old people understand me when I say that it's a relationship like an old married couple."
With a strong language barrier and a routine of eating only Korean food, the move to India was a cultural shock.
"In that time, we didn't have that much information about India regarding Indian arts," she said.
Names like Rabindranath Tagore and Mahatma Gandhi were the extent of her knowledge on India. Upon arriving in Bombay, she was surprised to see a metropolis, instead of the green and laid-back environment she expected.
Aside from being South Korean, she also refused to let her gender and age inhibit her pursuit of Indian performing arts.
"Back then, everyone told me that no woman plays tabla and that you have to start at a young age," she said.
Won began her studies in both kathak and tabla in her 20s, a feat that requires strong dedication and long practice hours in order to perfect one's technique. Apart from learning the technicalities, she said discipline is most relevant to the Kathak dance form.
Currently, Won is a performer and faculty member at the Taalim School of Indian Music. The school is home to diverse performers within Indian classical arts, many of whom are roommates residing in New Jersey. Won calls the school a kind of music ashram where Indian dance, music and philosophy can all be taught together.
Heena Patel, founder of MELA Arts Connect and a manager of business development for Taalim, first met Won in India when both were students at Rhythm Riders Music Productions, the sister organization of Taalim. Patel was struck by her dedication to learn two art forms, despite challenges impeding her way as a foreigner within Indian society.
"The big thing she conveys is that it doesn't matter what your background is, art is art," said Patel. "These are things that don't have language. They can cut across and connect."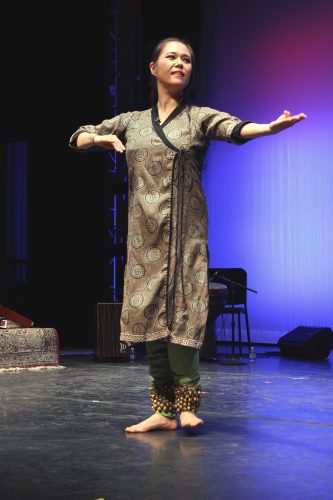 [Jin Won practicing before a show/Photo Courtesy: Nidhi Singh]
Won's mother and sister saw her perform for the first time last year when they visited the U.S. Won's mother, one of her biggest financial and emotional supporters throughout her 15 years in India, jokes that her daughter is half-Indian because of her attachment and comfort with the Indian culture.
Patel, who also learned tabla from the same guru, Pandit Devyang Vakil, said when Indians see Won perform, they first notice she is Korean. But once they've experienced her artistry, there is a level of appreciation that someone has taken a deep interest in their culture. Patel said Won conveys the universality of bringing people together.
"I try to find a way of communicating with people," said Won. "I try to find common ground where everyone can understand and feel it."
In Taalim's current traveling exhibition "Pradhanica," Won and fellow musicians with the school pieced together a set that lets audience members understand her emotions through the movement and rhythm sans lyrics.
In a purely rhythmic section of the piece, Won fuses two cultures as she wears a costume inspired by a traditional Korean dress called a hanbok.
Won takes costume as a part of language and expression but treads carefully because she isn't Indian.
"I don't want to be disrespectful to the culture. I'm just trying to be relevant to the modern world," she said.
As an educator, Won not only teaches but also interacts with her students by relaying stories that highlight the philosophical aspects of music and dance.
According to her, she tries to teach her students what first attracted her to kathak. Won used dance and music to help her understand life to become a better human being and continues to do so.
"As an individual artist and human, it's a way of living for me."
---
Nidhi Singh is a recent graduate from UNC-Chapel Hill with a degree in journalism and is taking this time to explore the world through photography, film, and words. She enjoys dancing, traveling, eating Nutella, and watching reruns of old "Friends" episodes (as should anyone!). Follow Nidhi on Twitter and Instagram to see where she takes her next selfeet.