by Nidhi Singh
For many years, billions of people across the globe have Bollywood to thank for bringing more masala into their lives. I mean, Bollywood is great–it has a little bit of everything. Romance. Drama. Comedy. Action. Music/dancing. Madhuri Dixit <3.
BUT, if we look closely, Bollywood movies have been toying with our emotions more than usual. Some films end happily while others don't. But what happens after the movie ends? Is the story actually over? Personally, I feel that some stories require a little more explanation hence the importance of sequels.
Just imagine the following films:
1. DDLJ 2: Kuljeet Returns
[Photo Source/Staging]
Kuljeet returns to find revenge on Raj for stealing Simran and making his life miserable. Is it safe to assume his life went awry after Simran ran away with Raj? Did Simran and Raj live happily ever after in Zurich or did Kuljeet wreak havoc on their quaint life? (I like to think they moved to Zurich because why not?)
2. Miss India
Mr. India was a superhero of sorts. But how cool would it be to see a female superhero with the power of invisibility? Maybe she can be Mr. India and Seema's daughter! But the real question is…who is going to play MOGAMBO?
3. K3G 2: Naina Ki Kahaani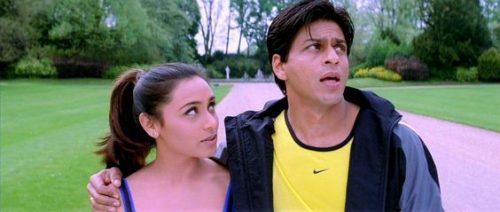 [Photo Source/Pinterest]
If it weren't for Naina, K3G wouldn't have been so K3G. She experienced enough gham in her life and I think it's high time she encountered some khushi. So what did Naina do after Rahul told her how he felt? I'd like to believe that she went on a Queen-inspired adventure to some far away country being that she's a rani and all.
4. Amar Akbar Anthony
Actually, a remake of this movie with the sons of the original actors would be a fun one to watch. Yes? Akshay Khanna, Ranbir Kapoor, and Abhishek Bachchan. This could totally be a thing. PLEASE!
5. Trishul 2
Bollywood movies throughout the 70s and 80s predominantly told the story of families that tore apart and were later reunited after the children grew up and crossed paths. Trishul is one of those movies. But after Shekhar, Vijay, and Raj reunited, did they really live as happily as the ending of the film insinuates? How did Vijay adjust with his half-brother and half-sister? TheAll Postsre's still so much to the story that I need to know!
6. PK 2: RK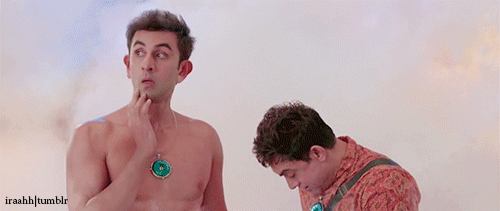 SPOILER ALERT. If you haven't seen PK — well, stop what you're doing and go see it now — you'll find that the audience was treated to a special appearance by the one and only Ranbir Kapoor. I'm sure we would all love to see how alien RK's experience pans out on planet Earth.
7. Hum Saath Saath Hain…Lekin Sirf Facebook Pe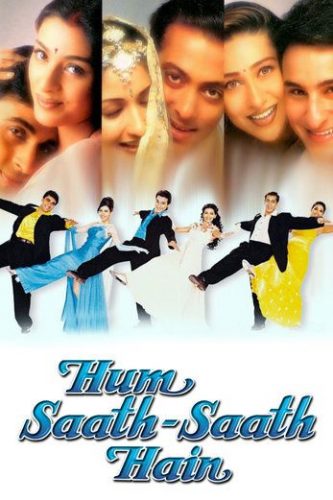 [Photo Source/Pinterest]
What happened to this happy-go-lucky family? Do they all still live together? Are those pictures on Facebook, Instagram, Twitter etc. just for social media purposes? Do they still sing the alphabet together? So many questions.
Alternate title: "Hum Saath Saath Nahin Hain"
8. Dil Phirse Paagal Ho Gaya
[Photo Source/YouTube]
Let's rewind back to 1997 to the romantic ending of Dil To Paagal Hai. Obviously, Madhuri and SRK were bound to finally express their love to one another. But let's not forget about the two people who could potentially have a connection. Nisha and Ajay! Well…do they end up together? Because that's what the ending alluded to BUT WE'LL NEVER KNOW. Hence, Dil Phierse Paagal Ho Gaya.  
9. Zindagi Na Milegi Dobara 2
Imagine this. Three powerhouse females go on the trip of a lifetime with their besties. I know that's one I would definitely pay money to see. Say perhaps a continuation of the film's original cast with Katrina Kaif on a globetrotting trip with two of her best friends before her marriage to Hrithik…so when is this expected to release?
Ok maybe not all movies require sequels but it's fun to imagine what they're potential stories could be!
---
Nidhi Singh is a recent graduate from UNC-Chapel Hill with a degree in journalism and is taking this time to explore the world through photography, film, and words. She enjoys dancing, travelling, eating Nutella, and watching reruns of old "Friends" episodes (as should anyone!). Follow Nidhi on Twitter and Instagram to see where she takes her next selfeet.