by Josika Gupta 
I wake up sometimes, remembering the taste of tulsi pataa and the sight of Maa Durga all draped in red. I revel in those warm masala-tinged memories in that early morning space between sleep and wakefulness until I remember where and who I am now. In the end, those are the days that I always feel the most lost.
Lost in my head, in my life, and especially, in the world. I stand at the intersections of all my identities and wonder why the corners and streets are all crooked, and whether I can ever do anything to smooth out the roads and make them even a little easier to travel.
The answer to that question still eludes me but I've found a temporary solution to the problem. Something that dulls the pain of conflicting identities and allows me to finish the day with less cognitive dissonance than I started with. What is it, you ask? What is the stop-gap solution to my occasional existential crises? It's pretty simple. I just watch some Bollywood films.
Of course, not just any movie can soothe me. I usually end up rewatching films from when I was just a kid living in Bombay. Things that remind me of how easy life was before I grew up and learned more about myself and the world.
Kal Ho Na Ho is for when I miss my family and need to remember that the thousands of miles between us doesn't lessen our love for each other. I watch Dostana when I need to reassure myself that my family can and will (eventually) become comfortable with my queerness. Kuch Kuch Hota Hai comforts me in a way that almost nothing else does because it reminds me that growing and changing doesn't mean invalidating the existence of that little girl who loved watching her mother line her eyes with kajal or put on her sarees.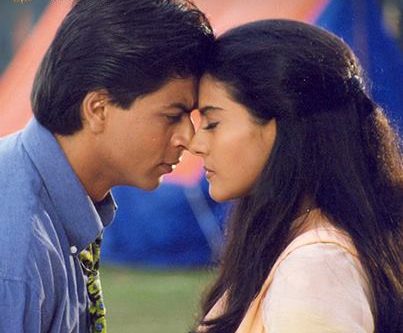 [Kuch Kuch Hota Hai | Photo Courtesy of Dharma Productions Facebook Page]
When I watch these films, I am transported. For two to three blissful hours, I feel at peace with my heritage; I am, in that time, an Indian. Nothing more, and nothing less. My other identities temporarily fall away from me and I don't have to think about how most Indian society would want nothing to do with me if they found out that I was queer.
Nor do I think about how many people genuinely believe that being a woman means that I am less valuable than a man. I don't have to wonder whether someone back home will tell me that I am making up my disorder if I tell them that I am depressed. All the pieces of me that are vying for my attention suddenly, and miraculously, fall quiet. After all, who doesn't crave simple, straightforward comfort when everything around them is chaos?
I can also find some sort of comfort in more recent Bollywood films, but there is something there that is qualitatively different. The best way to express that difference would be to say that these movies give me comfort, but watching them isn't always comfortable. Or at least, watching them the first time isn't.
I remember the first time I watched movies like English Vinglish and Queen. It felt like someone had reached right into my chest and started squeezing my lungs. I couldn't breathe, but it wasn't bad. On the contrary, I loved that feeling — the burn of experiencing something that hit just a little bit too close to home. Those more socially conscious films the only ones where I ever truly saw anything that even remotely resembled my own lived experiences.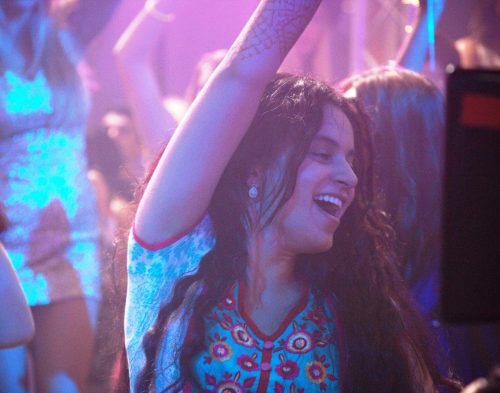 [A still from 'Queen' | Photo Source: Facebook.com/Queenthefilm]
Of course, I've seen some truly excellent Hollywood movies that have similar content and even characters I identify with. And it's not as if I could identify 100% with these newer Bollywood movies either, but they are inherently easier for me to connect with and settle into because the characters look familiar, their childhoods are full of events that I myself have experienced, and the troubles that plague them are troubles that have impacted me and my loved ones.
So yes, watching these movies can really hurt the first time when I'm not expecting them to feel as real as they do. Afterwards, though, they stick with me and warm me up in ways the older, more romanticized Bollywood movies just can't. These films validate my existence and in doing so they provide more than just comfort. I watch these movies for strength. For courage. They remind me that just existing can be an act of resistance.
If the older, lighter Bollywood movies are the warm cup of chai that comforts me on a rainy day, then the newer, more realistic films are the hot bowl of soup that not only warms, but also nourishes me, and gives me the energy to go out into the cold again (even if I burnt my tongue on the first sip). These movies show me that even though things are moving slowly, they are changing for the better. They allow me to sink into my in-between existence, wrap myself up in all my identities, and fully appreciate the complex and seemingly contradictory nature of my life experiences.
---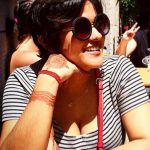 Josika Gupta is a queer feminist who loves educating others on social justice issues and working to dismantle oppressive systems. She is currently pursuing a BA in Psychology at McGill University and has a passion for mental health that goes far beyond the academic. Josika is obsessed with pop culture, large dogs, working towards a better future, comedy, and food.