by Keertana Sastry  Follow @KeertanaKS
Love is hard. That's an undeniable fact. But, as many South Asians and other minority communities know all too well, acceptance can be much harder. That's a truth underlined and examined with expert maturity and humor in the new film "The Big Sick."
Written by and starring "Silicon Valley" star Kumail Nanjiani, the film is based on Nanjiani's real-life romance with his real-life wife, Emily Gordon. The film chronicles the usual story of how the two of them met and fell in love, but with an unusual twist: During their courtship, Emily fell so sick, she had to be put in a medically induced coma until her team of doctors could find out what mysterious illness was ailing her.
While it may seem hard to find a connection with this particular part of their story, Kumail and Emily's romance hit highs and lows that make their tale unique and yet somehow so very relatable, all thanks to how deftly Nanjiani's script maneuvers his relationship with his future wife with his struggle to tell his traditional Muslim family about the woman with whom he is falling in love.
From the very start of the film, it's easy to see that Kumail's family are strict in many beliefs, from a number of times they hope Kumail prays every day to the type of girl Kumail should marry. In fact, his mother even surprises Kumail with a new, nice Muslim girl to meet every time he comes home for a family dinner with his parents, his brother and his sister-in-law. Meanwhile, Kumail silently goes down to the basement when his parents tell him to pray, but instead plays games on his phone. He patiently meets the women his mother brings over but has no intention of even seeing the potential of a relationship with any of them, no matter how hard they may try to appreciate his interest. (One girl's desire to relate to Kumail through his favorite show, "The X-Files," provides a particularly funny side moment.)
His father, played by the incomparable Anupam Kher, is just as oblivious as his wife to Kumail's real life, only Kumail's brother (played by the very funny Adeel Akhtar) knows certain truths about Kumail's growing relationship with "the white girl." While it might be fun to meet the montage of women who are clearly wrong for Kumail, it's obvious that the humor these early moments provide are setting the stage for a confrontation with his parents about how non-traditionally Kumail lives his life. We know even as we're laughing, that their big revelation of harsh truths is coming.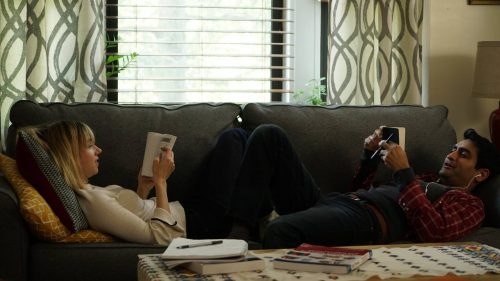 But before the film gets to that moment, we first see how Emily handles the realization that she and Kumail may not have a future if he doesn't come clean to his family, and more importantly, if he doesn't figure out how about how feels about their relationship (Shoutout to Zoe Kazan who excellent, especially here, as Emily). The couple has a huge fight and is then, unfortunately, unable to speak about the matter until Emily recovers from her hospital visit. The resulting conversation illustrates how Kumail's acceptance of their relationship is likely the easiest hurdle to clear before they can truly be together.
Kumail's time at the hospital clearly changes him and his desire to be forthright about his real life with his family, and it's all thanks to Emily's parents, Beth and Terry, played by Holly Hunter and Ray Romano. The parents have their own issues that Kumail later becomes privy to, and while they first neither appreciate nor accept Kumail's help and offer to stay with Emily at the hospital, they soon connect with their daughter's ex-boyfriend and see just how much he really loves Emily, though there are a few bumps along the way.
There is also a level of acceptance on their part as well as they accept the life he has chosen for himself, and they accept him into their family, even as Emily has not yet taken Kumail back. Kumail's conversations and interactions with Emily's family make him realize just how much he loves this girl and just how wrong he's been by not sharing this with his family.
The fear of not being accepted, of being shunned, is what stops Kumail from not only introducing the love of his life to his family but also explaining to them that his stand-up "hobby" is his chosen profession. It's a truth and fear many South Asians share, especially for those who choose any less-than "stable" career and choose to love people outside of their family's religions, ethnicities, our typically accepted sexes, among other signifiers. And seeing that truth unfold onscreen in a way that is both fascinating and relatable is what makes "The Big Sick" truly great. Kumail Nanjiani's life is uniquely his own, but features so many truths we all share.
The word "representation" has become a hot talking point in Hollywood as of late, but rather than focus on just putting more South Asians in already established movies and shows, the way to get real representation is provide more stories about South Asians, to show just how connected we all are. There are so many people that will likely watch Nanjiani's story and point to something that they have done or felt before. Love and acceptance are universal, and "The Big Sick" shows us that in spades.
---
After spending childhood in Texas, college in Missouri, and her adult life in both New York and now Los Angeles, Keertana Sastry has a unique perspective on being Indian in different areas of America. Keertana has worked as both an entertainment, culture and lifestyle reporter, as well as a casting assistant for the film and TV industry. She loves to infuse her Indian heritage into work and life.