While watching my favorite show, "Sesame Street," as a young girl, I still remember seeing  a two-minute skit where a child was washing her hands and left the water running. The lake outside her window was being drained of water. Her neighbor and the fish who lived in the lake, no longer had enough water to swim in.
This struck me.
Since today is Earth Day, an annual event which began in 1970, it's important we highlight its significance. It spurred from a grassroots movement by American citizens, to put environmental concerns on the forefront and encourage the government to take on more global climate-related problems.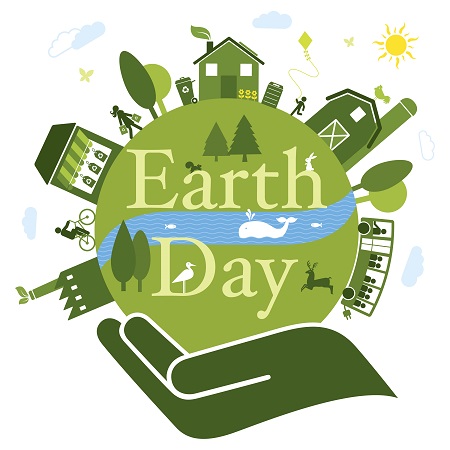 We may not realize the harmful environmental consequences of our tech-savvy lives and because of it, we sometimes forget to love the great outdoors. The happiest memories of my childhood were playing outside with my friends and camping in Maine with my family. To this day, I love camping, being outdoors, sunbathing, exercising, appreciating the outdoors and being an all around healthy person, who also cares about the world around me.
As a nutritionist, I can tell you being exposed to the sun in moderate amounts is healthy, but don't forget to apply sun screen. As a brown girl, I think being dark-toned is beautiful. It strikes me as very strange when I hear a fellow brown girl complain about going outside because they are "too dark." Could it be possible that there is a link between women worried about their skin complexion and loving/caring for their environment? I think so.
This is a plea to all South Asian women—stop being afraid of being too dark. You are feeding into an outdated system that started from the European colonization. Your skin color is beautiful. It would be defeatist to think otherwise. Moreover, this is a plea to get involved in the fight for our environment.
Similarly, throughout my life, I have had a soft spot for environmental issues. When I hear about the tons of trash we are collecting and environmental degradation ruining our food supply, I am prompted to recycle and be more conscious of the amount of waste I am producing.
Most people are aware that remaining pieces of undeveloped land is rapidly disappearing. The National Parks Foundation that regulates the only wilderness left in this country is constantly facing budget cuts. If the National Parks Foundation is to run out of money, our national parks can be bought by developers and lost forever.
According to the National Parks Conservation Association, in 2013 alone, the parks were forced to operate with 1,900 fewer employees, due to $180 million in budget cuts. There are hundreds of reasons to keep our parks open besides simply enjoying the nature. The national parks generate thousands of jobs for Americans, volunteering opportunities, a medium to educate our youth and most of all, it generate billions of dollars in private sector spending.
Please join the Brown Girl community in celebrating Earth Day by supporting our national parks and watching  the documentary "Bears" by DisneyNature in theaters, from April 18 – 24. The Disney Worldwide Conservation Fund will make a contribution to the National Park Foundation, the official charity of America's national parks, to protect wildlife and wild places across America's national park system. The documentary follows a year in the life of two bear cubs and how the family makes it through the Alaskan wilderness.
For more information on why you should support our national parks, please visit: http://www.npca.org/protecting-our-parks/park-funding/park-funding.html.
Feature Image: Set against a a majestic Alaskan backdrop teeming with life, the bear family's journey begins as winter comes to an end and the bears emerge from hibernation to face the bitter cold.
References:
[1] National Parks Foundation. Date Accessed 07 April 2014. Online Available http://www.nationalparks.org/connect/npf-news/see-%E2%80%9Cbears%E2%80%9D-protect-our-national-parks
[2] National Parks Conservation Association. Date Accessed 07 April 2014. Online Available  http://www.npca.org/protecting-our-parks/park-funding/park-funding.html