by Duriba Khan – Follow @TheUrbanRani
"It's starting!" declared my nine-year-old brother excitedly. I drop everything and skip down the stairs to where my parents are watching Barack Obama, the 44th president of the United States, deliver his final address to the American people.
As I take my spot on the couch, his wistful face fills the screen. I notice the gray in his hair and the sparkle in his eyes, the honesty in his words and how much his presidency means, as a tear slides down my cheek.
I remember when Obama first ran for presidential office – I was only in the sixth grade. I remember listening to the political discussions of all the intelligent and articulate high schoolers around me during lunch. I remember spending the following night staying up to draw posters for Obama, and I remember hanging them up around school the following morning. Today, I remember, and it makes me think.
Obama's presidency was chaotic, uniting and monumental. In eight years, he supervised the recovery from our national financial crisis, the push for marriage equality,  the final hours of two wars, divided political parties, and horrific incidents. His presidency was the first to be so involved in social media and accelerated information, and it was the first time young children became politically attuned. As the first African-American president, he taught us so many things, but most importantly, he taught us that if we truly tried with all of our heart, we were capable of doing whatever we set our minds to, no matter who we were.
But despite all of Obama's accomplishments, historical landmarks, and shortcomings, perhaps what stands out the most is his integrity and decency. His love for the American people. His deep understanding of the political system. His wit, his charisma, and his optimistic vision that was so clearly evident in his final address.
Yesterday, at 8:00 p.m. at the McCormick Center in Chicago, Barack Obama gave his highly-anticipated farewell speech to the United States of America, sharing bits of his life and his many pearls of wisdom as he motivated Americans broken by the election of Donald Trump to mend their spirits.
Whether hosting a watch party with friends, sitting silently in the library watching from your laptop, or experiencing the moment on the living room couch next to Dad, we all laughed, cried and smiled. We witnessed change. And there is no better feeling.
Although Obama's speech was filled with many beautiful moments, we've listed our top seven below.
1. When Obama quoted Atticus Finch from "To Kill a Mockingbird."
He encouraged people to "start with the premise that each of our fellow citizens loves this country just as much as we do, that they value hard work and family like we do." He also stated that "laws alone won't be enough. Hearts must change."
"If our democracy is to work in this increasingly diverse nation, each one of us must try to heed the advice of one of the great characters in American fiction, Atticus Finch, who said, 'You never really understand a person until you consider things from his point of view … until you climb into his skin and walk around in it.'"
2. When Obama gave a shout out to "his best friend" First Lady Michelle Obama and even teared up a little.
"You took on a role you didn't ask for and made it your own with grace and grit and style and good humor. You made the White House a place that belongs to everybody. And a new generation sets its sights higher."
3. When he acknowledged the importance of fatherhood.
After thanking his wife and daughters, Obama smiled and said:
"Of all that I've done in my life, I'm most proud to be your dad."
4. When he thanked Joe Biden, who still remained effortlessly cool.
After thanking his family, Obama thanked his vice president, meme-king Joe Biden.
"To Joe Biden, the scrappy kid from Scranton…who became Delaware's favorite son. You were the first decision I made as a nominee, and it was the best. Not just because you have been a great vice president, but because in the bargain, I gained a brother. And we love you and Jill like family. And your friendship has been one of the great joys of our lives."
5. When he told us to do something about our anger.
"If you're disappointed by your elected officials, grab a clipboard, get some signatures, and run for office yourself. Show up. Dive in. Persevere. Sometimes you'll win. Sometimes you'll lose. Presuming a reservoir of goodness in others can be a risk, and there will be times when the process disappoints you. But for those of us fortunate enough to have been a part of this work, to see it up close, let me tell you, it can energize and inspire. And more often than not, your faith in America – and in Americans – will be confirmed."
6. When he (basically) gave Brown Girl Magazine a shoutout.
"If we're unwilling to invest in the children of immigrants, just because they don't look like us, we will diminish the prospects of our own children — because those brown kids will represent a larger and larger share of America's workforce."
Damn right, we will!
7. And last but not least, when he gave us the ultimate mic drop.
As Obama's speech neared the end, he had one final request, that he completed with a mic drop.
"But for now, whether you are young or whether you're young at heart, I do have one final ask of you as your president — the same thing I asked when you took a chance on me eight years ago.

I am asking you to believe. Not in my ability to bring about change — but in yours.

I am asking you to hold fast to that faith written into our founding documents; that idea whispered by slaves and abolitionists; that spirit sung by immigrants and homesteaders and those who marched for justice; that creed reaffirmed by those who planted flags from foreign battlefields to the surface of the moon; a creed at the core of every American whose story is not yet written: Yes, we can. Yes, we did. Yes, we can."
So reader, never forget that you are a part of the newest, strongest, most unselfish, altruistic, and creative generation. Change is not something to fear, but something to embrace. And if we hold our heads high and believe in the beauty of our dreams, there is nothing we cannot do.
---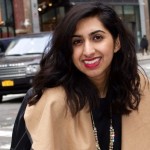 Duriba Khan, or "D-Dawg", is an eighteen-year-old blogging, vlogging, photographing, filmmaking, sketching geek who enjoys long, romantic walks to the refrigerator. She is half-Pakistani and half-Indian and currently resides in Austin, Texas. Duriba also feels uncomfortable writing about herself in the third person. For more of Duriba's work, check out her blog.