I call her "Bollywood Bev."
She was an idea created out of the endless desire and longing of one brown girl to see herself reflected in her world and grew into a more complex project centered around a wholly unique figure bursting with inspiration and self-empowerment that even I did not anticipate. She was different and original. She was innovative and unconventional. She was vibrant and creative. And she was more important and necessary than I ever expected her to be.
So who is she?
Bollywood Bev was a personal endeavor I undertook in an effort to promote more diversity and South Asian representation in the renowned and highly popular "Star Trek" franchise, which marked its 50th anniversary this year.
Star Trek's underlying message and themes of equality, inclusivity, and hope for a better future have resonated deeply with me since I became an avid fan just over three years ago. It transformed me into a stronger person during a difficult time in my life and inspired me to boldly go where no one has gone before.
But as much as I love and appreciate it for what it is, there was still a void in the franchise – in particular, of representation and visibility for someone like me – that didn't seem like it would be filled anytime soon until someone made an effort to do something about it.
In the past, I'd spent so much time looking for figures in other narratives of all sorts who served as my representation in the world around me. But this time around, I very much wanted to be a part of the narrative of something like Star Trek which held so much significance for me. The different Trek series celebrated acceptance of all peoples and beings alike and showed respect and appreciation for all cultures. Why, then, shouldn't I showcase my own culture and be the representation and the change I wanted to see?
Sometimes, when you want something done, you have to do it yourself. So instead of waiting around for someone else to do something and sending my wishes out to the universe, I took it upon myself to be the one to do it and make my wishes a reality.
Over the past year, ideas were hatched, plans were laid out, artistic juices were flowing, and my amateur Project Runway-esque designer skills were even put to good use, scrappy hand-drawn sketches included. And soon enough Bollywood Bev was the result!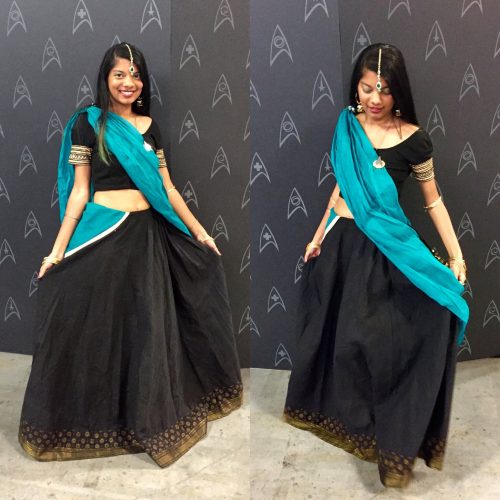 [Photo Source: Miranda Deebrah]
My vision was to use "Star Trek: The Next Generation's" Dr. Beverly Crusher, my favorite character and a fantastic female role model, as the inspiration and foundation to create what I thought of as the Bollywood equivalent of her character. I found Dr. Crusher to be a kindred spirit in many ways, so I figured since we already shared numerous similarities in personality and in essence, it might be quite amazing and special to give her a look that also reflected who I was as an Indian woman. As far as I knew, nothing of the sort had been done before. "To boldy go …" states the show's famous opening lines, so I boldly went.
Combining my love for both my Indian culture and Starfleet uniforms, I created my own desi-inspired look for the standard uniforms worn on the series. What started out as an idea to make just one uniform-based look soon became a plan to have three different looks. An empowering fusion experience, the majority of clothing items were bought from Utsav Fashion, my trusted go-to online shop for Indian wear and all things desi.  I assembled the pieces and accessories together and styled each look to create a unique take on some of the uniforms worn by Dr. Crusher. Once everything was put together, I decided to bring Bollywood Bev to life, dressing up as her in the outfits I'd designed and proudly strutting the streets of New York City in them for all to see.
Below are each of my creations next to the respective outfit that they are based on.
Bollywood Bev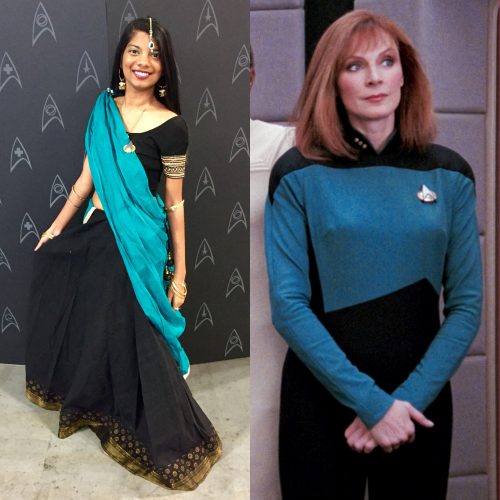 [Photo Sources: Miranda Deebrah/Trekcore]
Starting with the basic uniform, a staple in the series, this lehenga look closely mirrors the blue/teal signature color of the Sciences uniform. Complete with the pips to show Dr. Crusher's high rank as a Commander and the Starfleet communicator badge, I added a few more embellishments and accessories to give it a bit more glamour. You can't have Bollywood without some shine and sparkle!
Captain Beverly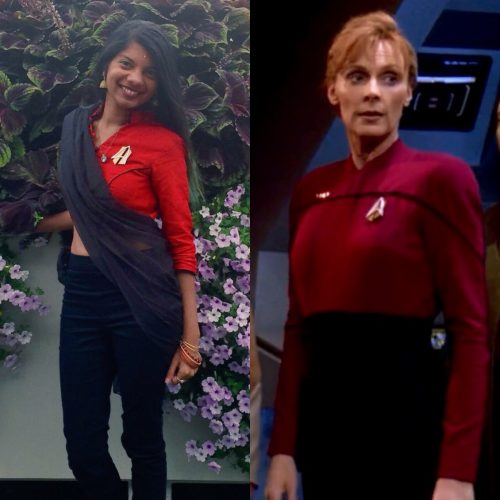 [Photo Sources: Miranda Deebrah/Trekcore]
My favorite incarnation of Dr. Crusher, because I'm all about women in leadership positions equal to their male counterparts, Captain Beverly Picard from a future timeline deserved a look that was as badass as she is. I kept it simple, pairing a blouse and slacks that corresponded to her uniform's red and black along with her rank and badge, and threw on a dupatta over it with a few subtle accessories to complete her outfit.
Blue Lab Coat Bev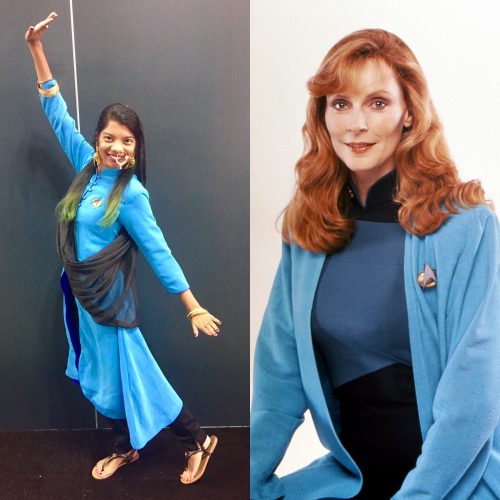 [Photo Sources: Miranda Deebrah/Trekcore]
Beverly isn't quite Beverly without her blue lab coat that she wears half the time so, of course, I had to create a look for this! I found the perfect blue anarkali jacket and used accessories to enhance it to give it a really distinct and fun look. Adding her badge and rank, she was ready for duty!
And then because I got a little ambitious, I added another look for a different character I call "Desi Dax" based on "Deep Space Nine's" Jadzia Dax, another beloved character of mine. This one included "Trill spots" drawn by hand on my waist and sides of my face, which called for a lot of patience and a very steady hand but looks very cool when it's finished.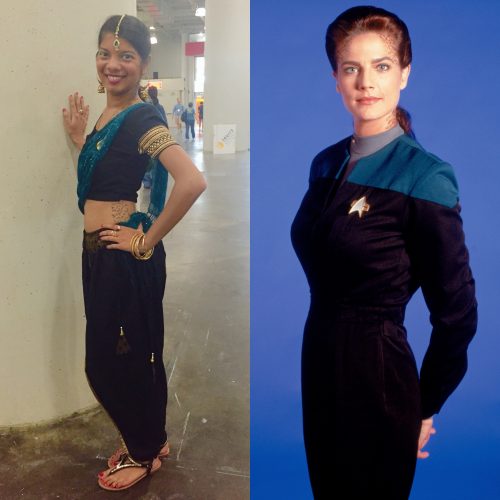 [Photo Sources: Miranda Deebrah/Trekcore]
I debuted the looks this past September at Star Trek's Mission New York convention at the Jacob Javits Center which was part of the 50th-anniversary celebration tour. I'm not much of a cosplayer compared to those who've been doing this kind of thing for years, but if there was ever a time to be like one of your fictional heroes and continue to go boldly where no one has, this was the opportunity for it.
Not knowing how my efforts might be received, especially because this was one of the boldest things I've ever done, putting myself out there and all, I was nervous but determined to commit to what I'd set out to do. To my pleasant surprise, I was met with far more enthusiasm, compliments, and excitement than I'd ever expected by so many people. And it melts my heart and pleases me greatly that actors Gates McFadden (Beverly Crusher) and Terry Farrell (Jadzia Dax) – the two very special women who played their roles on Star Trek so beautifully and are endless sources of inspiration to me, not only for this project, but also personally on a daily basis – loved what I did in paying homage to their characters.
[Photo Sources: Miranda Deebrah/Terry Farrell]
Being Bollywood Bev has brought me many wonderful things, more than I could have asked for. In creating all the looks and debuting them at the convention this year, this project helped me be bold and confident and let me use my voice and my talents for something positive. In return for my efforts, I got to be a part of some pretty cool moments.
For someone who isn't fond of taking photos, I was stopped by fans too many times to count to pose for pictures with them. I was even interviewed for SyFy channel's celebration of Star Trek which was pretty awesome! Even more awesome was when my clips were aired on TV in a great fan montage that also featured brown boy Arjun Gupta.
[gif courtesy of Sarah Asenath]
Desis in space! We too can totally be part of science fiction!
I was also invited to be part of the costume contest at the convention which allowed me to showcase my creation on stage in front of what must have been hundreds of fans who showed me so much love.
[gif courtesy of Sarah Asenath]
I couldn't help but use the opportunity to summon my theater skills and ham it up for the audience.
[gif courtesy of Sarah Asenath]
And I have been turned into a work of art! A wonderfully talented friend of mine made the most beautiful piece with me as the subject!
[Courtesy of Yabini Arts]
I'm quite amazed that all these things happened because of Bollywood Bev. It's been the gift that keeps on giving and I couldn't be more grateful this little idea I had took off and grew beyond my wildest dreams and expectations. It's given me so much joy, positivity and very special memories to last a lifetime. Best of all, I have had many people tell me how inspiring I have been to them, that they loved the message of diversity and inclusion I was sharing, and that I truly embodied everything that Star Trek is about. I've even had a few brown girls express their gratitude to me for representing them in this way. All this is enough to bring tears to my eyes when I think about it.
It's incredibly humbling and deeply moving to hear kind sentiments like this and know I made such an impression. As a Trek fan, all I wanted was to be a part of the story in some way and it's a wonderful thing to realize I was able to do so by just being myself and sharing my beautiful culture. This experience was one of the most fulfilling things I've ever done as it allowed me to celebrate the best of both worlds: my authentic self within the Star Trek universe that I love.
Furthermore, it was an affirmation to me that my voice, my vision for the future, and even the wild ideas I have are indeed important and necessary in bringing about positive change. If this small act of mine in any way helped to promote diversity and advocate for increased visibility for South Asians and even other underrepresented groups – not only in Star Trek but also in our media and mainstream pop culture – then it makes all the difference to have followed through on my ideas and share it with as many people as I could. It certainly took a lot of courage to do it, something that doesn't always come easily to me, so I'm very pleased it was the success it turned out to be.
As I reflected on my experience so far, I realized Bollywood Bev was not simply just another version of Dr. Crusher, but rather something of an original character that was a fresh take and, in my opinion, a long overdue addition to the franchise. And it brings me a little pride to have been the one to do it. It pays off to be a bit bold sometimes.
I have many more ideas for what I want to do with Bollywood Bev and I plan to expand on it even further to create even more desi-inspired Star Trek characters. So back to the drawing board I go, ready to bring more of my visions to life and to keep spreading the message of inclusion for all and celebrating our differences while coming together in our shared humanity that I believe is so important, all while having fun along the way.
Bollywood Bev lets me finally be the hero in a narrative I created myself. I never thought that someone like me could even be a hero. But here I am, already doing it, so I guess anything is possible for brown girls like me after all.
---
Miranda Deebrah is an Indo-Guyanese writer and storyteller based in New York. Proud of her roots and heritage, she is an advocate for South Asian voices not yet heard and the stories not yet told. She is passionate about the arts and their ability to create change in the world and hopes to make her own contributions through her work. Her interests include traveling, reading biographies, spending evenings at the theater, reenacting choreography from Lady Gaga's music videos, taking flying trapeze lessons, and making all kinds of magic happen.