by Aditi Kadakia – Follow @browngirlmag
Over two years ago I set foot into an unfamiliar melting pot known as Rutgers University. I was vulnerable, shy, and had no idea what direction I was going to go in.
Luckily my roommate was in the same predicament as me. Together we learned which dining halls to avoid, which buses lead to where, and most importantly how to live alongside another person almost constantly. We also attended the beginning of the semester involvement fair together, and this is where I learned a lot more about the type of journey I wanted to take during my four undergraduate years.
If you asked me about joining Greek life before starting college, I would have looked at you with a confused, curious face. What is Greek life? Why should I join it? However, if you asked me again a few months after college started, I was confident in my answer. Exactly one year after that involvement fair, I joined Kappa Phi Gamma, a South Asian interest sorority. An anxious, frightened freshman evolved into a confident, self-assured young lady. The journey I have taken after crossing into Kappa Phi Gamma has been difficult but very rewarding.
Greek life has made an enormously positive impact on my college life. Joining a sorority with people that mesh with my culture, values, and morals helped me better understand myself as a person and allowed myself to connect with my South Asian side on a deeper level. I have received the opportunity to help out within my community as well and make a difference.
The other girls in the sorority whom I am lucky to call my sisters are my support system, and I know these ladies are not going to disappear after graduation peeks around the corner. I am stuck with them for life, and I am so thankful for that. The person I have become after joining is someone I have always aspired to be. I am now a hard working, confident, and graceful individual and I have learned that multitasking is only a chore for the things you define as tasks. Therefore, balancing my studies with Kappa Phi Gamma is more of an exciting challenge than a tiring responsibility for me.
Greek life is not only about the organization that you join; it is a thriving, exciting, subculture that exists within the college community. Not only do you have the opportunity to get to know your sisters/brothers, but you also have the chance to meet people in other Greek organizations that you may not have talked to prior to joining Greek life. It gives you a sense of community, family, and belonging – three important aspects that should have a large presence throughout your years in college. When starting a frightening, new journey, the best way to get through it is with family by your side, and that is exactly what I have gained by joining Kappa Phi Gamma Sorority, Inc.
---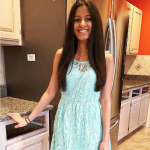 Aditi Kadakia is a junior at Rutgers University majoring in Applied Kinesiology and minoring in Health Administration. She aspires to become a physical therapist. She is a part of both Kappa Phi Gamma Sorority, Inc. and Rutgers Bhangra. In her free time she likes to listen to throwback music, try new food places, draw, and nap. Aditi is also fond of traveling and would like to visit different countries all over the world one day.