This post was originally published on our partner website India.com.
Hip-shaking Bollywood beats will meet soulful Caribbean strains of soca for a rarely-seen musical combination. Expected to set the screen ablaze with energy and unique rhythm on August 5 is director Todd Kessler's "Bazodee."
The film's lead actress, Natalia Perera, is no stranger to unconventional combinations. In fact, the London-born and bred actress, with ethnic roots in Sri Lanka, identified with Claire Ince's screenplay right away—particularly her role of Anita, the Caribbean-Indian daughter of a widower (Kabir Bedi), whose engagement to a wealthy businessman ("Game of Thrones" regular, Staz Nair) becomes complicated when she finds herself bonding with a local Trinidadian singer-songwriter (soca music legend, Machel Montano).
"It was the first time I came across a lead part that is a woman, Asian, and from the Caribbean, and I became really excited about it," Perera said in an interview prior to this week's New York City premiere of the film.
The character of Anita resonated not only because of Perera's determination to see women making their mark—she welcomes "feminist" among the list of characteristics used to describe herself—but also because, in many ways, it was like looking into a mirror.
"Anita is a young woman who lost her mother at a young age and is very close to her father. She's incredibly involved in his business and takes care of him and everyone around her. I identify with Anita's sense of duty towards her family," she added. "But I also share her taste in music and her passion for singing and dancing."
In terms of Anita's endeavor to strike a balance between tradition and venturing outside the norm, art has almost imitated life for Perera, who faced a similar juggling act when choosing between her love for the arts (her childhood is characterized largely by roles in church plays and choir) and her parents' initial wishes for her to select a less volatile profession in medicine. At first, she aimed for a directing track as a way to tell stories that would be more palatable for her family. Courses in Text & Performance at London's Royal Academy of Dramatic Art and Classical Acting at the Royal Central School of Speech and Drama, however, cemented her zeal for being on the stage and screen.
Eventually, her parents didn't just accept her decision—they embraced it.
"They, like many parents, only wanted the best for me and I'm grateful for all they did to raise me to be an independent woman," Perera explained. "I'm also glad to have had training in storytelling; it's something everyone in this industry needs to be skilled at because it makes otherwise technical or boring information come alive."
[Photo Credit: Facebook/BazodeeTheMovie]
In "Bazodee," that animated spirit is captured in a script Perera describes as "an absolute gem, brimming with that feel-good factor," and bolstered by music that, for her, epitomized "pure fun." Indeed, Perera is familiar with both musical veins that comprise the heart of "Bazodee," thanks to growing up amidst a well-established fan base for Bollywood in the UK. She's especially a fan of the music from the late 90s/early 2000s era, citing "Lagaan" and "Devdas" as films whose songs struck a chord with her.
Soca was a later discovery, as Perera first heard it during the world famous Notting Hill Carnival, but it quickly earned a place among her favorite genres with its infectious energy, especially that of her co-star Montano's songs.
"He's the life of every party. As Anita puts it, 'he makes happy music.' The world needs that," Perera said.
Acutely aware of the global social and political tension amidst which the film will release next month, Perera is hopeful that "Bazodee"s life-affirming warmth will allow for some uplifting, emotional relief.
"This film is wonderful because it showcases people and cultures that don't often get exposure," she said. "With all that's happening in the world today, it's a great thing to be transported to something as truly different, magical and positive as 'Bazodee.' Once you see it, you'll know what I mean."
---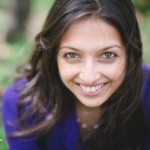 Born and raised in Japan to Indian parents, freelance writer Anisha Jhaveri's globe-spanning background lent itself to her vast exposure and interest in world cinema and culture. A former but fierce New Yorker, she is now based in Singapore, where she is constantly on the lookout for movies and media that resonate on levels unmarked by national or social lines. Find her coverage on platforms such as India.com, Independent Magazine, Indiewire and RogerEbert.com. When she's not reviewing the newest Bollywood release or scoping out hidden gems at film festivals, she can be found dancing up an (awkward) storm at her local Zumba studio or scouring Pinterest for healthy recipe inspiration.