by Duriba Khan 
You've heard of her. Whether it be upbeat hits like "Whistle Baja" pouring through your ears at desi weddings, or just grooving behind closed bathroom doors to her newest hit and personal favorite, "2 Seater" while plucking your eyebrows, Nindy Kaur has radically transformed the impression of the typical woman from Punjab with her elegance, talent, and melodious voice that continues to stun the world.
With her chic style, professional grace, and party pumping tunes, international singer Nindy Kaur, often described as the Victoria Bekham of India, has stole the hearts of fellow brown girls and guys all over India, U.S., and Canada.
With inspiration from her personal favorite, Shazia Mansoor and a childhood that consisted of shabads sung in the Gudwara, music is a valuable  token of Kaur's past that has made a career for her.
Kaur also derives influence incentive from her son, Anoop. Who easily takes the title as one of the most important and integral parts of her life, and he is also the reason Kaur wants to continue to put out more music.
Kaur attributes her grand entry into the Bollywood music industry as the peak of her career. During this time music sunk in for her on a deeper level and became her second home.
On the topic of her favorite collaborations, Kaur discloses her contentment with her most recent song from Farah Khan's film "Happy New Year," titled "Sharabi."
"It has received such a strong and wonderful reception, and all the remixes that the DJs are sending us are awesome as well," Kaur said.
She also hopes to collude with iconic artists such as Rihanna and Iggy Azalea in the near future, along with the spectacular the king of Bollywood, A.R. Rahman.
When asked what message she wishes to convey to her audience, Kaur did not hesitate and stated:
"I want my fans to be able to listen to my music and find an aspect of the song they can relate to."
And boy, do we.
Just over the past year, Kaur has released a new take on the Indian woman, she has kept true to her Punjabi roots and with her firework-like attitude she hopes to continues to motivate and empower girls all over the world.  
Despite her international recognition and presence as one of Bollywood's most acclaimed female Punjabi artists, Kaur is humble.
To her, performing is about creating memories, whether it's a new fan she's made or someone who has stood in line for several hours to meet her.
"The cheers of fans, watching them dance and sing along and emit energy is what makes every show the best show," she said. 
But Kaur isn't just the glamorous "it" girl the world makes her seem to be. She, like many women, juggles her career along with being a loving mother and wife and often misses sleep for days.
She has worked hard to get where she is, and her identity as a brown girl factors into this more than anything, from representing where she is from and who she is, not only as an artist, but as a mother, sister, friend, and role model.
---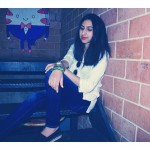 Duriba Khan, or "D-Dawg", is a sixteen-year-old blogging, vlogging, photographing, filmmaking, sketching geek who enjoys long, romantic walks to the refrigerator. She is half-Pakistani and half-Indian and currently resides in Austin, Texas. Duriba also feels uncomfortable writing about herself in the third person. For more of Duriba's work, check out her blog.