by Monica Bhatnagar – Follow @browngirlmag

Growing up, I had a new crush every week; Sean from homeroom, the model in the Acqua Di Gio ad, and Mithun Chakraborty in "Disco Dancer." The list goes on and on. In my daydreams, I was very confident and completely irresistible to my aforementioned crushes.
In reality however, I was painfully shy, and it wasn't until I was well into my 20s that I really started dating. It was also during this time that I would graduate from having to answer questions like, "Why aren't you going to medical school?" to "When are you getting married?"
I remember one unfortunate run-in with Auntie at the temple. My parents and I were on our way out, when I spotted her from across the dining hall. I frantically yelped to my mom that I would pull up the car. I sprinted up the stairs, the front door in plain sight, when Auntie emerged from behind an idol of the Goddess Laxmi.
Was Auntie a mythical creature who only appeared when I was  content and happy? She looked me square in the face and asked, "When can I expect a wedding invitation?"
First, it was presumptuous of her to think she would be invited. But, I knew my parents would invite her.
And second, my now-husband and I had just begun dating. She was jumping the gun when marriage was the "furtherest" thing on my mind.
So my options were limited. Should I tell her the truth? Or, should I pretend to not having heard her?
Instead, I giggled and said, "Nice to see you!"
I darted past her and ran out of the door. Much to my and my parents' relief, I eventually did get married which created another line of questioning: Kids!
In "When Will You Find A Husband" Auntie has the ultimate stand-off with an unsuspecting single. She's so BAD!
---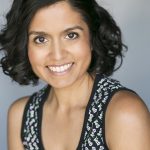 Monica Bhatnagar is a Los Angeles- based actor and filmmaker. She has worked on commercials for Lumosity, Honda, and Red Laser, and her sci-fi short film "Manikin", which she wrote, and acted in premiered at the Los Angeles Women's International Film Festival in March of 2016. Monica regularly acts in sketches for Late Night with Conan O'Brien. She also creates her own comedic sketches, including her latest, "Mediocre White Man Confidence…It's a hell of a drug". Follow her on Twitter: @bhatmon, and Facebook: @ActingMonica