Hello Brown Girl fashionistas. For today's #FashionFriday look, I paired my favorite blue jeans with a plain white tee. Of course, the look would not be complete without a splash of color and what better way to do that than with a colorful scarf. There are so many fun ways to wear a scarf and it can easily accessorize or completely change the look of a dull outfit.
Next time you're in a hurry and can't think of a spunky outfit, head out the door looking fly with the white-tee-look that makes a bold statement.
And of course, for daily fashion inspiration, visit my blog Zunera&Serena.
Shop the same or similar look here:
[Top –  Loft][Bag – Similar here][Scarf – Loft][Jacket – Loft]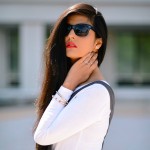 Zunera Mazhar is the highest earning fashion blogger in Washington D.C. Her blog, Zunera & Serena, is about fashion, inspiration, confidence and she occasionally includes photos of her five-year-old fashionista, Serena! The blog has been featured on ABC, FOX and she is a featured guest on CNN. She has worked with some of the top designers and retailers in the fashion industry and is the international brand ambassador of "Labels." She contributes/writes for Self Magazine, AOL's Stylelist. and POPSugar. When she is not blogging, she works as a program manager for Refugee Asylum and International Operations for the U.S. Immigration Services.