This post was originally published on our partner website India.com:
At this point in 2015, it seems pretty much everyone in the country has at least heard of Aziz Ansari. Whether it's thanks to his stand-up routines, his wonderful book "Modern Romance," or his roles in films and TV—like the iconic Tom Haverford on NBC's "Parks and Recreation"—Ansari is quickly becoming a household name.
And it's about damn time because Ansari deserves the praise, especially for his new Netflix series "Master Of None." The show, which premiered on Netflix on Friday, November 6, is now airing its full 10-episode first season for the world to watch, and in short, it's wonderful.
For those who are still in the dark about the series, "Master of None" follows Ansari's Dev, a struggling thirty-year-old actor living in New York with a diverse group of friends who navigates the many ups and downs of life, work, romance and more. Ansari's real parents play his onscreen parents in the show, and other actors include Eric Wareheim of "Tim and Eric" fame as Arnold, comedian Lena Waithe as Denise, Noel Wells ("Saturday Night Live") as Rachel, actor and comedy writer Kelvin Yu as Brian, "Meet the Patels" star and co-director Ravi Patel as Ravi, "Bob's Burgers" star H. Jon Benjamin and Benjamin, and even a cameo by Claire Danes.
The caliber onscreen is matched behind the camera as well. Ansari himself wrote most of the episodes along with Master of None co-creator Alan Yang, not to mention he also directed two episodes. Other directors include James Ponsoldt, who directed independent films like "The Spectacular Now" and "Smashed," as well as Lynn Shelton, director of the supremely underrated indie film "Your Sister's Sister." Comedy writer and Ansari's dear friend Harris Wittels, who sadly passed away in March of this year, is also attributed with providing the story for the third episode in the series.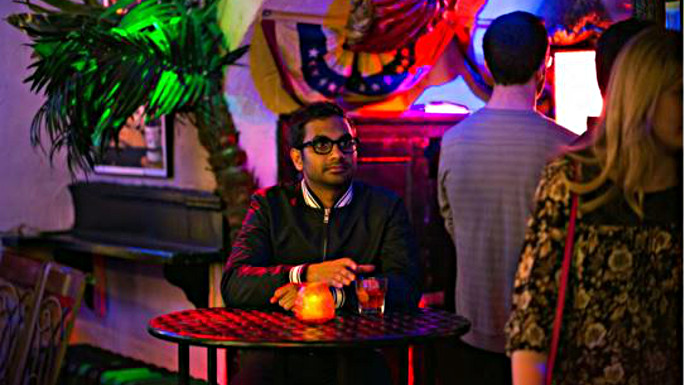 [Photo Source/K.C. Bailey/Netflix]
To be fair, the subjects tackled in Master of None are extremely familiar. The pilot finds Dev contemplating whether or not he wants kids, while other episodes show Dev dealing with infidelity, how to bond with his parents, moving in with a significant other and career confusion. But what's so special about the series is just how Ansari and Yang have found a way to address these issues in a unique, humorous and poignant way. And what's more, Ansari also makes sure to include real issues that plague women and South Asians. Ansari never shies away from embracing his real personality and his full spectrum of emotion while still keeping the humor, and that's an impressive feat.
Most of the episodes of the first season are gems, but there are also a few standouts. While the pilot is a great introduction to Dev and how he views the world, the second episode "Parents" is what really keeps viewers engaged in the series. The episode, written and directed by Ansari, follows Dev and Brian (Kelvin Yu) as they realize that their first generation immigrant parents deserve more respect and gratitude then they have given them in the past. The two men decide to take their parents out for a group dinner as a thank you for their work and sacrifice for years, and it leads to hilarious and sweet scenes of bonding between generations.
The best moments of the episode come when Dev and Brian ask their parents questions about their lives and the flashbacks of childhood to immigration as well, proving just how relatable the stories are to so many. Hearing that Dev's mother sat on the couch and cried on her first night in the States will probably evoke similar memories for so many first generation immigrants and their relatives. In short visual anecdotes, we see the highs and lows of coming to America, especially at a time when intolerance was much higher than it is now. The episode feels like a written thank you to Ansari's own parents, so who better than to play them than his real parents? From the first moment onscreen, Shoukath Ansari as Ramesh steals scenes left and right, and he's made better by his adorable, stern and ultimately sweet mother, Fatima Ansari as Nisha.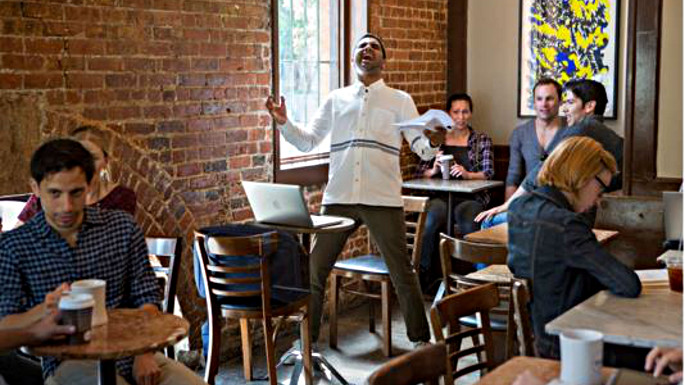 [Photo Source/K.C. Bailey/Netflix]
Another winner is "Indian TV." This is quite possibly the most well-known episode in the mainstream at the moment, thanks to some important points brought up by Ansari and his writing staff regarding diversity in the media. Dev and his friend Ravi (Ravi Patel) are up for the same role in an audition and the casting director asks Dev to do an Indian accent for the role. Dev decides against doing the accent while Ravi has no problem with it.
The idea for this moment comes from Ansari's own experience in an audition room, and it's one that many actors continue to face on a regular basis. During an EW Fest Q&A, Ansari explained that he once turned down a role in "Transformers" because the character had to have an Indian accent. It's a constant debate in the world of media. Why aren't more diverse roles being offered to South Asians? Why are so many actors relegated to playing doctors or convenience store owners?
The episode takes some fascinating and hysterical twists and turns from this premise—including an opening montage of offensive South Asian stereotypes from TV and film and a huge problem with "Short Circuit 2" and "The Social Network"—all while focusing around the one central fact: The lack of diversity in television and film is still a huge problem today, and it would take a change of mindset and some courage to do things differently for the situation to improve.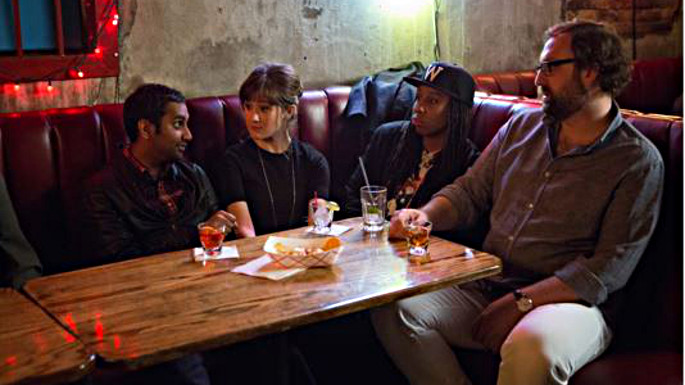 [Photo Source/K.C. Bailey/Netflix]
It's imperative to also mention the other major standout episode of the series: "Ladies and Gentlemen." Without going too far into specifics regarding the episode's plot, "Ladies and Gentlemen" finds Dev realizing just how privileged he is by being a man after learning that a co-worker was followed home by a creep who hit on her at a bar despite making it clear that she was not at all interested in romance. Dev quickly identifies himself as a feminist and attempts to fight for equality in different ways, but in the end, he realizes he still has a lot to learn about just how great the divide between men and women is in the world today.
Ansari and Yang have created a show and characters with a lovely balance of strength and vulnerability so it's no surprise that Master of None has been universally praised by fans, critics, celebrities and more. Fellow comedian and show creator Mindy Kaling tweeted her love for the show in true Kaling fashion:
All I do is text @azizansari my favorite lines from #MasterOfNone. I would text @AlanMYang but I don't have his number

— Mindy Kaling (@mindykaling) November 8, 2015
Kal Penn, Hannah Simone, and Amy Schumer all sang their praises as well:
You guys have to watch #MasterOfNone on Netflix. The writing & acting are hilarious. @azizansari crushes it. It's so funny!Call your parents — Kal Penn (@kalpenn) November 8, 2015
Do yourself a favour: flake on your friends and lock yourself in your house and watch @azizansari's Master of None on Netflix. #thankmelater

— Hannah Simone (@HannahSimone) November 7, 2015
Welp #BeastsOfNoNation and @azizansari new show #masterofnone are amazing!!! #martinellis — Amy Schumer (@amyschumer) November 9, 2015
The beauty of a show like "Master of None" is that it seems designed to make a comedy based more in real life and emotions rather than forcing the humor in harebrained schemes and scenarios. Even the craziest moments come from things that could easily happen in real life, and the show never feels spoonfed with specific gags or unspoken arrows pointing to what is meant to be funny. And much of that success comes from the acting as well as the writing and direction.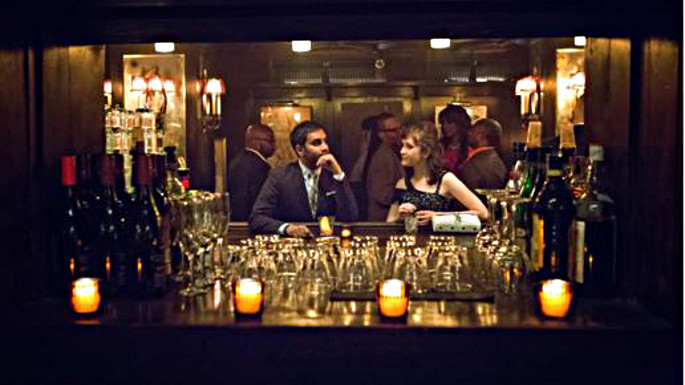 [Photo Source/K.C. Bailey/Netflix]
Ansari has found his groove with Dev, which is completely understandable considering the similarities the character shares with his real life. Ansari has joked that many critics have cited his father as being a breakout character in the series, but he's not wrong. Shoukath is equal parts hilarious, kind and understanding. Thanks to Ansari and Yang's writing combined with his father's performance, Ramesh is the kind of South Asian parent that finally breaks age-old stereotypes. And let's not forget the hilarious Wareheim and Waithe who bring arguably the most laugh out loud moments of the season, and Wells who brings provides real heart to the series.
To put it simply, "Master of None" has class, humor, and heart, all while pushing people to think beyond the comedy to issues that need to be addressed in modern society. And there's no better achievement than that.
---
Born in Texas, went to college in Missouri and now living in New York City, Keertana Sastry has a unique perspective on being Indian in different parts of America. Keertana has been working as both an entertainment, culture and lifestyle reporter, as well as a casting assistant for the film and TV industry. She loves to infuse her Indian heritage into her work and life.