by Tiffany Baxi
Like many of the first generation Indian-Americans, I have waited and hoped for more representation of us in the arts. I've always been into film and comedy and wanted us to be more than just the comic relief, or the token with zero lines. I've grown up watching "Saturday Night Live" and I've dreamt of being the first Indian person to host but only ever thinking of it as a dream. And now Aziz Ansari is living that dream as he hosts SNL this weekend.
As a kid, I remember watching and thinking it would be spectacular so see someone who looked like me as a host or cast member. I wish someone could fill that spot not just once, but it would be the norm to have more of us in that capacity. "Saturday Night Live" and "MadTV" (RIP) had all kinds of cast members throughout the years but I still couldn't help but feel like it wasn't diverse enough. It did not start with Aziz Ansari nor will it end with him, and we will continue to fight to be seen. I, myself, have dreamt about being on the show and have been motivated to explore the comedy world by taking Improvisational theatre and sketch writing classes.
When I was younger, I didn't understand why my parents felt the need to point out every "brown" person they saw on TV or in a movie. I didn't understand what a big deal it was to see people like us, representing us in positive ways. South Asian performers like Aziz have shown me that it's possible and better yet, has shown my parents that everyone starts from somewhere. While it is always exciting to see an Indian-American in a primetime TV show, they have also had to have that conversation with their parents.
Through the entertainment world and the media, we, as South Asians, were trained to think the world was black or white and that only black people were oppressed. They had much bigger problems than us so no wonder we were pushed to the sidelines when it came to talking about equality. Even on our television sets, we were watching "Family Matters" and "Boy Meets World," so we got the best of both worlds. We had BBC Asia so we had our Bollywood, too. There wasn't a need for us to be on American television. We knew we existed and that's all that matters, right? WRONG.
The only representation we had was Hank Azaria playing a convenient store owner, Apu, who had an impossibly long last name that no one could pronounce, on the beloved show, "The Simpsons." The show has great writing, and I won't say anything bad about the show, but I always wonder what the conversation was between the masterminds of creating this character and if they knew it was so controversial that they wouldn't dare cast an actual South Asian male or if they didn't think there was anyone willing to play the part.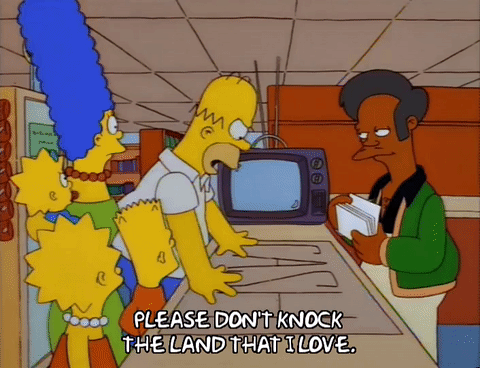 Ever since I could remember being in school, I would get teased about worshipping cows, having a red dot on my forehead, being a vegetarian, and not belonging in this country. Every day I would have to remind everyone, I have never prayed to a cow, I've never wore a red dot on my forehead, I eat hotdogs and pepperoni pizza and was born in Manhattan, NY. I felt I was always put into a box. I wanted to break out of that box but didn't know how. I wanted to be in entertainment, (still do) and not be considered "white-washed."
I always felt the need to justify that just because Bollywood wasn't my favorite genre and my family doesn't go to India every year that I'm not Indian and just because I like rock music and "Saturday Night Live" does not make me a wannabe white person. It has been hard to figure out what was enough for myself instead of thinking about what was enough for everyone else. I have lots of support in my life and I will never be what others want me to be, so as long as I can be happy with myself, I will feel true success.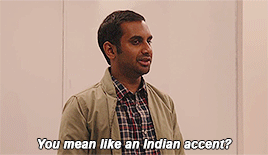 Aziz Ansari is someone who is relatable and someone who is in their own league. From watching Human Giant videos to seeing him perform at Madison Square Garden, he is defying all odds in a world that wants to shy us away from the public eye unless we play into the stereotypes they want us to be.
I felt the same way when I saw Kal Penn in "American Desi," to his own movie franchise, "Harold and Kumar Go to White Castle" WITH ANOTHER MINORITY LEAD. I felt the same way when Mindy Kaling was writing for one of my favorite tv shows, "The Office," to having a small part, to an actual story line and directing episodes, and being in Blockbuster movies to creating and starring in, "The Mindy Project". The list goes on and on from Manish Dayal playing a short-lived love interest with cancer in "90210″ to then starring with Om Puri and Helen Mirren in "The Hundred-Foot Journey" to Priyanka Chopra and Deepika Padukone making the transition from Bollywood to Hollywood.
These big moves from South Asian entertainers are coming but there is still so much more we can do and be in the arts to show the world we're more than just the kids you wanted to cheat off of in Math class.
I want to show some more love to Ansari for a minute. I have yet to mention his well-deserved Emmy Award for writing with nominations for acting and directing for his show, Master of None. He was the first South Asian person to even be nominated for a lead in a television series. In this show he created and stars in, he talks about the hustle of an Indian-American male in NYC trying to make a name for himself, while the world still wants to define him and keep him in the box that he' s been out of longer than he was in it.
Aziz Ansari means so much more than an entertainment figure to me. He is someone who I WANT to represent me, even though that is not in his job description and I feel he has done that, and done it damn well. I am not about idolizing celebrities because they are, in fact, people just like us. I want to think of him as motivation rather than someone who should be worshipped. He has accomplished so much and hosting "Saturday Night Live" is in no way the end.
It is so inspiring to see him and so many others follow their dreams while positively representing us and proving that we've been here, we're still here and we're not going anywhere. With this, I thank you, Aziz, for being more than just an entertainer and I hope our paths cross soon.
[Images Source: Giphy]
---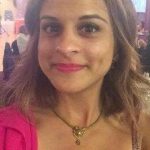 Tiffany is from the metro-Detroit area and has been in the Midwest her whole life. Her day is job is a legal assistant and her passions include Improv, writing, and film. She is one-half of the podcast, Chai Tea Party, where they explore taboo topics in the South Asian community through storytelling.