In 2012, Ayushmann Khurrana made his Bollywood debut with the film "Vicky Donor." In addition to winning many awards that year, he was also recognized for his singing and songwriting abilities from the song "Pani Da Rang," from his first film. His story is the classic tale of a small-town boy who made it in the big city.  However, Khurrana's success was not an overnight affair. It was a long journey to becoming Vicky, and there were many obstacles that followed his initial achievement on the big screen.
After three years as a Bollywood hero, Khurrana is sharing his journey and the code that helped him break into the Hindi film industry in his new book, "Cracking The Code," co-written by his wife, Tahira Kashyap.
For aspiring actors, "Cracking the Code" is an essential guide to pursuing an acting career in Hindi films and learning how to deal with the attention that come along with fame. However, Khurrana's "codes" apply to many, if not all, career fields. He is all for following dreams, but his philosophy of also maintaining a realistic, pragmatic perspective is very important, especially in an industry as fickle and dynamic as Bollywood.
Khurrana is candid throughout the book. He admits to mistakes that he has made personally and professionally. He addresses certain rumors and controversies. He also shares many stories from his early life, as well as anecdotes about his relationship with his wife that have not been publicly shared before.
"It may be an overused and abused maxim, but it becomes life-altering if paid heed to: 'Wisdom lies in learning from others' experiences,'" Khurrana wrote as his twelfth code.
Following this piece of advice, the reader is given the opportunity to learn from Khurrana's experiences—his triumphs and mistakes—to pave their own path, whether in film or in life.  
Including the many episodes from his life and pieces of advice, The book is only 134 pages long, making it a quick but entertaining read. And, he hits upon many points without droning on and on for hundreds of pages. There are a few editing errors, and he does not write in the most sophisticated language, but if his purpose is to encourage, inform and inspire, it is a job well done.
Even if Khurrana is not your favorite actor, you will likely respect his journey and struggle to get where he is today. This book is a great insight into the trials that many aspiring actors outside of the ruling film families face in Bollywood, but it is also a look into what it's like being a mainstream Bollywood actor.
"I dedicate this book to all those fans/strugglers/aspirants who have boarded their trains or flights to come to this city of dreams," Khurrana wrote in his dedication. "I also dedicate it to those strugglers who have given up and gone back, only to return."
Whether you dream of becoming an actor, have bought a ticket to each of Khurrana's movies or are just obsessed with Bollywood, this book is worth a read.
---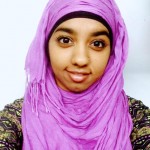 Gabrielle Deonath is a full-time college student. She is a contributor to the teen column, "At The Crossroads," in SISTERS Magazine and the author of the "Hijab Diaries" series on virtualmosque.com. Her dream is to be a journalist and novelist one day. One of her biggest obsessions is Bollywood movies and music. When she's not in class or following her dream of becoming a writer, she most likely is choreographing a dance to the latest song or watching a new Bollywood movie. To read more, visit her blog at hijabdiaries.com.