A few months ago, I came across an article in Woman's Day Magazine that featured the most memorable photographs of nine wedding photographers. While all of the images were both powerful and moving, the minimal diversity was very clear. As South Asian weddings are pretty much known for both their vibrancy and melodrama, it seemed almost intuitive that wedding photographers for this demographic would, surely, have a treasure chest of memorable moments. So, here it is! We asked seven South Asian wedding photographers to share their single most memorable photo. The results will give you all sorts of feels.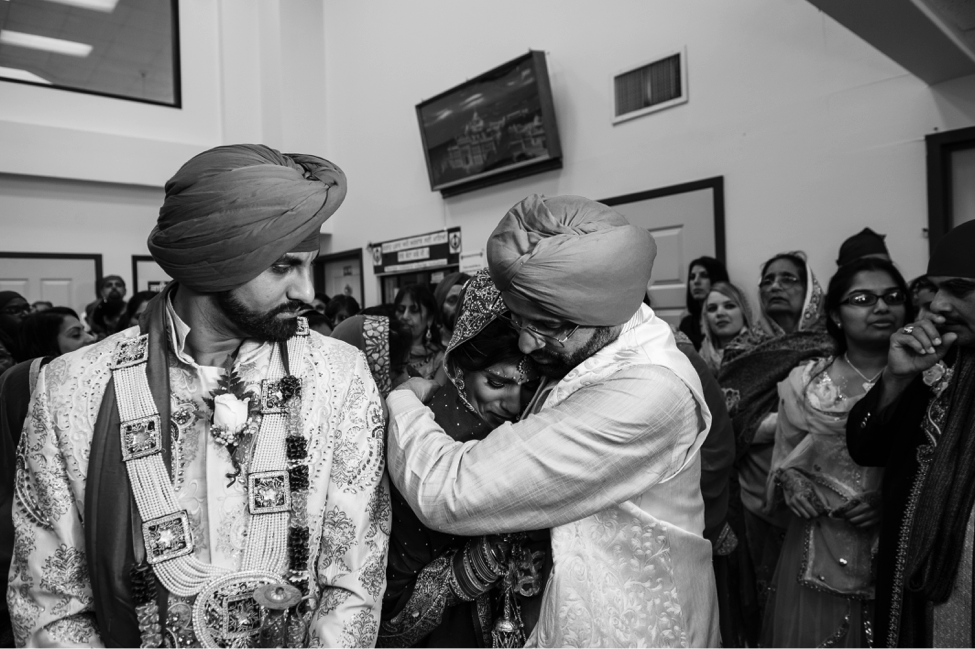 "While we treasure every moment of the many vibrant South Asian weddings that we are able to witness through our cameras, this image is our most memorable. After working with this couple steadily from their engagement ceremony all the way up to their wedding ceremony, we quickly learned just how close the bride was to her family—especially her father. This vidai moment was one of the most powerful that we've ever captured. While the bride, Vanita, bid a heart-wrenching farewell to her father, her new husband looks on in both very clear nervousness and very clear respect for the love that his wife and father-in-law share."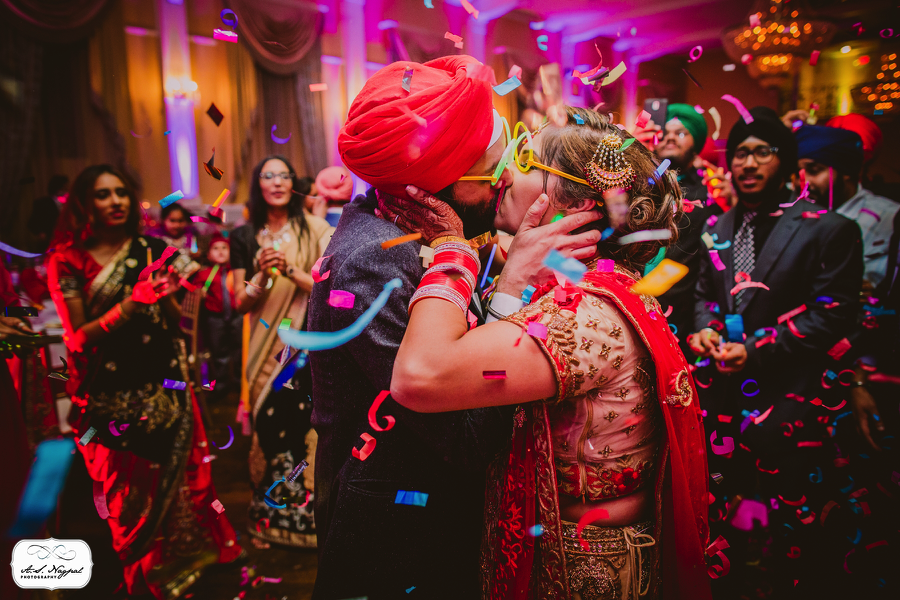 "This right here is the most memorable wedding photo I've ever shot. This is a couple that is not afraid to show their love for each other. I noticed this when they began holding hands towards the end of their Sikh wedding ceremony—something I had never seen before. Their reception was filled with such great energy and unrestricted happiness and this was just one of the many memorable moments that I had the pleasure of capturing. The confetti, glow-stick glasses, and the way they embraced each other during this moment made my jaw drop!"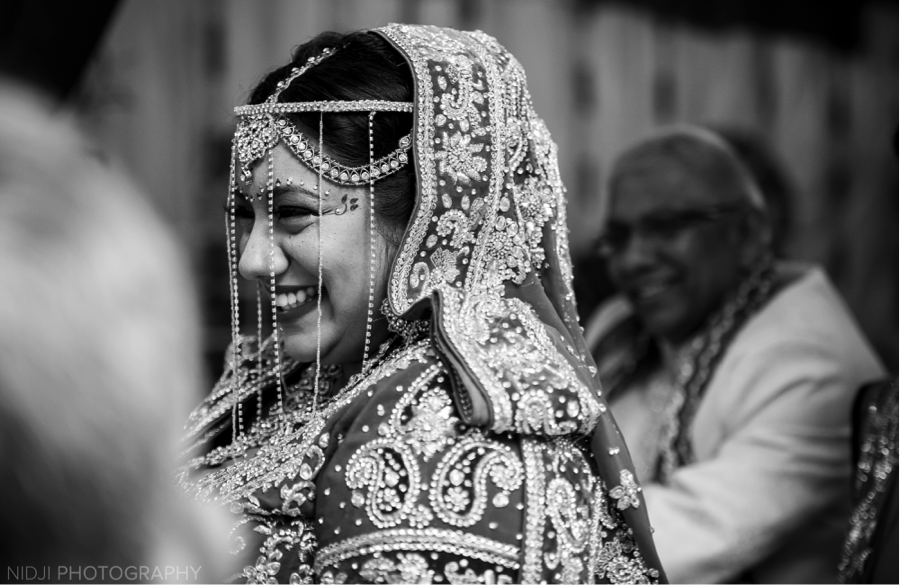 "This is the exact moment that bride Nadiya saw her groom Ewan dressed as a traditional Hindu groom for the first time.  Ewan is Muslim while Nadiya is Hindu and, due to their difference in spiritual traditions, Ewan's family decided not to participate in any of their wedding events. Nadiya's family played the part of the family for both the bride and the groom. After spending a lot of time with this couple, I was able to fully understand just how much it meant to Nadiya that Ewan chose to go ahead with the ceremony despite his family's objections. Seeing him dressed as a traditional Hindu groom despite not having any prior knowledge of the religion was an ode to their pure adoration for each other without regard for designations such as race or religion."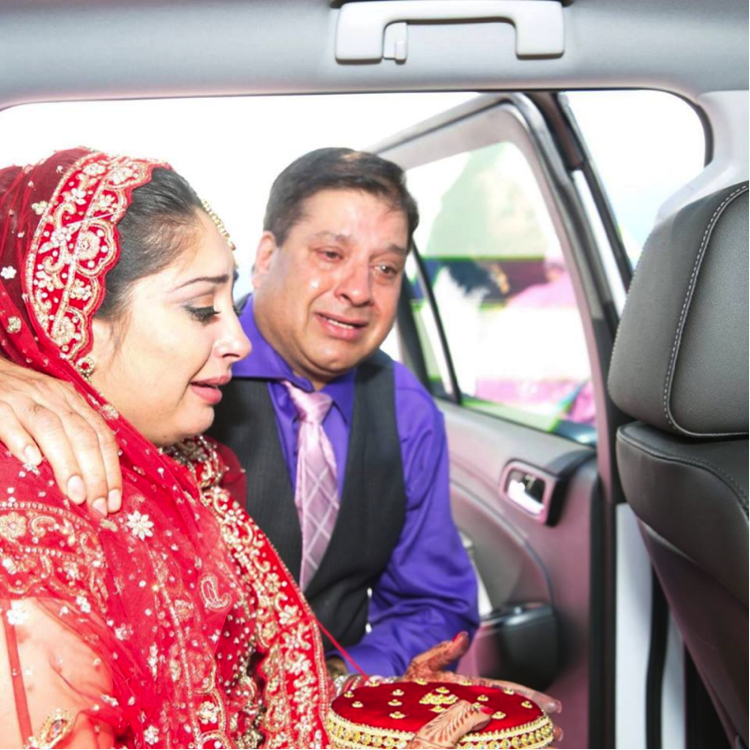 "The vidai is generally recognized as one of the most emotional and intense moments of a South Asian wedding. This moment was no exception, and it is my most memorable photo as a wedding photographer. The bride, Ramneek, was very close to her father for all of her life. As she left to join her husband's family after her wedding ceremony, she and her father, seemingly inseparable, tearfully separated as she went off into married life. Her father passed away two months after the wedding. She shared this photo on her Facebook page in memory of him."
"Being a die-hard 'moment junkie' I chose this shot from Meha & John's wedding as my most memorable. This image captures the true nature of these two – very funny, very cute, and very much in love! For me, this image captures the sense of the unknown, as well the hidden amazement, that emerges when two different cultures come together. In this couple's case, three cultures fused together for a beautiful celebration of marriage: Indian, American, and Hispanic. It is moments like these that stay with me for a very long time and I'm truly fortunate to have captured this and many other memories for hundreds of couples that I've photographed throughout my career."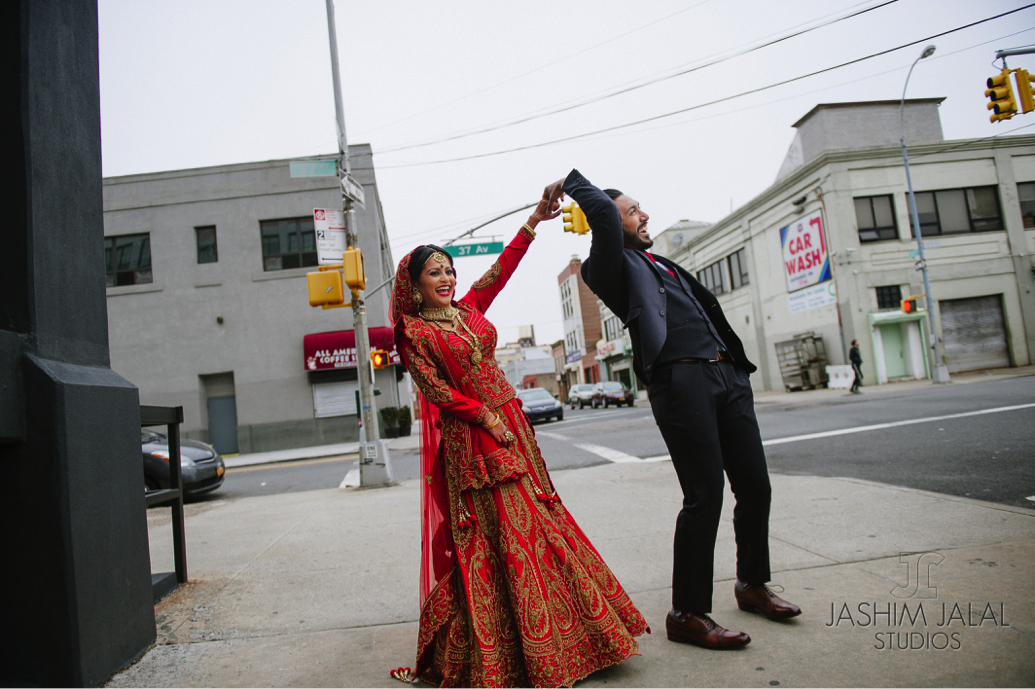 "For the first time since I've started my career as a wedding photographer, I was able to partake in an event both professionally and personally. My goal with all of my couples is to involve myself as a friend and then capture their story as a photojournalist. Sanan and Nasreen are very good friends of mine and I was able to help capture their story from a very intimate place.

This image is the most memorable because I've gotten to know these two on a very personal level and every shot felt very personal. They've been married for 5 years and it was such an honor to help document their vow renewal. After their first look, which was filled with a lot of excitement and anxiousness, we were heading back to the hotel room. On our way back, I told Sanan to give his bride a spin, and in true candid fashion, he accidentally spun himself. The laughter in both of their faces displays the joy, trust, and innocence that is very prevalent in their relationship. It's just like him to do something silly to bring a smile to her face.

For me, it's not about the pretty flowers or the extravagant party. I shoot for these raw candid moments where the true identity of a couple reveals itself. This gives me purpose. I've witnessed some of the hardships they've been through and it meant that much more to me to capture the happiness in their life and to share a little piece of their euphoria with the world."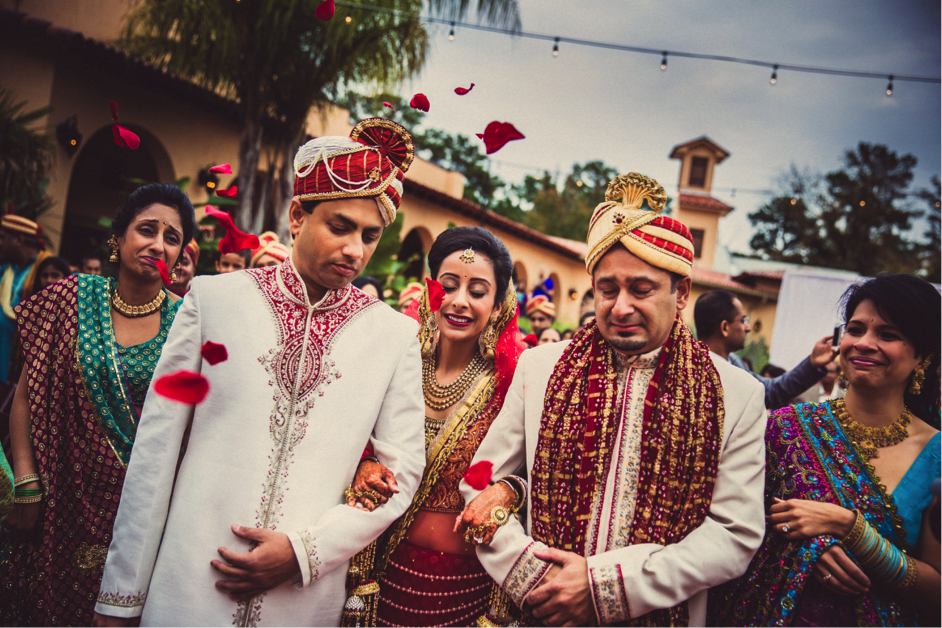 "This moment, during bride Annu's Hindu Punjabi wedding in Monroe, Texas, is the most memorable photo I've ever taken. As per Annu's wedding traditions, her brothers were to walk her down the aisle to the mandap.  However, rather than just walking with her only brother, she asked her brother-in-law to walk her to her ceremony as well. This was a very emotional moment for the entire family. The trio was greeted with a showering of rose petals at the end of the aisle. Her brother, pictured to her right was overcome with tears. Annu later explained their closeness, highlighting that he raised her like a father."
---
Elizabeth Jaikaran is a freelance writer based in New York. She graduated from The City College of New York with her B.A. in 2012, and from New York University School of Law in 2016. She is interested in theories of gender politics and enjoys exploring the intersection of international law and social consciousness. When she's not writing, she enjoys celebrating all of life's small joys with her friends and binge watching juicy serial dramas with her husband. Her first book, "Trauma" will be published by Shanti Arts in 2017.