A fire crackles as an Indo Caribbean nani churns her steel pot over a clay stove, her ornhi (shawl) draping behind her ears. A handprint is placed on her kitchen wall, symbolizing a successfully made paratha.
"In those days, to become an 'eligible bride,' one of the requirements was to be able to puff a paratha, with the right texture and consistency," artist Indra Persad says. 
The stroke of her paintbrush whisks you away to this scene filled with aromas of Indo Caribbean cooking, simmering Caribbean heat and freshly clapped rotis.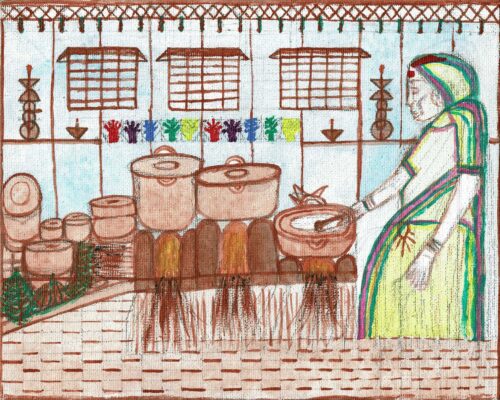 Persad's paintings have served as a reflection and connection to her childhood and culture. Her paintings expose experiences from Indo Caribbean culture—from Trinidadian folklore to illuminating Diwali nights. Persad's work brings perspective on Indo Caribbean culture from the lens of an artist and Trinidadian woman.
 When did you first become interested in art?
"My interest in art was inspired through nature, still life and design. I adored my art teacher, Mrs. Helga Mohammed from St Augustine Girls' High School in Trinidad. She was originally from Madrid, Spain and married a Trinidadian man.  On my first day in her class, written on the blackboard was: "Art is not only a painting hanging up on a wall; art is in every aspect of your daily life." These words have been stuck in my head since. 

At age 15, I painted nature, for example orchids on a branch. At 16, I did a still life—a display of an apple, pear and a bunch of grapes. My paintings were chosen for the high school's yearbook two consecutive years. Their reviews lifted my confidence in my artwork." 
What inspires your artwork?
"I always wanted to work with natural materials such as flowers, leaves, palms and bamboo from the rainforest as well as sand, shells, seaweed and driftwood from the beach. 

Some of my art reflects the conditions of this pandemic. One piece "Observing Ramadan Safely During COVID-19″ is  multicolored with gold acrylic paints on canvas featured in Parliament of Trinidad and Tobago. During Ramadan masks and social-distancing measures remained in effect across the globe. Muslims did what they could to foster a sense of community in quarantine."
Despite the pandemic, Persad's work is featured in a solo art exhibition and four virtual art exhibitions. 
Do you have any favorite paintings that you've created? If so, which ones and why? 
"My paintings bring to life many of my childhood memories of growing up in Trinidad in the 1950s and 1960s. I thought about all the kitchens that I had cooked in. My favorite was my grandmother's kitchen. She cooked with three chulhas, which required a lot of skill to manipulate wood and keep the flame burning. In those days, to become an 'eligible bride,' one of the requirements was to be able to puff a paratha, with the right texture and consistency. After mastering that skill, you were allowed to place 'your handprint' on her kitchen wall. 

It was like a graduation. That kitchen brought up a lot of memories of different foods that were cooked for different festivals. Hence my first painting was my grandmother's kitchen. As I began to plan out this painting, I remembered the smell of freshly made laddoos which was a favorite dessert of ours and of Lord Ganesh. Lord Ganesh is the Remover of all Obstacles and the first Hindu deity to be worshiped in all festivals and ceremonies, therefore my second painting was Ganesh Chaturthi. 

There is a personal story behind every one of my paintings. I painted every single festival celebrated in Trinidad as well as all the folklore stories that I heard while growing up. This is the reason for the title: "Festivals and Folklore of Trinidad, West Indies."
How has religion played a role in your art? 
"Religion has played a major part in my art. Hinduism is what I was born into. One of the most positive features of the pandemic is to be able to listen to live satsangs on Facebook and Youtube. My paintings also have elements of folklore derived from African religions and Christianity."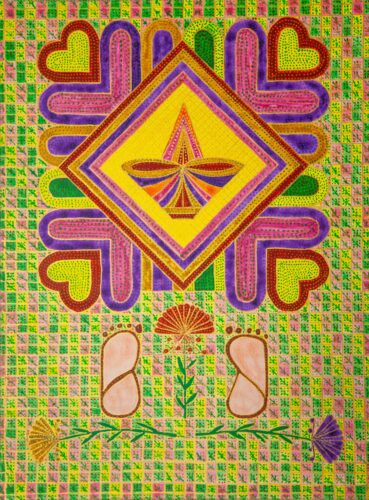 Do you believe that art has become an anchor for storytelling in Indo Caribbean culture and if so, how? 
"Absolutely! My paintings, for instance, are full of stories. Art has become a springboard to explain Indo Caribbean culture to a wider audience. During the past few years I have made it a point to write pieces on Diwali and even held an annual Diwali Festival and Feast at the First Church in Salem, MA.  Aspects of Indo Caribbean culture are becoming popular—so popular that everyone invites each other and brings friends and family to such events. The Museum of Fine Arts in Boston also holds an annual Diwali Festival with food and culture for the community. In the U.S. we now even have a Diwali stamp."
Why do you think art-related careers are not encouraged among Indo-Caribbean families? How do you think your art might change that? 
"I think that Indo-Caribbean families are still brainwashed into thinking their children should be doctors, lawyers and engineers. When I was invited to be a contributing artist at The Rotunda Gallery TT, many Trinidadians were excited that the work of Indo Caribbean artists was being featured. My piece depicted Ramadan and the Muslim community because they are a small yet vibrant part of Trini culture. Many young Muslims aspire to pursue art careers. Change will come slowly!"
Persad believes that more galleries and art museums need to be established in Trinidad. She hopes that her featured work will allow Indo Caribbean parents to destigmatize and encourage art careers. She emphasizes that social media and technology also play a role in encouraging art careers as it creates an online community for Indo Caribbean artists.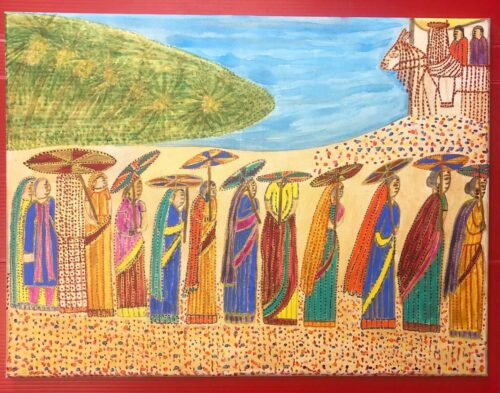 What advice would you give to fellow Indo Caribbeans pursuing a career or interest in art? 
"Be true to yourself and confident in your work. I honestly think that every piece of art must have a story behind it to be successful. There is certainly a place for abstract art!" 
Persad's storytelling of Indo-Caribbean culture opens the door for more representation across the diaspora. Storytelling through art has become integral for the preservation of Indo Caribbean identity. She touches on the experience of Indo Caribbean children that are usually guided into traditional careers, leaving art in the backseat. With the emergence of new artists, Persad is one of a growing number of Indo Caribbean artists who represent the heritage and is working to pave the wave for other Indo Caribbean artists.