The following post is brought to you by our sponsor, Shan Foods, producer of premium spices, mixes, and ingredients from all over the world.
There's one place any impending travel bans simply can't touch—your kitchen. I'm here to show you how to cook your way across the world in the sanctuary of your kitchen while you explore the flavor profiles of iconic rice dishes; though these epicurean travels will ban one thing—rice! Ba-dum Tsshh!
I promise these recipes are far better than my jokes. I'm not usually one for swearing off an entire food or food group. In theory, I believe in balance and moderation. In reality, I'm like white on rice on actual white rice.
However, riced cauliflower is culinary magic. I actually love the taste and, when correctly cooked and spiced, I promise you, it really does taste and look like whatever rice dish I'm mimicking.
You can easily "rice" cauliflower by putting the florets of one head cauliflower in a food processor and pulse it until the texture is that of rice. No food processor? No problem! You can be old school like me and use a  box grater.
The swap-out of cauliflower for rice is no small deal. One cup of white rice is 200 calories whereas one cup of the riced cauliflower is only 35 calories . Another pro is that riced cauliflower is quicker to cook than rice.
Let's do we do a quick checklist of the perks of riced cauliflower:
it has 165 fewer calories than rice
it cooks faster
it can clearly perform wizardry as you'll see below
Who's ready for a lil' healthy world travel?
1. Fried Rice
[Photo Source: Kirbie's Cravings]
When I have Thai food, pineapple fried rice is usually my go-to comfort dish. This "quick and easy low carb, gluten-free version" satiates everything I crave about pineapple fried rice sans, ironically, the rice! This recipe has chunks of fresh pineapple and chicken and a medley of soy and fish sauce, curry powder, and fresh herbs. With such a well-rounded and traditional flavor profile, I get what I crave without all the starch.  Get the recipe here.
2. Red Rice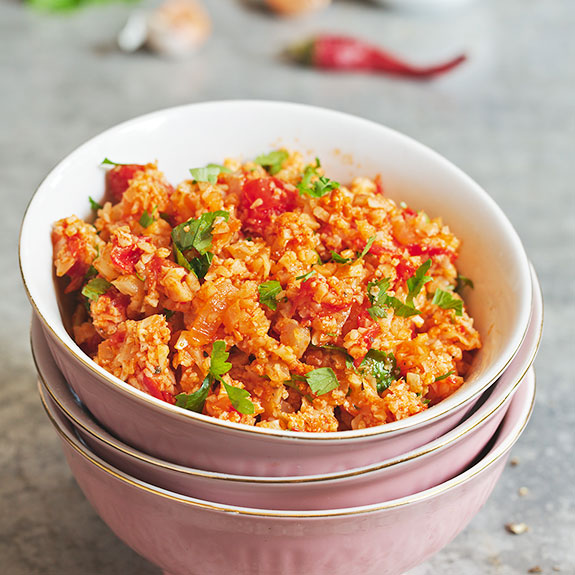 [Photo Source: Paleo Grubs]
You got onions, garlic, tomato, chili flakes, cumin, oregano, cilantro,  fresh lime juice; oh the list goes on. Trust me, you won't miss the rice in this dish that is consumed in parts of Mexico. The rice isn't what lends any flavor to this dish. What does give this dish its rich piquant flavor are the abundance of spices and herbs I mentioned. Head to flavor town now and get the recipe here.
3. Risotto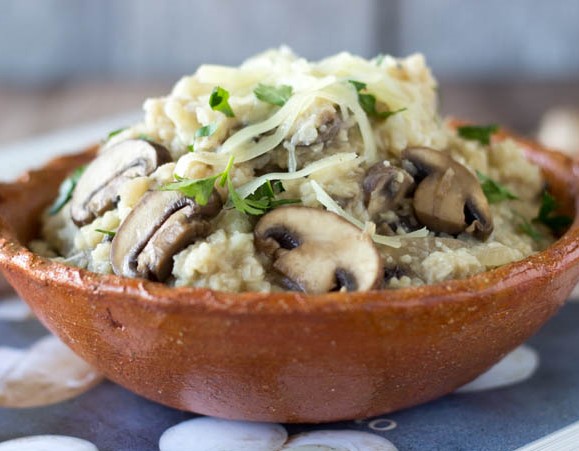 [Photo Source: Simple Healthy Kitchen]
 When I think of comforting Italian food, amongst the many dishes, risotto always beckons. This recipe delivers big on taste and consistency of risotto.  Pureed cannellini beans lend creaminess to this dish, which is another genius cooking hack. Get the recipe here.
4. Paella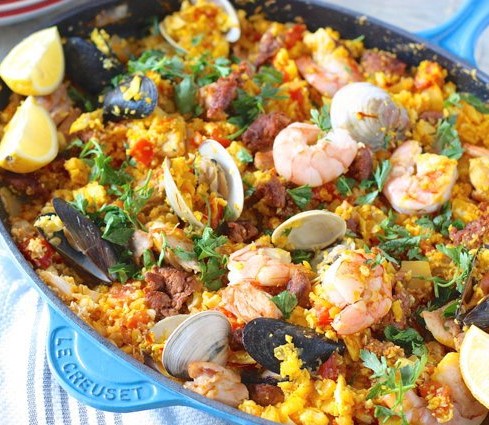 [Photo Source: Against All Grain]
Low-carb and high-taste, this "paella" is a seafood lover's edible paradise! Not into seafood? No worries. Author Danielle Walker advises you up the chicken and sausage qauntities. Curious to learn how to make this beautiful Valencian dish? Check it out here.
5. Bibimbap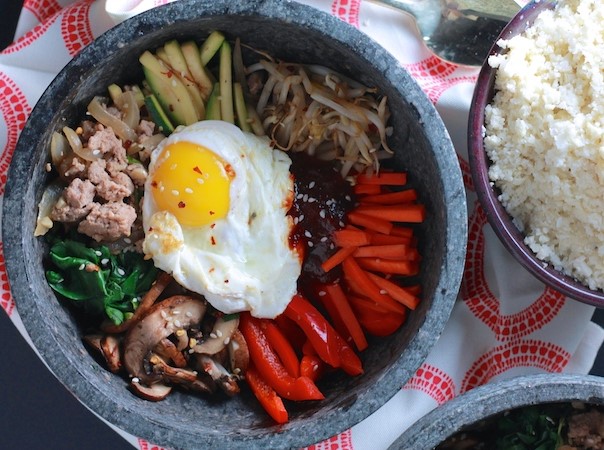 It'll be hard to tell the difference between this Korean dish and the classic version of it with rice. It maintains the texture and flavor of bibimbap minus the calories and starch. Get the recipe here.
6. Jambalaya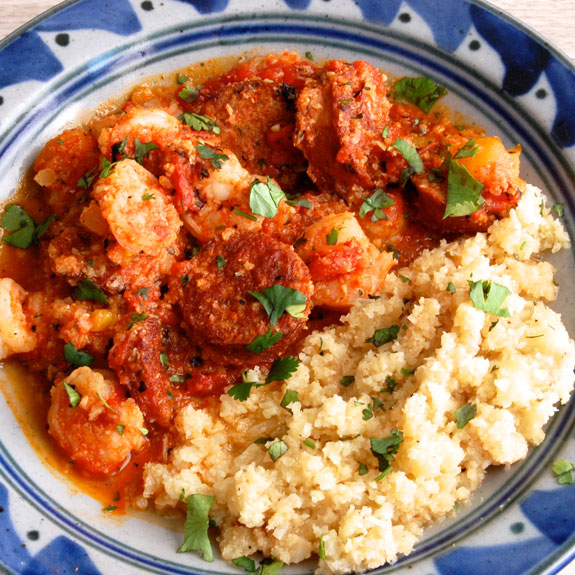 [Photo Source: Paleo Grubs]
A traditional Creole dish made Paleo? Hmm, I had my doubts at first, too, but this recipe hits every high note, almost perfectly mimicking the classic dish. My only addition would be to add chopped celery with the onions and bell pepper to stay true to Creole cuisine's "holy trinity." Get the recipe here.
7. Pilau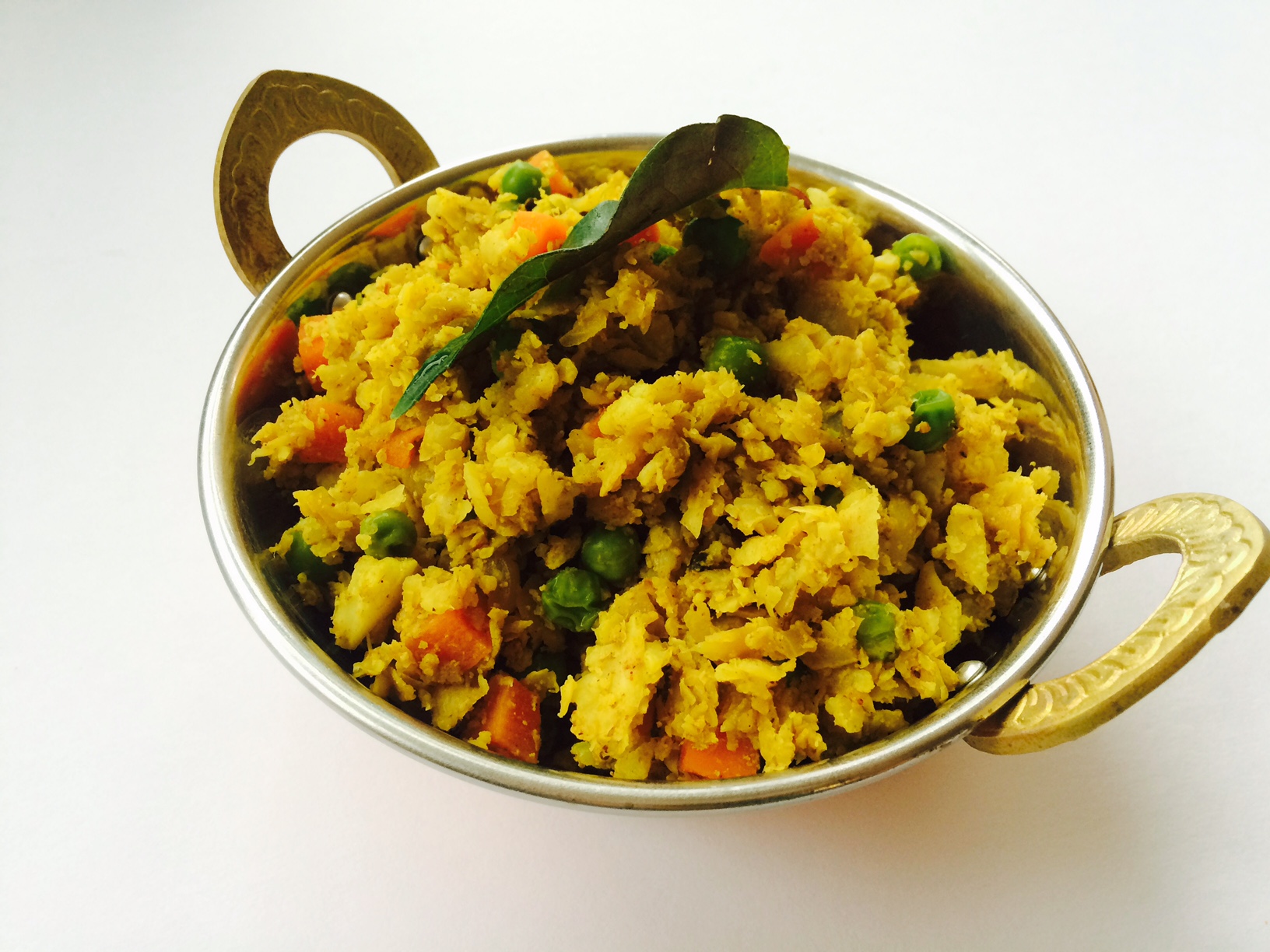 And last but certainly not least,  there's pilau, eaten throughout India and Pakistan. No need to click anywhere—I got you here! With Shan's masala, I can create a pilau-biriyani dish in 15 minutes. You can make this with or without chicken.
Ingredients
1 head cauliflower or 4 cups riced cauliflower
1 heaping teaspoon ground turmeric
1 1/2 pounds thawed chicken, cut into chunks
1 Tablespoon sour cream
1 Tablespoon + 1 teaspoon Shan Pilau Biryani OR Shan Bombay Biryani seasoning mix
1/2 Tablespoon garlic paste
1/2 Tablespoon ginger paste
1 teaspoon vegetable or canola oil
one small onion, diced
1 small bunch fresh mint, leaves only
1/2 cup peas and carrots
Directions
Combine riced cauliflower with turmeric and set aside. In a separate bowl, combine the chicken, sour cream, Shan seasoning mix, garlic paste, and ginger paste and set aside.
Heat oil in a pan over high heat. Add chicken and cook for three minutes. Add a handful of fresh mint leaves and stir; cook for three more minutes. Add onions and stir. Reduce heat to medium-high and cook for two minutes.
Add riced cauliflower to pan and stir. Cook for three minutes. Add a handful of fresh mint leaves, remaining teaspoon of seasoning mix, and peas and carrots. Stir well.  Cook for five minutes.
Remove from heat and transfer to serving dish. Garnish with fresh mint as desired.
[Find more easy-to-make Shan Foods recipes here.]
To see more of Soni's original food articles and comics, visit facebook.com/sketchydesi.
---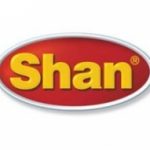 Shan Recipes' offer unparalleled expertise in taste of traditional cuisine. Procuring the best-in-class spices and ingredients from all over the world, Shan ensures pure and premium quality through manufacturing practices such as 'Cryogenic Grinding' and 'V-lock technology'. This enables the consumers to get the product in its purest form with the natural freshness, taste and aroma of the spices.
---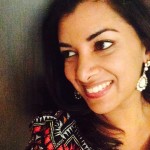 Soni Satpathy-Singh is a recipe writer and developer who resides in Manhattan. She is either always cooking or eating be it for work or simply because she loves to! She is working on her own cookbook and created "Sketchy Desi" which provides daily humor, greeting cards, and apparel that celebrate brown culture. To see more of Sketchy Desi's work, visit facebook.com/sketchydesi/ or stay tuned for upcoming posts on Brown Girl Magazine.