by Radhika Menon – Follow @Browngirlmag
If it seems like everyone has a podcast these days, it's probably because they do — even "The Apartment with Asif and Baluch's" creator Ali Baluch agrees. But his podcast, launched in 2016, is different than most: "The Apartment" is recorded both aurally and visually, and features immersive conversations set (appropriately) in Baluch's Los Angeles apartment.
Conventionally speaking, podcasts are audio-only experiences — you can find them on your phone or across the internet, engaging you in someone else's conversation for the length of your commute — but Baluch and his co-host Asif Ali are creating their own hybrid 360-degree-style approach to the podcasting space.
Each interview on "The Apartment" has both a traditional audio piece distributed via iTunes along with a companion "behind-the-scenes" style YouTube video that shows the organic interactions between the hosts and guests.
"I was listening to podcasts in the car and I'd go on Google after to see if there was footage of [the interview]," Baluch told Brown Girl Magazine of the genesis of the multi-platform idea. "The video concept just came out of me wanting to watch a lot of interviews."
And so the YouTube podcast was born.
In their dual identities as creators of a podcast and in their day jobs, Baluch and Ali identify as artists of color: Baluch is a producer at MTV, while Asif is an actor currently starring on the TBS comedy "Wrecked." Similar to many brown kids in entertainment, Baluch described his path into the industry as difficult: he grew up in Virginia with Muslim parents and found himself in a career he wasn't passionate about.
"I was working in politics for a congressman in the House of Representatives. I was looking at law schools but I just really hated it."
Baluch quickly realized that he wanted to go to film school instead, much to the dismay of his parents.
"They were super proud before and then they were so against [film school]. They still, to this day, are like 'Hey, maybe you should reconsider and go back to school.'"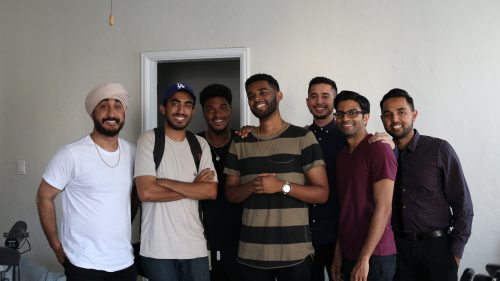 But Baluch followed his instincts and went to film school, later moving to LA where he met Asif Ali, Hasan Minhaj, Fahim Anwar, and Aristotle Athiras of Goatface Comedy.
"Ten years ago, Muslim comedy was corny and cheesy. Everyone was doing cookie-cutter Islamic cliches," Baluch remembered of the late 00's. "I was drawn towards Goatface…because it was four brown guys doing comedy that was just comedy."
Goatface Comedy took off on YouTube and was the basis of Baluch and Ali's friendship, laying the initial groundwork for "The Apartment."
With busy schedules, planning episodes often becomes a race against the clock.
"We'll spend a good 15-25 hours a week preparing for an episode," Baluch explained. "We spend a lot of time researching other podcasts and watching interviews…we see what works for everybody else and try to sprinkle that into ours."
"The Apartment" creators not only glean best practices from radio shows and podcasts like NPR's "Fresh Air" and "Here's the Thing with Alec Baldwin," but they are also hyper-conscious of repeating the same questions their guests have done in previous interviews.
"We do our research because we don't want it to be the same old, same old…it's just not engaging."
The end results are impressively intimate conversations spanning politics, identity, race, and many other hot-button issues.
From the beginning, "The Apartment" has been committed to featuring people and artists of color.
"[We wanted to] focus on people of color, amplify and project their voices, give them a platform, and celebrate their work because they don't get recognized enough," said Baluch of their initial goals.
So far, "The Apartment" has featured twenty-five guests, and none of them have been white.
"It restricts us a lot…but we're very stubborn and we're sticking with it."
And we are so happy they are sticking with it.
Follow "The Apartment with Asif and Baluch" on Youtube and Facebook. 
---
Radhika Menon is a writer, TV connoisseur and pizza enthusiast living in New York City. She is a proud Michigan native and alumna of the University of Michigan. She loves puns and is sometimes funny on Twitter: follow her @menonrad.