by Sonali Kudva
This open letter is a response to recent events in Mumbai where police dragged 40 couples out of a city hotel, detained them and fined them for "public indecency." Details of the issue can be found here.
Incredible India: Come for Kamasutra and Khajuraho, be detained by the police for being in a hotel room with a significant other.
I'm ashamed, dear Mumbai police. I'm ashamed at the image you're providing to the rest of the world. I'm ashamed that you're a reflection of my country, the world's largest democracy, where two people can't enjoy some private time in a hotel room that they've paid for.
You fined these people for public indecency! The only thing public in this situation are your actions. And the only thing indecent is how you humiliated these people.
Who the heck are you to police morals? Who the heck appointed you judge and jury to convict and sentence anyone for having sex with someone else behind closed doors?
Is this perhaps an extension of the porn ban? Perhaps you'd like Indians to stop having sex altogether? Lord knows that would solve our population problems.
You do realize that for all the time you wasted policing people having consensual sex, there were women being molested on the street, and others being raped? Isn't that really what you should be looking into?
A Zee News report states there have been 227 cases of rape registered with the police in Mumbai between January and August 2015, including two gang rape cases. The same report states that this is possibly due to the fewer number of policemen assigned to the streets.
Just as a suggestion, India, perhaps these policemen who decided to intrude on the privacy of consenting adults, could stick to doing their jobs on city streets instead.
And would you like to talk about "public indecency?" What about the guy on the street who decides to take a piss in full public view of apartment buildings with small children? What about the flasher in the local train or bus? What about that guy who decided to put his hands up my skirt?
This entire incident has left me with a bad taste in my mouth, and a feeling of incredulity. We don't live in a fascist or ultra conservative country. We live in a land where women can vote, speak up, work, and have sex with whom they please, when they please, and where they please, which does not require your permission if done behind closed doors.
There are women who have spoken up in cases of forced intimacy and rape. These women are victims. And yet, they have received no justice. The perpetrators of sexual crimes against them walk the streets freely, while these women are fearful behind closed doors, or worse, dead.
You know what the real problem is here? The real problem is, you don't seem to understand the difference between what is decent and what isn't. Indecency isn't having sex behind closed doors in a hotel room because you don't have the privacy to do so in your own home. Indecency isn't about what a woman is wearing or not wearing. Real indecency takes place when one person does something to another without consent; when one person offends another. Here's a good example: when one of your officers slapped one of the women detained when she refused to pay the unjust fine you imposed on her.
Please do your job and do it right. Stand up for the victims. Stand against injustice. I see neither in this situation. So please, as a concerned citizen, do not embarrass yourselves or me by policing people who didn't ask for your help, and did nothing wrong. You represent my country, a country I consider progressive and democratic.
This Independence Day, let me be free and leave my moral policing to my conscience.
---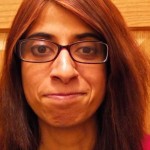 Sonali Kudva is a Ph.D. candidate at the College of Communication and Information at Kent State University, Ohio, with research interests in Bollywood, Human-Information Interaction and Popular Culture. She inherited the travel bug from her parents and has traveled widely, and hopes to get the opportunity to travel to more interesting places someday. In another life, she was a Pulitzer Center for Crisis Reporting Fellow, has worked as a full-time journalist-editor and freelancer at magazines, newspapers and online. Sonali calls India her home, even though she spends more time away from home than in it. She likes to collect academic degrees, and in her spare time, she likes to vegetate with an interesting novel, talk to her family or argue with her friends on politics, international affairs and any other topic that may come up.