by Minnie Rai 
Let's just say, I'm not a heavy dater. I am a bit conservative, and slightly guarded when it comes to interacting with (let alone dating) the opposite sex. I mean, I would definitely call myself a people person, a bit gregarious most of the time, but I'm just an overall shy gal. So, as I confidently enter my late twenties, and am constantly reminded by my well-meaning mother that the only way for my menial and insignificant life to be complete is by getting married (aren't mothers great?), I am finding that perhaps there is a sense of urgency to respect when making the effort to find a life partner.
Or in my case, just a boyfriend who has a job and who appreciates when I incorporate rap and hip-hop, primarily Drake, lyrics into everyday speech. I don't think that's asking for too much. I mean, if I can find someone who loves me in my "sweatpants, hair tied chilling with no make-up on" or will inevitably "Jodeci cry for me" then I'm set.
My good friend proposed the idea of a speed-dating event to me, not warning me that it was a South Asian event, which didn't initially bother me. But I just didn't want to limit my potential romantic choices to the desi community because, truthfully, I just want a loving man— race casts no bar. But since I knew attending something like this would please my mother, I happily tagged along. More importantly, however, the thought of having 18 mini-dates with 18 eligible young men sounded like a promising way for me to catch up with the rest of the world and their dating resumés.  The event of eager daters aged 25-35,  with hopes of making a connection in a contrived dating environment, took place in the backdrop of a steakhouse. Nothing can be more romantic to a vegetarian like myself than the aroma of searing cow to inspire notions of romance.
In order to prepare for this big event, since my dating game can be reduced to me giggling uncomfortably when a guy approaches me, I enlisted the advice of some friends to prompt me with interesting questions to pose to my eligible suitors. (Just a side-note, anyone I told that I was attending a speed-dating event thought I was absolutely nuts. Let's be honest though, it isn't any different than online dating. Everyone's pessimism and doubt would not deter me from this adventure!)
My friends came up with quite fun and insightful ice-breakers ranging from, "what's your favorite type of cheese?" to "are you a dog or a cat person" to "if you could travel back in time, what time period would you travel to?" They were all great questions and all questions I used. I did only use the "affinity for cheese" question once because I received a very quizzical look from a guy who did not appreciate having to choose between brie and cheddar. Let's just say that question will remain in my back pocket for when I meet a cheese aficionado.
My friend and I were both quite exhausted after a long day at our respective jobs and by the time the evening's event rolled around our excitement and nerves faded to "let's just get this over with"— I know, not the greatest attitude to have before entering a potentially life-changing experience. So, after arriving late to the event, and being quickly ushered by the organizers into the fold of other dating participants, the big moment had arrived and my dating circuit experience was about to begin.
My very first date was with a guy who revealed almost immediately, before I could ask any compelling questions, the types of questions one should never ask on a first date— that being "do you want to have kids?" Taken slightly aback at his need to school me on the playbook of dating questions that clearly he co-authored with other easily-offended guys, I decided to save my "what's your favorite cheese" question for someone else. And after he told me that he worked in payroll, played soccer, and discussed his string of unsuccessful dating experiences, all I could do was feign interest by bobbing my head in agreement like my uncles do when they pretend to understand white waitress explaining menu options to them.
The next couple of dates did not yield any potential matches. They were all nice South Asian guys who any mother would be pleased to have as a son-in-law, but that little bit of a "je ne sais quoi" we look for in a potential mate just didn't present itself. There was one guy, wearing the tightest t-shirt imaginable, who obnoxiously looked around at the other girls when he wasn't staring at his biceps. His tight t-shirt was meant to reinforce the fact that he worked out, and, of course, he discussed his work-out regimen with me, which left me with glazed eyes of boredom.
After him was a high school teacher—cool— who also liked the dramatic arts—nice— and taught math—sure. I thought I was building a rapport with him until I asked him what television shows he liked to watch. He answered disapprovingly with:
"I don't watch T.V. I don't have time for it, I'm not a homebody!"
Okay, fair enough you're not a homebody, but you not watching any television show is a blatant lie, and if you're going to judge me for binge-watching "Master of None" or any show Netflix decides to release, then we can never be friends, let alone a romantic item.
So, after painfully sitting through dates with inconsiderate and judgmental guys, I finally found myself having the best banter with a sweet young man with a dorkier laugh than mine. I asked him what his spirit animal would be and he replied emphatically with "panda" and I nearly melted. (No cheese-pun intended.) That sold me right then and there until I asked him if he was a dog or cat person and he replied with: 
"FISH!"
Are you kidding me right now? A fish is a pet you keep when you can't even take care of yourself. That's when I knew we could never be.
Thankfully, on my next mini-date I met a handsomely shy guy with a gorgeous smile. What really drew me to him was the amount of facial hair he amassed on his cute face. Beards are the key to my heart. At this point of my leg of the dating circuit, I was supremely confident. Usually I'm the shy one on a date when I'm staring at an attractive guy, so I was pleasantly surprised when the roles were reversed and found him fidgeting with his hands and quickly catching himself when he held his gaze on me for too long.
The mini-date had an easy flow to it—he told me about his travels, he agreed with everything I said (major points right there), and we joked about living on opposite sides of the city and how him living in the east side makes a potential relationship with a west-end girl a challenging one. At that moment as we quipped about east-coast west-coast rivalries assigning ourselves as Biggie and Tupac respectively, all I could hear in my head was not a rap song but the Pet Shop Boys singing "East end boys and west end girls." This was accompanied by my imaginings of a corny music video where my new East coast boo and I catwalked sullenly down some abandoned street in trench coats adorned with awkward brooding model poses. I knew at that point that this guy was it, speed dating event adjourned, no need to meet the rest of the lads. I mean, if I can imagine you and I in some video montage then you're in buddy. But alas, I had more dating duties to fulfill.
Just an aside, 18 consecutive dates is a very exhausting experience that I did not anticipate. Therefore, I would recommend to anyone wishing to pursue such an enterprise to stay hydrated, stretch whenever possible, take deep breaths, and take advantage of the free appetizers during the break.
At this point in the evening, I was approaching the tail-end of the circuit and was soon to be home-free. I wasn't really interested in conversing with other guys after deciding that the east-end boy was the one, and I couldn't have been more right as the next guy nearly lost his mind when he saw me clad in my red blouse, citing how red makes him go crazy with lust (he used those words by the way). I knew his lascivious comment was meant to be a compliment, albeit a completely inappropriate one, but I was still petrified and regretted wearing red that night.
I gave him the benefit of the doubt that perhaps he just said inappropriate things when he was nervous. Unfortunately, that was far from the truth because as our conversation zig-zagged from discussions of "The Great Gatsby" to him choosing x-ray vision as his choice of superpower he preceded to tell me how throughout the conversation I managed to give him an intellectual orgasm. At that point, all I could do was erupt in nervous laughter as I kept praying for the organizer to signal for the end of the date.
After my horny-Jay Gatsby-loving date had ended, and I successfully suppressed any projection of vomit, I finally came to my final date. This speed dating event was beginning to feel like a marathon that I didn't have the stamina to finish, but I'm not a quitter and I was going to give my last date my absolute best! This guy was sweet enough, a bit taciturn, but he humored me with my superhero-themed questions, even if he only gave me one worded answers throughout our date.
As I struggled to open this guy up, I thought he probably had at least one favorite television show that he could tell me about, whereby he wouldn't make me feel like a social pariah for asking like, the math teacher did. After asking my promising question, he revealed to me that two of his favorite television shows included the wildly outdated "Jerry Springer" and the I-thought-it-was-cancelled-"Bold and the Beautiful." At first, I thought he was lying when he said that his favorite show was Jerry Springer and I thought I was being funny when I asked if he liked the "Maury Show" as well, as I decided to tell him:
"He was not the father!"
He did not laugh at my joke and nodded with a serious yes that he does indeed enjoy watching Maury Povich read paternity tests. At that point all I could think was "check please!"
All in all, one out of eighteen dates is pretty bad, right?  I guess I'm just too picky, or not cultured enough and have to re-consider adding "Jerry Springer" and soap operas into my television viewing, or acknowledge that a goldfish can be an exciting animal to keep as a pet (it's not!). Let's just hope my east end boy calls.
---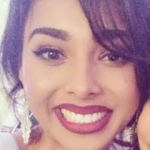 Minnie is an English major who works in health systems research in Toronto. She also runs an embroidery and screen-printing business with her mom and sister. She loves traveling abroad for volunteer initiatives which have taken her to Mexico and Honduras. She is also training to be a yoga teacher and cooks a mean spaghetti with rosé sauce.