The name Sri Srinivasan may not ring a bell with many Americans, but he has been the talk of the town in Washington for some time now. Srinivasan first came into light after being nominated to the U.S. Court of Appeals for the D.C. Circuit. Srinivasan has been waiting for Senate confirmation for over a year, and was confirmed in a unanimous Senate vote on Thursday, May 23, 2013.
Born in Chandigarh, India, Srinivasan was raised in Kansas. Srinivasan went on to earn his bachelor's degree from Stanford University and then earned his J.D. and M.B.A from Stanford. Srinivasan had the prestigious opportunity to clerk for former U.S. Supreme Court Justice Sandra Day O'Connor. After his clerkship, he entered the private sector as a litigator and then joined the office of the United States Solicitor General. Srinivasan's impressive career as a litigator came into light as he represented Skilling in front of the Supreme Court. In 2011, Srinivasan replaced Neal Katyal as Prinicipal Deputy Solicitor General of the United States.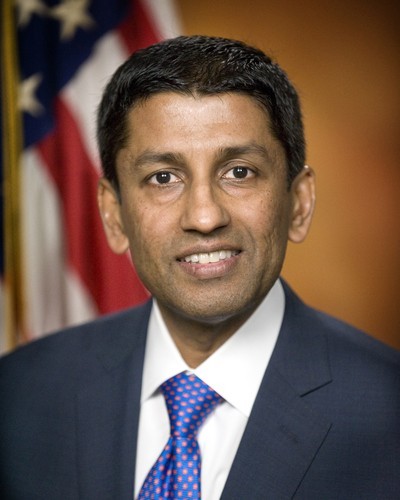 Srinivasan cruised through his Senate confirmation hearing on April 10, 2013. Thought to be one of smoothest Senate confirmations, Srinivasan was confirmed with a unanimous vote of 97-0. This directly places him as a front runner for the U.S. Supreme Court. Four out of the nine Supreme Justices served on the D.C. Circuit. If nominated, he would be the first Asian American and the first Indian American judge on the Court.
At a time when Republicans are looking to block anything related to the President or anything with an essence of progressivism, Srinivasan gave Republicans no reason to block his nomination. Srinivasan has spent his entire career defending other's positions rather than his own. Although Srinivasan has an impressive career and is highly qualified, his personal views are anything but clear. The only opposition Srinivasan has faced is a letter sent to the Senate Judiciary Committee by a human rights and environmental group, Earth Rights International, questioning his work in the private sector, which involved defending giant oil companies. There are some liberals who are still unsure of Srinivasan due to his involvement in the defense of former Enron President Jefferey Skilling. Another problem concerning liberals is that Srinivasan is more moderate than liberal. In spite of some opposition, Srinivasan has many defenders from former solicitor generals to Washington insiders. The White House has eased the minds of some liberals by pointing to Srinivasan's work opposing restrictive voter ID laws, supporting affirmative action, and most importantly representing Al Gore in Bush v. Gore. Srinivasan may just be the right person to nominate to the Supreme Court due to his varied career from representing conservative and liberal causes. In a court that is often plagued with politics, Srinivasan may just add the right ideological balance.
Sources:
Washington Post
Mother Jones
USA Today