by Ravleen Kaur
On Monday, September 5, Amitabh Bachchan uploaded a video of himself to his Facebook page reading aloud a letter he wrote for his granddaughters, Navya Naveli and Aaradhya. The letter is supposed to be an important message to young girls about not letting society pressure them into doing things they don't want to do—the typical message about equality and freedom you wish your grandfather would've given you.
https://www.facebook.com/AmitabhBachchan/videos/vb.449082841792177/1353718271328625/?type=2&theater
However, we run into a problem with the very opening statements of his letter.
The first thing he tells Navya and Aaradhya is:
You "carry a very valuable legacy on your tender shoulders."
He says their great-grandfathers brought their current surnames "celebrated fame, dignity, and recognition."
"Both of you may be a Nanda or a Bachchan but you are also girls… women… and because you are women, people will force their thinking on you."
Pause.
Bachchan begins his bogus letter on the wrong foot. There is nothing more overbearing for a little girl than knowing she carries an entire legacy alone. This reinforces the "ladkiyan ghar ki izzat hain" ideology (Girls are the honor of the family.)
Secondly, attributing all the family's fame and respect to their grandfather's ties the two girls down to their patriarchally inherited last names, while completely ignoring any contributions their maternal side have made to the family and to society.  
And third, Bachchan himself is forcing his thinking on his granddaughters. By opening his letter about marrying whomever you want and being  free women with the prologue about the girls' great-grandfathers, he is slyly reminding them that they can do whatever they want—as long as they function within the framework of a patriarchal worldview.
Let's not forget that Bachchan had his now-daughter-in-law Aishwarya Rai first perform kumbh vivaah, or wedding, with a tree before marrying his son Abhishek Bachchan. Rai was said to have a manglik dosh in her kundli, which means her horoscope points to the possibility of her having multiple marriages. And therefore, with a lack of trust in Rai and her commitment to her fiance, the family had her perform kumbh vivaah.
Bachchan's pseudo-feminist rant comes exactly ten days before the release of his next big film "Pink." The film explores moral issues and the double standard female victims encounter when they press sexual harassment and assault charges against men in Indian society. Bachchan plays the role of the victims' lawyer.
I believe the poorly-written letter is a mere marketing strategy to get the general public's attention on Bachchan and to make potential film viewers think he is dedicated to women's rights and equality. His letter is misguided and lacks the true essence of empowerment for his young granddaughters. It does, however, have the potential to reel in fans who have a poor understanding of what true liberation means for Indian women. Perhaps, he did write them a more heartfelt and fierce letter that he hasn't released to the public in order to retain his problematic sanskari image. I truly hope the latter is true.
---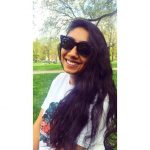 Ravleen Kaur is a student at The Ohio State University studying public affairs and public health. Her hobbies include drinking over-sweetened coffee and performing bhangra in public spaces. She is currently planning to run away from her home state in the Deep South and eventually work in the public health field.