When Shobha Kapoor of Balaji Productions, one of India's most renowned television companies, launched her flagship daily serial, "Kyunki Saas Bhi Kabhi Bahu Thi" (directly translated as, "a mother-in-law was once a daughter-in-law"), 16 years ago, she probably would not have envisaged the phenomenon this wholesome family serial would create. Set against the backdrop of a wealthy Gujarati home where dressing up in the finest attire is the norm, this soap set the trend of many more Indian serials whose storylines centered on the joys and pitfalls of living within a joint family.
Despite the cringe-worthy acting and those awkward moments of silence where an actor's subtext would narrate whilst he/she stared into the beyond, it's undeniable that at the core of these dramas lies a deep ugly truth for many South Asian women across the world: A woman in her husband's home is never fully accepted.
Last week, well-known boxer Amir Khan's wife, Faryal Makhdoom, publicly accused her mother-in-law and sister-in-law of domestic and verbal abuse via Snapchat. Her claims included attempted physical attacks from the female members of the family whilst she was pregnant, and statements of endurance of jealousy was to "break stereotypes and reshape conversation." The New Yorker—who moved to Bolton, UK, to live with Khan's family—goes on to say, "There are many women who suffer in silence due to ill treatment by the in-laws, yet this remains a dark taboo subject within our communities."  .
According to The Guardian, the Muslim Women's Network UK says, "Asian and Muslim women are prevented from seeking help for fear of dishonoring family and being rejected by the community."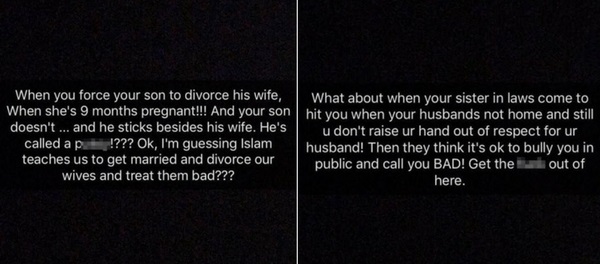 [Screenshots via Snapchat/faryalxmakhdoom]
Admittedly, despite such support networks and charities for women of South Asian backgrounds, the lack of financial independence and family support is often a deal-breaker to remain in an abusive family dynamic. Not so long ago, I met a young woman from Pakistan, with very little knowledge of English, who was brought to the UK after marrying her cousin here. She endured years of abuse not just from her husband, but also her sister-in-law and mother-in-law for whom she was just a slave.
But it's not just vulnerable and dependent women who walk this path of isolation. Sadly, I've heard countless accounts from friends of my age in the UK, who entered into a marriage as independent and confident brides, yet suffered taunts from their mother-in-laws, (many of whom were also working women) that ranged from not being a "homely" enough wife, but also being unable to look after or feed their sons (who clearly need spoon feeding) all the way to competing for their son's attention. When I asked a friend, who at one point was limited to minimal phone calls to her own parents, "Why don't you leave?" I realised this mental torture had manifested so deeply, it shredded any ounce of confidence within her. "No-one wants their marriage to fail," she said. There were no words to that response.
So what drives another so-called mother figure to create such a toxic environment? Is it jealousy, insecurity, or fear of isolation? Or is it a case of "well, I had to go through it once!" The role of the working woman in an Indian household has encouraged married women to develop assertion and a sense of self-identity; it's not just the husband's wages that brings food to the table. Whilst the joint family structure is becoming less common in Western countries, a married woman's independence, even in a nuclear home, can rattle the in-laws.
"Independent women can be perceived as deliberately delaying having children which in itself creates such tension because they are desperate to see grandchildren," said one young doctor whose mother-in-law still resides in India. "When she visits and it is just me and her, my mother-in-law is perfectly normal with me. The moment her son is in the same room, it prompts her to indulge him with unlimited attention and pity, as if he's been neglected!"
Another friend of mine who moved to London from India had witnessed a mutual understanding between the saas-bahu (mother-in-law/daughter-in-law) relationship in her own parents' home.
"My bhabhi (brother's wife) and my mom, who live together share a bond as strong as me and my mom. My bhabhi will shop for my mom and my mom selflessly helps with the children. The biggest reason for this beautiful relationship is trust and love. They can share their deepest feelings about their husbands without being judged by each other."
Unfortunately, my friend's attempt to create a similar bond with her own in-laws failed to resonate the same emotions she had hoped for.
"They don't like that my husband and I take decisions together instead of me just following his lead. They wanted a bahu who goes out and earns money because why should their son do all the hard work. But then they want that same bahu to be "obedient" to their son inside the house. Ultimately if the mother is as possessive with all her children, the likelihood is you will not be openly embraced by the siblings either."
Indian women, by default, are raised to be the nurturers and carers, so at what point does this aggression surface against another woman's daughter?
"I think it comes from inbuilt misogyny," stated a friend who faced a bad experience with her ex-husband's mother.  "It's all set up in a way that women must compete with other women for the attention and care of men, be it husbands, brothers or siblings. We also are trained from an early age to be suspicious of women who seem to be too happy, too outgoing, too extroverted—basically, women should not be enjoying their lives. They should sacrifice and be miserable."
While her relationship with her new mother-in-law is the complete opposite, it's her own mother who feels that her husband gives my friend too much freedom.
"Basically, I am made to feel, by my own parents, grateful that as a divorcee I was accepted, not beaten up, and "allowed" to live my life. At the same time, if I am sick or my kids are sick, I wouldn't trust anyone more with their care and safety than my mom and mother-in-law."
One recently married friend who lives with her in-laws felt that husbands bear the brunt of frustration from both sides.
"It's a huge transition both ways to live in your husband's parents' house. As much as it is their home it is hard to know what this girl living in their house is going to be like. It's important to respect that your in-laws have been in the comfort of their own house for longer than you've been there."
Can such a change in social structure, in a home, ever be smooth sailing especially if you are moving into a more conservative household? Just this week, Khan's parents finally broke their silence on their daughter-in-law Makhdoom's claims against them: "The accusations against us are false," claimed the father-in-law.
The conflicts allegedly started over Markhdoom's choice of attire, which they felt was not acceptable and expressed deep concerns over sharing revealing photos of herself over social media. "I am a father to two daughters whom I have treated exactly the same way as I have treated Faryal," said Sajjad Khan. His wife felt that they had been deliberately attacked just because they were trying to protect their family honor: "I asked her not to wear such dresses and to take the dupatta (scarf), but she never listened."
In an interview with GEO TV, Markhdoom's emotional mother-in-law suggested that all in-laws are not the enemy and that daughter-in-laws should not fabricate stories and take advantage of simple and loving families; they have worked hard to give their children the best.
Can an independent Indian woman be fully happy living with their in-laws? A few years ago, I documented my maternal grandmother's life journey in the UK which featured her own daughter-in-laws.  The mutual agreement of two generations, which was never going to be perfect, was moulded through trust and open conversations.
"She's more of a mother figure than a mother-in-law," my aunt said. "She encouraged me to study further so I could stand on my own two feet. She's fantastic with my kids and has been my rock through difficult times. When it comes to my own kids, it would be different for me as I am independent and would probably encourage my son and his wife to have his own space."
So where is the man's voice in all this drama? Early this week, Khan spoke out about his wife's claims against his parents. To begin with, his underplayed reaction stating, "things were said… these are routine matters, I like to keep out of it!" is a clear reflection the "minimal male support" stereotype. Next, his public tweet, in which he defined Markhdoom's message as "silly," completely undermines a dark, and often hidden, issue. He continues to accuse his family of DIStryong his image (someone get this man a dictionary) and that these misunderstandings should be kept private! Yes, Twitter is the way to do that! Should this tug of war between the son versus husband role not raise an alarm for social boundaries to support a woman, be it the wife OR mother? Or they just accustomed to being empathised with by every female figure in their lives?
In an ideal world, the Balaji saas–bahu shows would not be a true reflection of this woman-hating-woman vicious cycle. Independence for women in any form should be celebrated, not hindered.
"If I support my daughter-in-law to achieve something in life rather than validate my existence to her and my son, it's on my conscience," my grandmother had quoted. "After all, a woman's independence breaks her from the chains of patriarchy." Wise words of a mother-in-law who was once not just a daughter-in-law but someone's daughter.