by Tayeba Hussain – Follow @browngirlmag
Aman Chahal is a Toronto-based passionate young artist who's changing the game with a stroke of a brush. Started off as a hobby, his style incorporates the use of broken glass (yes, I said glass), making his artwork as abstract as possible.
Chahal mainly tries to paint whatever may be significant or popular at the moment; you could say he's always on top of what's trending pop culture wise. His subjects of painting also involve his love for animals and nature.
[Aman next to his painting of Muhammad Ali, where he incorporated broken glass on wood.]
When did you start painting?
"I started painting at the start of grade 9 and I took a bunch of design classes in high school which were straight architecture in nature where I would sketch mostly. Then when I entered grade 9, I got introduced to painting from my cousin who is also an artist. I followed in his footsteps, and soon painting began to become a regular thing."
Who's your biggest inspiration, art wise?
"Art wise, I would say Inkquisitive definitely. His style, his creativity made me want to pursue this, and I've learned a lot from his work. He really inspires me just by the way he uses his colors, so unique – it's amazing."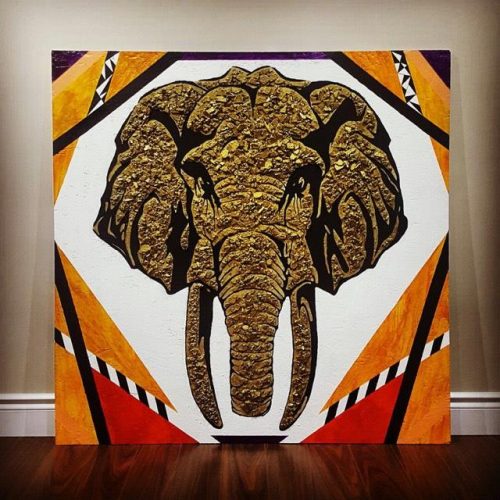 [One of Aman's paintings showing his appreciation for animals and nature.]
What makes you different as an artist from others?
"I work with a lot of glass, all the paintings that I do right now I try to incorporate that into it, making it my style. I feel like it gives the paintings a different flair and texture. The pictures don't do my paintings justice, but when you look at it in person you'll see how they shine and glow – adding that 3D effect."
Where do you see yourself in terms of your artwork in the next few years?
"My end goal, I hope to have a gallery one day, an exhibit to showcase my work. I know that's a goal that still requires a lot of work. For now, I just want people to see my work, presenting it to the world to best of my ability and seeing where it takes me from there."
What's something you'd like to tell others in regards to following their dreams?
 "The day I became passionate about art, my parents encouraged me to pursue it, they were happy for me. They told me, 'whatever you want to do, just do it,' and they gave me their full support. For those people who don't have parents that are encouraging of pursuing a hobby such as art, the advice I would give is to pursue it, and your parents will realize after you accomplish your end goal that it was all worth it."
[Aman next to his painting of the legend, Michael Jordan. ]
Currently, Aman Chahal said he has been devoting more time to his artwork.
Be sure to check out on his website or follow his Instagram page.
---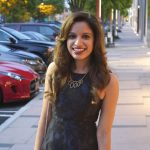 Tayeba Hussain is a native New Yorker, with dreams of becoming a talk show host with a giant cliché coffee mug one day, a la your next Tyra Banks, or Ellen DeGeneres. She's in love with all things media and has also been published on MTV news. You can check out her MTV articles here, and follow her on Instagram @simplytaystyles101.