This post was originally published on our partner website India.com:
In his recurring role on HBO's "Silicon Valley," he's Aly Dutta—one of the many muscled up, nerdy-cool, code-crushing "Brogrammers" of the tech start-up world. But in real life, Aly Mawji is anything but a stereotype.
Born in Des Moines, Iowa to South Asian parents, Mawji was raised in Toronto, speaks French like a native, and has family roots stretching everywhere from India to East Africa to the United States. Since making the risky decision to forsake the "safety" of his engineering degree in favor of an MFA in acting, his passion for performing has taken center stage; extensive theater work and short films paving the way to parts on prime TV real estate like "Grey's Anatomy," "Rizzoli and Isles," and "Parks and Recreation." And with "Silicon Valley's" recent Best Comedy Series win at the Critics Choice Awards, the road less traveled sure isn't looking too shabby for Mawji.
Read on for a Q&A with the rising star on the role his dizzyingly diverse past has played on his career's increasingly bright future.
Given that you've seen and lived among so many various cultures, "Global Citizen" is indeed an apt way to describe you. Were you exposed to a similar range of television and film growing up? How was the interest in acting triggered?
I really enjoyed watching foreign films since I was a teenager. But they were mostly European festival films late at night on a channel called Showcase, or films that screened at the Vancouver International Film Festival. The only real exposure I had to anything remotely "Indian" was "Gandhi," starring Ben Kingsley. I had no interest in Bollywood, and my parents, for whatever reason, didn't really watch those films either. I think they were too busy working and trying to keep their three boys out of trouble.

And as far as becoming interested in acting, I was incredibly shy growing up and had a hard time even asking a stranger for directions or the time. My two older brothers were involved in plays and acting classes, and one day after seeing them on stage, I told my mom I wanted to try it too. She didn't even hesitate; she said, "Okay," and she signed me up for improv classes. On stage, seeing that people were listening to me and hearing me, I really felt the power of theater and I was hooked.
What kind of advantages does your globe-spanning background afford you in your acting career?
The most obvious advantage is that I have both Canadian and U.S. passports. There are a lot of production shootings in Canada and I haven't yet had a chance to take advantage of my dual citizenship to take more roles in Canada.

In terms of performance, I went to a French school in Toronto up until grade nine; it was completely French—the only subject I had in English was, well, English. I had classmates from Morocco, Caribbean, Somalia, France, and Quebec. So, right there I was exposed to all these different accents and cultures, and it taught me empathy and how to look at the flip side of situations because we all had such different backgrounds and upbringings. And then in addition, at home, my parents sometimes spoke Kutchi and Gujarati (Hindi dialects) to each other, and my dad has a British accent, so I gained this facility for languages and a really good ear for dialects.
On the flip side, how has your cultural identities played into the way the common practice of stereotyping or typecasting in the TV/film industry has affected you, as you certainly don't fit into a single or conventional "box?"
It's interesting because shortly after 9/11, I was getting called in for a lot of Middle-Eastern roles to play terrorists. I didn't particularly want to play those roles but as the media started paying more attention to those parts of the world, casting directors started to learn more about those cultures and consequently, it got to a point where I'd go in for a Middle-Eastern role and I could see the casting director looking at me and thinking, "Well this guy's not Middle-Eastern." I don't think it was just that they were recognizing the difference, but there's also a strong push for authenticity in casting, which I think is good but it means it's harder for actors to play across ethnic lines. But then you sometimes get stars playing roles with ethnic origins that aren't even remotely close to theirs, so, I guess there's still hope!
There's actually nothing that seems "conventional" about you. You seemed to have lived multiple lifetimes already. Whether it's your diverse upbringing, the fact that you were an engineering major, a personal trainer, a musician/painter, and not to mention all your humanitarian efforts. But performing seems to have remained a constant passion throughout. What is it about acting in particular that made you want to focus on it for an MFA and then as a profession—especially since your family wasn't the most enthused about the choice?
I wouldn't call myself a musician/painter, as those are just hobbies, but you're right that performing has been constant in my life. I knew at a young age that acting was what I wanted to do with my life. I can't explain it, I just felt, and still feel, that it is my calling. There's so much power in performance. As an actor, you can really reach people, teach them, provoke them, sway them, and make them laugh. As a child, I dreamt of being an actor, being in plays, on television, and in movies. But I didn't have the confidence or my parents' blessing to pursue it.

After high school and during my undergraduate studies in engineering at Queen's University, I was so unhappy. I was no longer performing and wasn't really involved in the arts at that time because the program was so intense and didn't allow for that. After I graduated and started working in the engineering field, I became more and more depressed. I was really just going through the motions of life. I hit a point where I pictured myself at 40, doing the same thing, and I knew I'd hate myself for not trying to pursue my dreams. So, I sold my car and packed a hockey bag full of whatever I could fit in it, and bought a one-way ticket to New York. When I told my parents I was moving to New York to pursue acting, they didn't discourage me, but I don't think they understood my decision until they saw that I was in my element and that I was happy.

Reaching New York, I started acting in plays and taking classes and it was amazing. But the city is expensive, so I was simultaneously working 40-50 hours a week to pay the rent. I felt like I was making progress but wasn't any closer to having an acting career. I figured that in order to take it to the next level, I needed to be immersed in theater and train my body, my voice, and mind. I wanted to eat, sleep and breathe theater without having to worry about a day job; to focus all of my energy on my craft so I could become a better actor.
A huge congratulations to you and the entire "Silicon Valley" team for its recent win at the Critics Choice Awards! The interesting thing about the show is that despite including a lot of "computer jargon" and honing in on a pretty specific and eclectic community, it seems to really resonate with many audiences. Obviously the humor plays a big part, but what do you think about the show and/or the characters that speak to a wider range of people than just the "tech crowd?"
Thank you! I think it's the fact that technology has become such a huge part of our lives, and the rise of Silicon Valley and the tech industry, in general, have blurred the lines between user and creator, thrusting a lot of unlikely people into the spotlight. And the stereotype of these 23-year-old high school dropouts who are socially inept but have brilliant minds and are now billionaires is fascinating. You know, it's like 'Revenge of the Nerds.' And I think people enjoy seeing what happens behind the headlines, the realities of the road to becoming the next Tumblr or Facebook or Google and the people who lead those companies to success. You see things on the show that seem crazy but then you find out that a lot of the details in the episodes are based on real-life events or people and you think, "Seriously?!"
Despite not really growing up amongst many Indians, you felt right at home the first time you went to India. Would venturing into Indian cinema ever be something you'd consider, and why/why not?
I'd love to venture into Indian cinema. I never saw myself doing Bollywood films because I don't really sing or dance or speak Hindi (just a small barrier to entry!). But, now I know that in the film industry, there is much more than just Bollywood and that there are so many amazingly talented people there. I'd love to work on a film in India!
---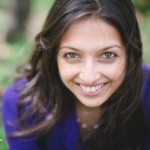 Born and raised in Japan to Indian parents, freelance writer Anisha Jhaveri's globe-spanning background lent itself to her vast exposure and interest in world cinema and culture. A former but fierce New Yorker, she is now based in Singapore, where she is constantly on the lookout for movies and media that resonate on levels unmarked by national or social lines. Find her coverage on platforms such as India.com, Independent Magazine, Indiewire and RogerEbert.com. When she's not reviewing the newest Bollywood release or scoping out hidden gems at film festivals, she can be found dancing up an (awkward) storm at her local Zumba studio or scouring Pinterest for healthy recipe inspiration.