by Fatima Ahmed
In 2009, the Indian government made a historic decision to decriminalize homosexuality in the Delhi high court. In 2013, that same ruling was repealed, and homosexuality was re-criminalized just four years later.
Activists in India are today still fighting for equal treatment for the LGBT+ community in a war that is taking on South Asian traditionalism, political conservatism and religious disapproval. Even now, three-quarters of the Indian population disapproves of homosexuality. Individuals that belong to the LGBT+ community are still threatened, harassed, blackmailed and ostracized, even in the 21st century.
Yet, Article 377— which bars anyone from having intercourse that is "against the order of nature"—still stands today. This only further entrenches homophobia in Indian society, and this type of homophobia is particularly malicious because it refuses to even acknowledge the existence of homosexuality.
Like other instances of social stalling, art is often utilized to combat the forces of social, religious and political status quo. In what seems to be a positive trend, Bollywood is starting to take on homophobia.
One of the biggest cultural markers of progress for the LGBT+ community has to be Tarun Mansukhani and Karan Johar's 2008 film, "Dostana." With a fun-loving tone and the plausible deniability that no characters in the movie were actually gay, "Dostana" took on the stigma against homosexuality. It suddenly provided visibility to a community previously ignored and introduced a new lexicon for South Asians to talk about gay relationships.
This film was flanked by a more serious but light-handed portrayal of a gay Indian man struggling to keep together his broken family in "Kapoor & Sons." As a filmmaker, Shakun Batra clarifies, "Kapoor & Sons" wasn't a film about being gay, but simply featured a gay character. The cherry on top of this progress was Zoya Akhtar's "Bombay Talkies" short film, "Sheila Ki Jawani," which showcased a young boy discovering traditionally feminine dresses and dance despite pressures to be masculine.
To anyone else, it would seem as if Bollywood is doing all the right things to usher in a more accepting age where the LGBT+ community is celebrated. However, according to the filmmakers themselves, the process is quite slow and difficult. Karan Johar spoke of his stereotypical portrayal of homosexuality in "Dostana" saying that it was the only way he could bring that narrative to the mainstream:
"People criticized me for stereotyping homosexuality in 'Dostana,' but I'm the only filmmaker who put it out on the big scale. It's ridiculous how unaware people were before."
Of "Kapoor & Sons," Batra has said that he couldn't make a film that focuses on the LGBT+ community and their experiences without driving audiences away, so he had to create a story where homosexuality was a facet of the plot, but not the central theme. He added, "The fact is the moment you say you are making a gay film half the audience doesn't show up. I was trying to give something palatable to them and yet trying to give them a view which will stay with them at least for a bit."
In the hostile atmosphere that faces the LGBT+ community of India and South Asia in general, is Bollywood being radical enough to bring about permanent change?
Enter Hansal Mehta's "Aligarh," which is based on the true story of an Aligarh University professor who deals with suspension and public humiliation after he is caught on film doing what is defined as "immoral acts." The film is set against the backdrop of the population of Aligarh, with a heavy conservative Muslim majority, and engages with the so-called enlightened scholars of the once-great Aligarh University.
The film also features a Tamil reporter who speaks broken Hindi and a Hindu professor of Marathi who claims his English isn't good. Incidentally, these two disciples of language start one of the most important dialogues in contemporary India. As the director, Mehta masterfully weaves together an authentic atmosphere of India, which intertwines religion, politics, social pressure, sexuality, love, language, and relationships. The audience bears witness to a diverse India, where borders are debatable, languages are malleable, and religions are numerous.
I watched this movie at the Vancouver Queer Film Festival, sitting among an audience that was mostly white. Amongst the audience members, I heard a lot of people discuss their own stories and experiences of being gay. This was a crowd that had just celebrated Pride and marched proudly and openly in the streets a week prior, which is exactly the type of acceptance and community the LGBT+ population in South Asia is seeking—but is constantly being denied.
However, in that theater, it was obvious that Mehta had committed a radical act. The festival's announcer, for example, went out of his way to mention that Aligarh is not a Bollywood movie—he called it "Indian cinema at its finest." The question therein lies: Should Bollywood be doing more?
---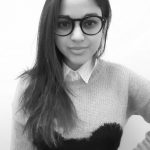 Fatima Ahmed is a 1.5 generation Pakistani working on her degree in English Literature in Vancouver, Canada. She has an interest in human rights activism, social justice affairs, literature and art as well as excessive chai drinking. You can find her on twitter @FattyA123 or read more of her articles at schemamag.com.