I'll always remember where I was when it happened—I was on a train from Penn Station to New Jersey, and the New York Times alert came to my phone: the Supreme Court had legalized same-sex marriage.
My breath halted in my chest—I couldn't believe it, and I didn't even known a judgment was expected that day.
It was here: marriage equality for all — something that 16-year-old me, that naive teenage girl, who was about to begin a several year process of coming out to herself, never could have imagined.
It was two years ago this week that I came out to my dad. He was the last one I officially sat down and had the conversation with. I had been out for years, to myself, my friends, even my brother, and mom— it was the final release.
That June morning, as news of the Supreme Court's ruling spread, I was glued to my phone. Facebook and Twitter were buzzing, and my heart was pounding. Soon, texts started coming in — cousins, friends, acquaintances were all sending congratulatory messages.
"Finally!" one said. "I'm so happy for you," said another.
Timehop reminded me that it was exactly two years to the day that DOMA and Prop 8 had been struck down. On that day, my best friend and I had exchanged numerous texts full of rainbow emojis — we would later celebrate over margaritas and dinner.
This day felt entirely different; there was a sense of victory that had everyone I know saying, "Duh, of course."
The following week, my therapist, in the midst of me talking about Pride weekend, simply asked, "Did he say anything?"
It was out of context and anyone listening to our conversation would have paused to ask who he was referring to.
My answer, simply, was "no."
My dad was the only family member, the only tangible person I could think of, from whom I heard nothing about the ruling. Not on that day, and not in the days after, when I finally spoke to him on the phone. Instead, we talked about basketball, as usual—something I have come to realize is the greatest (and sometimes only) common denominator we have.
#LoveWins went viral on Twitter for days after, alongside a flood of rainbow-tinted Facebook profile pictures. Pride weekend had an extra charge of electricity, a sense of euphoria that was contagious. My closest friends and I celebrated unabashedly that weekend, many of whom shared words of support, hugs of solidarity, and even celebratory shots of liquor.
There was a sense of relief, as if a burden that had been lifted, that was hard to explain to people after the ruling. I never dreamed there would be a day when marriage equality was just the law of the land. We had been fighting for so long, just to be seen—to have legal recognition in the span of under a decade was huge. It also felt a little bit like a sugar crash: everything had been quickly building up to this point—now what?
Having spent years as an activist in the South Asian queer community, a part of me felt guilty for being ecstatic. So many fellow community members were still hurting, angry even, that the mainstream LGBTQ movement was satisfied with marriage equality.
There are trans women of color being murdered every day, and there I sat on the train that morning, giddy with glee for the old Priya who never thought she'd see a day she could get married to whomever she wanted.
Growing up, I always wanted a big fat Indian wedding. I dreamed of it being like in the movies — days of events, hundreds of family and friends, intricate mehendi on my hands — I wanted all of it.In conversation with a South Asian queer friend a few days after the ruling, I realized something profound. She said, "Sure now we can get married, but who's going to come to the wedding?"I paused.Two years ago, when I sat with my parents for two hours during a painful coming out conversation that had actually gone better than I expected (in that they didn't hurt me or kick me out of the house), my mom had said that someday, no matter who I married, she and my dad would be at the wedding.My dad, of course, said nothing to affirm this. His silence on that day, and since, including the day of the Supreme Court ruling, has been much the same. Having a queer daughter is something he must live with, even if that means never acknowledging it out loud.
Often, the stories we tell ourselves about our lives become so much of who we are. We construct narratives around the choices we make and the lives we live to justify our actions and to make sense when not much else does.
What I have had the fortune of realizing in the two years since being completely out, is the importance of acknowledging the ever-changing plots of my story. I have the choice, and I choose to, tell my story as one of resilience instead of one of pain. But I also get to go out into the world and listen to other people's stories—ones that often go unheard.
The truth is, in the South Asian community, we don't talk about our stories. Where we came from, how we got here. Everything is unspoken—social etiquette, traditions, superstitions, rules for navigating the world and our relationships. When we don't talk about ourselves and when we don't want to hear about each other, how can we expect to actually see one another? How can we empathize instead of sympathize?
We have an innate need for stories. The ability to share our own, or listen to another's, humanizes and empowers us. Stories can anchor us, embalm us, and even transcend into symbols of hope and triumph over pain and suffering.
I don't need my dad to text me about the Supreme Court ruling for me to know that I am fine just the way I am. But I realize now, my dad doesn't know my story—and I don't know his.
Our relationship is one built largely on assumptions and expectations. We each have this idea of how the other should be, and that's what we hang on to when we can't relate to each other about anything else.
In the years since coming out, and in celebrating love's big win on Pride weekend, I continue to learn so much about navigating the world as a queer South Asian woman.
But the biggest thing I have learned, is that this is no longer about only my story. My story, much like that of the mainstream LGBTQ movement, has begun a new chapter.
What do we fight for after marriage equality? As a South Asian queer woman, I want to fight for our families—and the hopes that they will someday attend our now-legal weddings.
For me, that means someday being able to tell my dad that I think love is a radical concept. To love one's self, and to love another outside of any label or construct, is the most indefinable, powerful, unattainable, crippling, empowering, and radical thing in the world.
Love is everything, and it is nothing.
Love may have won, but there's a lot more fighting (and winning) to do.
[Feature Image Caption: Priya and her dad on the beach during one of her trips home to California last year.| Photo Courtesy: Priya Arora]
---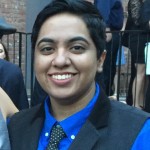 Priya Arora is a queer-identified community activist, writer, and student. Born and raised in California, Priya has found a home in New York City, where she is currently pursuing a Master's degree in Counseling Psychology at Teachers College, Columbia University. Priya's passion and research lies in capturing and fostering the needs and experiences of South Asian American LGBTQ people, with a mental health focus.