by Shezda Afrin
"Ae Dil Hai Mushkil" is one of the most talked about movies this year. Not only did it give every Bollywood buff a lot of reasons to laugh, cry, laugh, and then cry some more, but the Anushka-Ranbir-Aishwarya starrer also displayed major fashion goals.
Although it was near impossible to take my eyes off of the key characters, especially the ever-so-elegant Aishwariya Rai Bachchan, I think it's safe to say costume designer Manish Malhotra may have stolen the show. How? The most renowned Bollywood designer was responsible for giving every watcher pure closet inspiration; As a desi girl living in pardes, Anushka Sharma's character, Alizeh, is the one I am crushing on the most.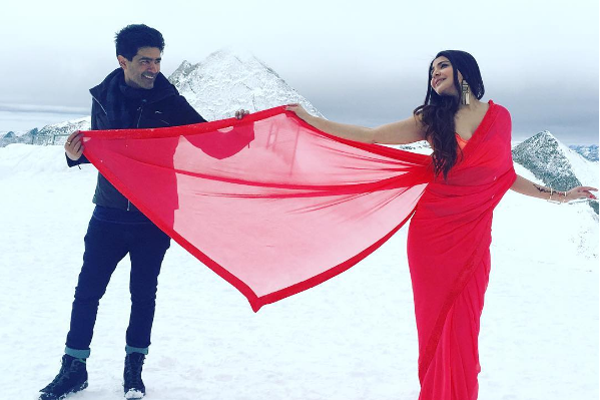 [Photo Source: Manish Malhotra's Instagram]
I could see myself roaming the streets of Philadelphia wearing a kurti and a pair of rolled up ripped jeans, which Alizeh is seen sporting. To top it off, her kurtas' threadwork don't scream desi. Rather, this look simply has the mughal touch to it. And those earrings? Yes, those ethnic earrings are definitely my next purchase to go with my angrezi outfits.
Unlike the lavish, often atypical, fashion sense portrayed in major Bollywood rom-coms, "ADHM" actually gives its ordinary audience a chance to mimic the fusion style.
Anushka, as Alizeh, had a hint of ethnic trends in every outfit she wore throughout the movie, and that is exactly what caught my attention. Her costumes truly do justice to her role as a girl from Kashmir living abroad. And as if the outfits weren't enough, the deep kajal in her eyes gives off such a poetic vibe, or I should say "vatavaran."
And now let's revisit some of my favorite ensembles in a bit more detail:
Dancing in a kurta in "The Breakup Song":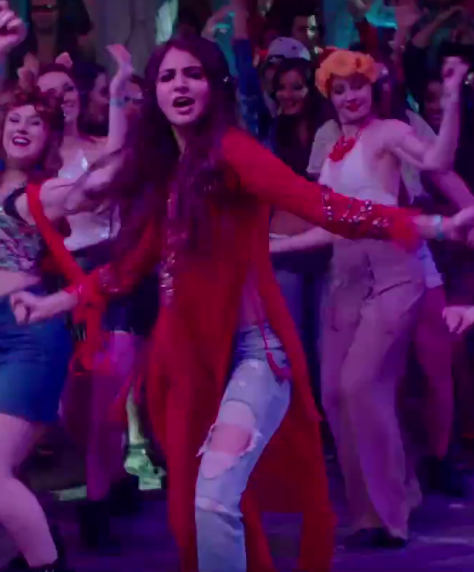 [Photo Source: notey.com]
Ah, the breakup song—so annoyingly good, isn't it? I was expecting to lay my eyes on a typical Bollywood party song in the club. You know, the ones where the female lead is wearing a glamorous skirt and all? When the song first released on YouTube, Alizeh's outfit mesmerized me more than the lyrics of the song. She was still in character, despite being in a non-desi club. Her tomato-red kurta with fringes and beads was, indeed, a perfect match to go with the skinny, light-washed ripped jeans. Next time when I am trying to find a shirt to go with my jeans with "holes" in them, as my grandma says, I could definitely go with a long, stylish kurta.
The #OOTD in "Cutiepie":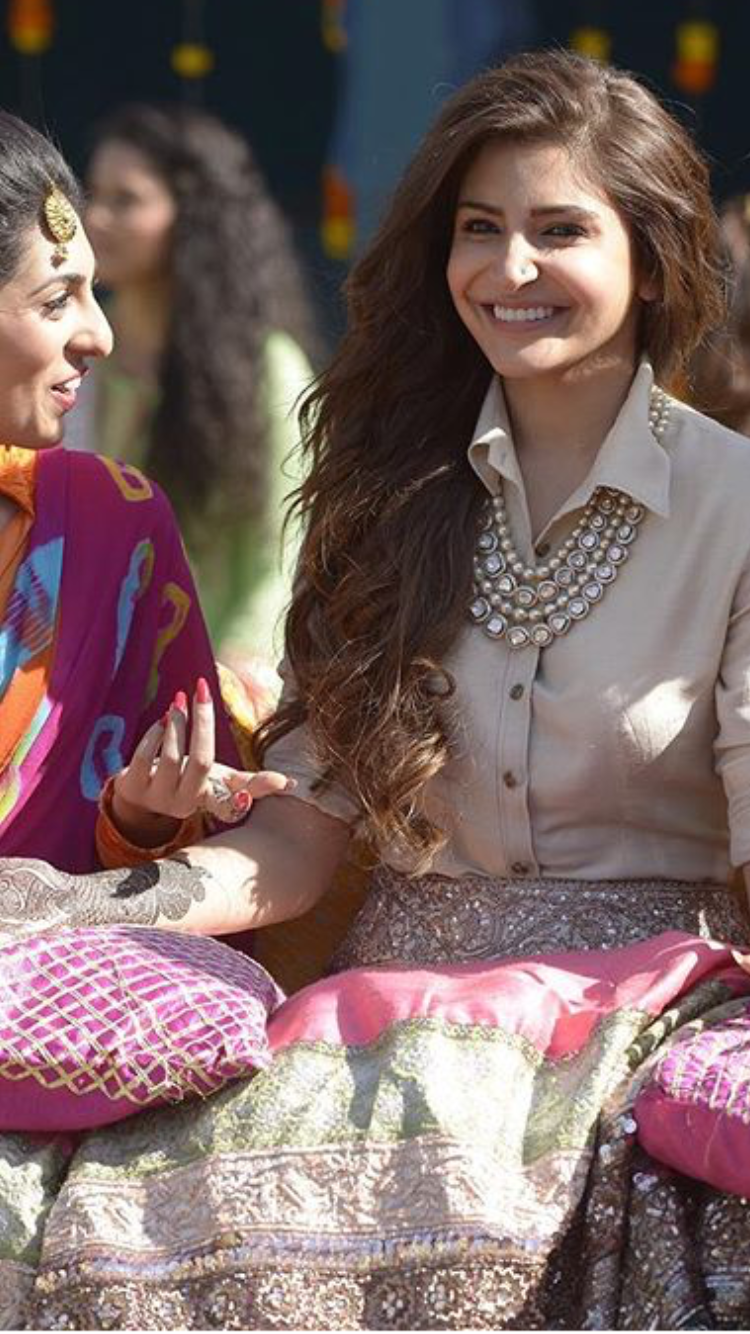 [Photo Source: Manish Malhotra's Instagram]
Need I say more? Now this is a #OOTD for a day at the office. We saw something a bit similar on Katrina Kaif in "Fitoor." The pretty blouse with a gorgeous long skirt is purely ethnic while still presenting a modern look. However, Alizeh's look during her mehendi in "ADHM" is something we all can wear on any occasion. And don't forget the jewelry that puts the desi cherry on top! I know what I am about to wear to the next sangeet I am invited to. A lehenga skirt and a blouse!
East meets West for a dinner date "vatavaran":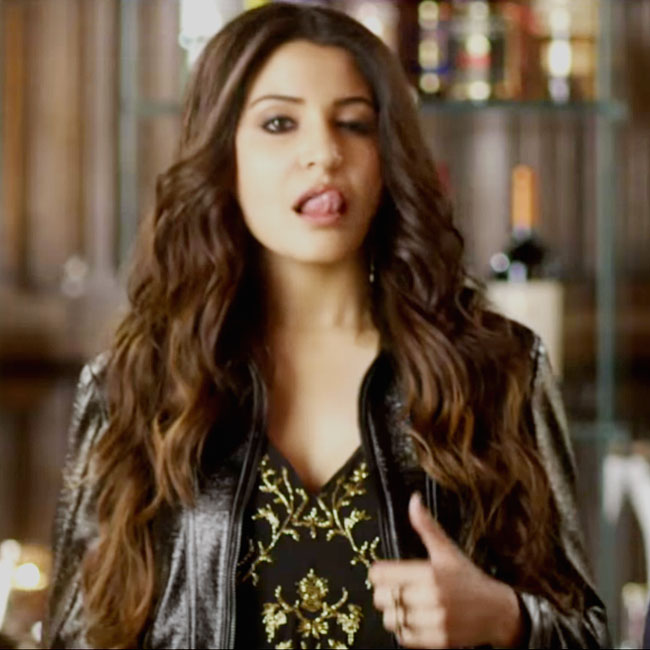 [Photo Source: India.com]
This might be a little surprising, but out of all the looks— ok, maybe not including the jaw-dropping bridal look—this would have to be my favorite.  The shiny embellishment on the top reminds me of the fabrics on a Malhotra lehenga. But, we should also take a look at what she combines it with. I have always wanted to wear leather with desi gear. East undeniably meets the West in this combo! And the look could even be finished with dark kajal and a light smokey eye. Perfect for a night out!
Oh, that wedding trousseau, "Channa Mereya":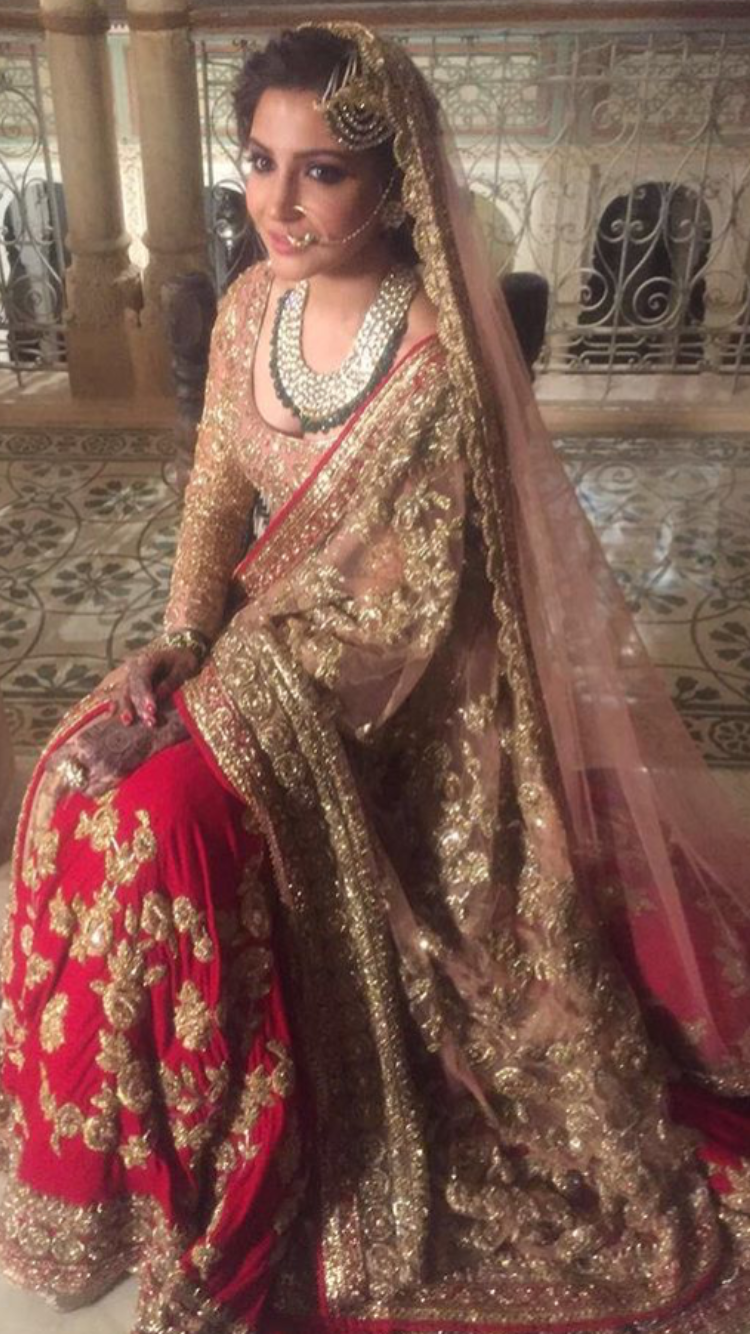 [Photo Source: Manish Malhotra's Instagram]
Alizeh's trousseau is definitely a Manish Malhotra masterpiece. The gorgeous bride donned the two-piece bridal lehenga with so much ease and elegance. The pairing of the blush top with the bright red bottom provides a unique contrast, not to forget the kundan jewelry that was carefully picked out to complete the look. One of the best parts of this look is the layering of the dupattas with one draped around the shoulders and the other pinned neatly on the head. I'm sure every future bride is scrambling to get her hands on one of these, even if it does weigh a whopping 17kgs!
We all know how most Bollywood characters possess a signature look. I still remember trying to imitate Kareena Kapoor with the patialas in "Jab We Met." Well, Alizeh is no different. You'll definitely be seeing many Brown Girls rocking long kurtis, or tunics, which are even making their space in fashionable stores. So, while I'm shopping for my new kurta, let me also grab a couple of vintage bangles to go with! Again, desi with a whole lotta angrezi!
---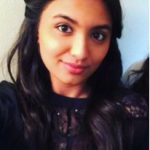 Shezda Afrin is a college sophomore from Pennsylvania studying on the Pre-Med track, with a focus in Public Health and Writing/Publishing. She loves to travel with her family and witness different cultures. You will probably find her spending her Friday nights watching Bollywood movies with a plate of mini samosas in hand. She hopes to highlight the many talents of our South Asian youth in America through Brown Girl.