A few months ago, New York and Los Angeles-based Indian dance company, AATMA Performing Arts, released their first official semi-classical dance video called "The Fifth."
In a field where traditional Indian styles of dance are being westernized through their integration with modern styles like hip hop and popping, "The Fifth" is a refreshing breath of air that stays true to the essence of classical dance.
Choreographed by Melvin Varghese, the piece puts a unique spin on classical dancing and on "Dhanashree Thillana" that is routinely taught in Bharatanatyam repertoires. With vibrant costumes, stunning synchronization,and brilliant cinematography, which highlights the significance of the song's lyrics, "The Fifth" is a must watch performance.
Check out the video below:
Blown away by the video, we had to learn more about AATMA and their creation.
Here's what we uncovered from the immensely talented AATMA owner and executive director Amit Shah as part of our "Fast Five" interview series, which introduces budding artists/activists to the Brown Girl Magazine community.
1. Why is the video called "The Fifth?" 
"I wanted to take a creative approach on the five elements of the Universe. The song's structure and overall sound really seemed to fit that theme," Shah said. "The fifth element is often debated and most people really don't know what it actually is. Some cultures even believe that there are only four actual elements, earth, water, wind, fire. I wanted to play with that idea and make viewers think about it."
[Photo Courtesy/Amit Shah]
2. Where was the video filmed and what was the process of filming all the different segments? How long did it take?
"After dozens of site visits, we finally decided to film the video in Brooklyn, NY, at a location that had a ton of raw and natural elements," Shah said. "It was the perfect blank canvas to stage each of the five elements and also gave me enough character to add enough depth to the frame. The challenging part was trying to film the video in one day because of the number of sets, camera angles, costume and makeup changes. It took us a total of 18 hours to complete the video. We ended up filming the 'water' section last starting around 1:00 a.m., and it was the most difficult prop we had on set all day."
Watch the behind the scenes footage below:

3. What is the significance of this video for AATMA?
"First off, it's a new challenge for us because we have always performed on stage and are extremely busy with our touring production, Mystic India. It kind of gave us a break to do something different and think outside of box," Shah said "So many times I find myself choreographing live performances with camera angles in my mind, so it was finally time to put that into action. Also, I hope this video serves as the birth of a new platform for us so we can collaborate with talented artists."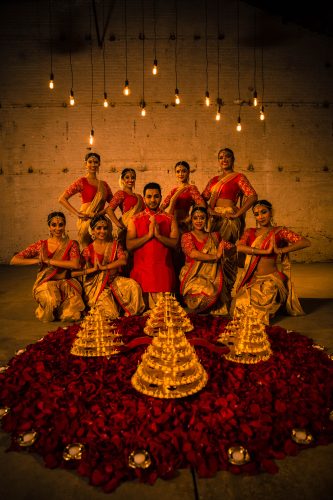 [Photo Courtesy/Amit Shah]
4. What has the response been to the video and how has it influence the direction AATMA will go in in the future?
"It's been quite overwhelming actually! I did not expect people to be so receptive to it, especially because the Indian dance scene has been overloaded with modern choreography. I'm just thankful that the audience still values classical dance forms and we're able to contribute in some way to their appreciation for it," Shah said. "While we were touring in South Africa last month, we had many people come up to us and say how much they loved the video. It really goes to show you how much reach social media has and the positive influence technology has had on the awareness of the arts. It's a great feeling!"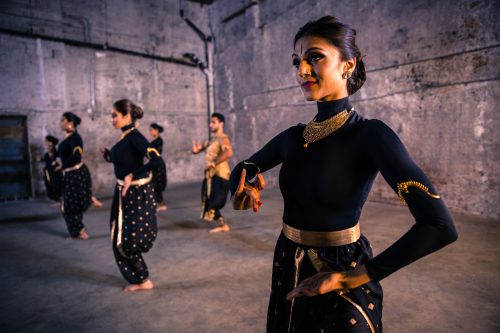 [Photo Courtesy/Amit Shah]
5. How did you maintain the balance between staying true to classical form while adding a contemporary spin?
"AATMA really strives for that balance in everything we do. The idea of 'fusion' choreography is nothing new, but the manner in which traditional choreography is presented is left to be explored. We love working in that space! Something I always try to maintain in AATMA is an authentic representation of dance styles – whether folk, classical, or even modern forms. I also want to grow the audience's appreciation for classical Indian dance forms, because I think people are often intimidated by it," Shah concluded. 
Executive Producer: Amit Shah
Choreographer: Melvin Varghese
Assistant Choreographers: Amit Shah, Kruti Shah, Deepa Vanamali
Directors: Edison Lee & Amit Shah
Producer: Anoli Patel
Costumes: Andaz Costume Design
Makeup Head: Anita Shah (Makeup by Anita)
Dancers: Nadia Jagessar, Serena Ortiz, Bindi Patel, Surya Pillai, Hiral Shah, Kruti Shah, Payal Shah, Praveena Tathineni, Deepa Vanamali, and Melvin Varghese
For more information about AATMA Performing Arts, follow them on Facebook, YouTube, and Instagram.