This past May, when I was in India working on my upcoming collection and volunteering to teach women in the slums vocational skills related to the fashion industry, I received an invitation from Timo Rissanen, program director at Parsons to speak at the Parsons commencement ceremony. It was a time to introspect and think about all those who had been my pillars of support along the way, especially my family and a close friend from Babson College who helped me find my inner voice and express myself. I studied business and worked in the consumer products industry prior to attending Parsons for fashion design.
It took me 15 years to come to Parsons.

And today, I feel truly honored to have the opportunity to speak in front of a powerhouse of awe-inspiring talent.

Congratulations to each one of you! We made it.

I was 10 when I decided that I would move to New York City one day to become a fashion designer. I had no idea how it was going to happen but I wasn't planning, I was only dreaming. It has been quite a meandering route to get here, but all the twists and turns did not prepare me for the beautiful way in which Parsons would challenge me. The little girl had the conviction, which got lost along the way due to a minor prom dress designing disaster in high school, colossal at the time don't get me wrong!

I had a self-doubt that my inner voice was not steering me in the right direction. So next stop was business school in Boston.
Moving on, it took a meltdown at my first job out of school to make me pay attention to what my 10-year-old self was trying to tell me forever. It was like a wake up call! Two years in, the situation reached its tipping point. Uncontrollable tears started streaming down my face at work one day. I realized that I had been feeling invisible for too long.

Leaving my stuff everywhere and a heavy heart, I left work and couldn't get myself to set foot in that door again. They sent my things home. By then, I had already sent in my application to Parsons. Among the many things that were sent home, were doodles and sketches and redesigned logos of the company while I was training in finance. They hang in my studio as a silent reminder of the beautiful moment of the realization of my inner voice. Ever since then, I don't hesitate to reach out to my inner voice when I feel paralyzed by a dilemma or when I am at the beginning of a tunnel that seems to have no light at the end of it.

As soon as I came to Parsons, I knew I was home, and the people I surrounded myself with, instantly became family.

First, I found my mother-in-law – I didn't know this at the time but you know when they become your self-appointed honest critics and don't sugarcoat anything. If you find them, consider yourself lucky and keep them at all cost! Once you get past how much it hurts to hear the truth about your work, they will be the grain line to your muslin.

Second, was my fashion school mother – You call these people when a mother-in-law has done the damage. They will reassure you that you have a unique voice as a designer and no matter how unrealistic your goals, you can achieve them if you believe in yourself and if you really try!

Last but not the least was the over-achieving cousin. I do believe that we must only compete with the person we were yesterday and not with each other, these cousins around school are critical because they remind you to set higher standards for yourself and thus keep you grounded. They cure complacency, which is dangerous. They arrive at school before you open your eyes in the morning and they are the last ones to leave once security kicks them out.

Most of us at least had one of these people, and if we were lucky, we've had them all. And it is in this intimate family setting that we flourish as people and artists leaving our lives behind in India, in China, in Korea and many other countries, as well as cities across the United States hoping to perfect our craft.

Friends, if you are receiving your degree today, you have successfully passed through a program of mental, physical and emotional endurance.

We all know that if classes involve miraculously noticing the redness in the white studio walls while sewing your first ever garment, your internships can be even stranger. From hand-stitching thousands of Swarovski crystals on a wrap dress for Lady Gaga all night and then, delivering it to her dressing room in the morning, to watching patternmakers drape a dress for the First Lady (yes, I've seen her measurements and she is as tall as she seems in the photos). All bets are off. One day you're working on a dress for a celebrity and the next day you are sorting through a pile of fresh fur with your bare hands, as a vegetarian, and ruminating on everything PETA has against your employer. But, I knew that this was the only way that I would get to watch a show at Lincoln Center 2 weeks into school so I decided to suck it up.

The voice inside me screaming 'Go big or go home!' Steaming unending trains of gowns, changing models and then rushing to the front to watch the show was exhilarating. A flashback of those 20 minutes inspires me even today and reminds me of all the hard work that lies ahead of me.

The glamor and glitz of the fashion industry, however is just the tip of the iceberg. Fashion is often viewed as transitional and highlights the trivialities rather than the depth and its ability to change lives. Fashion has a responsibility and stake in the environment, in creating livelihoods for artisans, in the economy, in women's emancipation and in making society an inclusive place.

In a world where the only constant is change, the one thing we can rely on is our passion, which will never leave us astray,  just like our inner voice. Our inner voice and passion go hand in hand and are the epicenter of our endurance and longevity of our motivation. In the words of Rumi, "Let yourself be silently drawn by the strange pull of what you really love. It will not lead you astray." Trends may change, we may move onto our different lives in various corners of the world but what will remain is the valuable lessons we learned together and the relationships we built during our time here that we will cherish for years to come. Finding a deeper meaning in our craft will make it invincible and make it last beyond our lifetimes.

The meaning and purpose of life is to discover and express yourself, because as Viktor Frankl says, "Life is never made unbearable by circumstances, but only by lack of meaning and purpose."
I trust that each one of us will strive to push the boundaries that have been set by those who have preceded us. This means pushing the boundaries to challenge what is being told to us as the accepted truth. If it doesn't feel right, we must ask questions and question the answers because the only thing we have to fear is fear itself, not failure.

I would like to share some of the questions from my journal. How can we make fashion more inclusive for those who don't consume it the way that designers intend it to be consumed? For example, by those who don't have the privilege to experience it with their eyes at all. Can fashion be more sensitive to the disabled and take into account the needs of different body types? How might fashion lead to the uplift of society and emancipation of women? What is fashions role in sustaining the environment? It is in these answers that we will find deeper meaning, satisfaction and long-lasting success.

These are questions that raise more questions, to which there will be no answers unless we own them and commit our lifetimes to finding them. The way that the industry is set up today forbids us from taking adequate time for research and development and to steer away from the beaten path.

But, on the contrary there is no better time in history to stray from this path and create your own. We are fortunate to have been born in an era where we can exercise independent thought and action more than ever before. The masters, who we aspire to be like, were once beginners in their craft and had as many questions, doubts and fears as we do now. We should learn from their mistakes and set different standards and bars, ones that do not discriminate between human beings and create an industry and world where there is equality and integrity for all.

The answers will flow if we start asking all the questions that all our inner voices are asking of us, out of passion and without fear. If we look within ourselves, we already have everything we need to take on what lies ahead of us. Our feet that have stood for endless hours without a break in the studio can surely carry us through the future, our hands that can sew and rip seams all night long are capable of building the lives that we've dreamed of and our eyes can see the future that our minds imagine.

I am thankful to Parsons for everything it has given me, Timo for inviting me to speak, I am thankful to the wonderful faculty and staff members, Professor Rippy for always answering my 21 questions, Marco for his patience, ISS, thank you security for not pulling the switch before the last crucial stitch, my friends who supported me through thick and thin and most of all my parents, for believing in me. Thanks mom who's here from India and is in the audience today, thanks dad who is in India.

Class of 2015, the moment we walk out these doors today, let us stop entertaining fear and start creating history.
Thank you.
---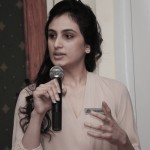 Gayatri Jolly is a socially conscious fashion designer from New York. She works with women in the urban slums of New Delhi to train them in vocational skills such as pattern making, draping, tailoring and other skills that can help them get jobs in the fashion industry. She is also known for her work in the field of costume and wardrobe design for Dana Fuchs. Jolly is currently collaborating with an organization called Wanted Umbrella. Through this collaboration, she is carrying out research to make her garments more convenient for disabled individuals. This is an effort to research the needs of differently-abled people, raise awareness and sensitize the industry at large about creating inclusive fashion that does not discriminate against anyone.