by Pavi Dinamani & Namrata Sirur
As humans, we're creatures of habit—our bodies crave routine. For most of us, that routine is determined by our work. But what happens when that's suddenly taken away from you, i.e.: unemployment? Pandemonium! Cue Kevin from "Home Alone."
Pavi and Nammy from The 9to5 MisFits are all too familiar with that feeling, having been unemployed twice. The first time around, Pavi quit her job to move to India with her boo thang and initially looked forward to her "Eat. Pray. Love." style adventure, but it soon ended up feeling more like Eat. Sleep. Die because of the depression that quickly settled in.
Nammy had a similar experience after quitting her oil & gas job in 2014. She had envisioned embarking on a grand journey to "find her passion" but in reality, it ended up being a shorter journey from her bed to her couch, where she would spend the entirety of her day watching "Gilmore Girls." Not quite the globe-trotting and soul-searching she had hoped for.
Sadly, they're not alone. The first few days or weeks after becoming unemployed are crucial and the sudden lack of structure can have a profound effect in more ways than one. What makes it worse is that people often tend to retreat and isolate themselves from the world because of the shame and stigma associated with unemployment. This is especially true for the Desi community.
Thankfully, Pavi and Nammy were able to come out of the negative space they were in and learn some valuable lessons along the way, which they cover in-depth in this video. They not only talk about common pitfalls but also provide three tried and tested hacks to combat them.
Tune in and let us know what you think.
By the way, if you're just stuck and want help getting unstuck, Pavi and Nammy would love to help. Head over to their website or shoot them an email at the9to5misfits@gmail.com. Seriously, they read and respond to everything!
---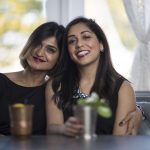 The 9to5 MisFits are a YouTube duo made up of 2 best friends, Pavi Dinamani and Namrata "Nammy" Sirur, who happened to be unemployed at the same time for different reasons. Realizing that there was so much comfort in having a "buddy" to navigate this uncertain phase with, they decided to give others a virtual buddy in the form of their YouTube channel and create a support system and encourage an open and honest dialogue about unemployment.