by Pavi Dinamani & Namrata Sirur
Ugh, not another blog post on budgeting! Groan!
Well, if you're unemployed like Pavi and Nammy were last year, you'll want to hear this. Actually, if you're any sort of human being who may want some simple, unintimidating tactics on managing your finances, watch or read on.
Ok, so it's no surprise that money is one of, if not THE biggest source of stress in your life, especially when you don't have a job. There's nothing more soul-crushing than having to check your bank statement and see nothing coming in and everything going out, including your dignity, sanity, and pride. Thankfully, Pavi and Nammy,  who were unemployed last year and are now budding entrepreneurs, learned from their previous missteps and devised a system to make sure they're not swimming in a sea of debt.
When it comes to managing your finances, there are three things to consider:
Have a budget: Even if it's a simple Excel spreadsheet like this one, it's absolutely crucial to keep track of what's coming into your bank account and what's going out. Basically, you don't want to be living way beyond your means, and you want to be aware of your fixed costs and variable costs.
Cut costs: Now that you have a budget, it's easier to figure out what you need to cut out, and Nammy talks about a great technique to keep your spending in check inspired by this life-changing TED Talk.
Make additional income: It's not as difficult as it sounds. Pavi took advantage of shared economies like listing her place on Airbnb or dog-sitting through Dog Vacay and Rover. Nammy started teaching Bollywood dance classes and doing social media marketing on the side for Rhythm India, in which she was already a performer.
Ok, this is pretty standard advice, so why is it that so many of us don't take it? Part of it may be fear or ego getting in the way. Being brown, Pavi and Nammy are well aware of the stigma associated with going from being an engineer or analyst to broke, budding entrepreneurs who sit dogs or teach dance classes on the side, but ain't no shame in the game! You know you're working towards something big, so go on with yo' bad self.
Also, don't think that you have to completely cut out your spending on anything that's not the bare necessities. It's totally ok to invest in stuff that'll pay off in the long-term like online courses or a ticket to that conference that'll make you some killer contacts and land you a dream job in the future (are you listening, producers of Top Chef? Nammy's always available to fill in as host, in case Padma Lakshmi gets bored of all that gourmet food).
Hopefully this makes budgeting and managing your finances a little less scary. Pavi and Nammy are no experts, but if they can do it, so can you! If you have any questions, check out their website for more info, or shoot them an email at the9to5misfits@gmail.com. They read and respond to EVERYTHING and love hearing from you!
---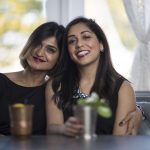 The 9to5 MisFits are a YouTube duo made up of 2 best friends, Pavi Dinamani and Namrata "Nammy" Sirur, who happened to be unemployed at the same time for different reasons. Realizing that there was so much comfort in having a "buddy" to navigate this uncertain phase with, they decided to give others a virtual buddy in the form of their YouTube channel and create a support system and encourage an open and honest dialogue about unemployment.