Stories of hardship, remembrance, ourselves–past, present and future–expressed through the art of tattoo. Meet our staff in a new way, through their ink: not on the page, but on their skin.
1. Abha Rai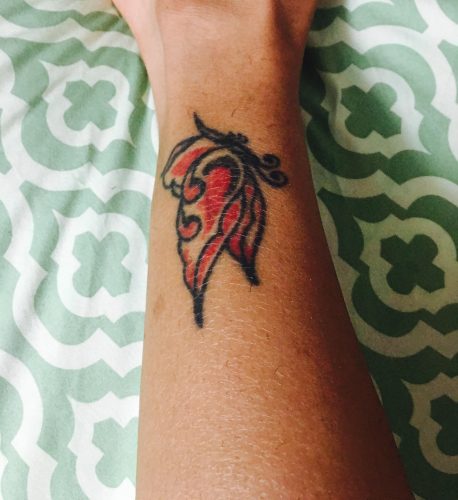 I have two tattoos: one on my wrist and the other on my calf. The one on the calf is about six years old and is a butterfly. This, for me, symbolizes freedom and independence and is in line with a principle in life I follow: spread my wings and fly high.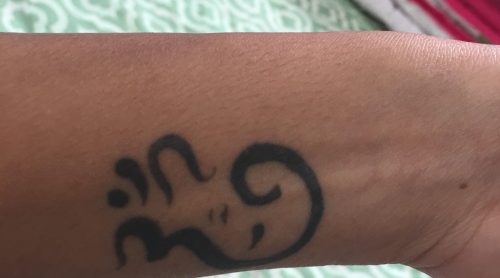 The second tattoo I have is about two years old and is an om symbol. This, for me, symbolizes inner peace, strength and serenity. Both my tattoos define me as a person and I'm reminded of my philosophy to fly high even when times are low and to keep my calm in the middle of chaos every time I look at them.
2. Subrina Singh
[Photo Credit/Amandeep Nagpal]
After my sister's passing, I was determined to keep her memory alive and honor her life in a special way. I had kept the bracelet she was wearing when she died but I felt as though I wanted to feel her with me always.
This is when I knew a tattoo was the best way. My younger sister and I discussed getting matching tattoos in her honor from the moment we were finalizing her funeral arrangements. It only seemed fitting. My sister loved tattoos and had four, each had a meaning and was significant to her in a special way.
Often, after hearing about her tattoos, I would think about my future tattoos but I never could commit to anything. I would ask myself, "What do I love so much that I want it on my body FOREVER?" After she passed, I finally had the answer.
I was hesitant at first and let my younger sister get hers before I officially made my decision. A couple hours later, I was tatted in the same spot with the same unique signature. My sister signed all cards the same way, "love always VaVa." It was the perfect way to honor her and keep her with me always.
3. Isha Das
I got this tattoo after a particularly difficult year, physically and emotionally. It reminds me that at the end of the day, we are all humans, all capable of foolish, silly mistakes. Rising from the foolishness is what matters. Standing up against it is what counts. It's my way of making light and not taking everything too seriously, especially where us, mere mortals, are concerned.
4. Kamini Ramdeen
This picture was taken right after I got my first and probably the last tattoo I'll ever have. If anyone told you getting inked doesn't hurt, spoiler alert: it does, and the pain level was more than just discomfort, especially where I got mine.
The number 26 has a huge impact on my life. My mother, father and grandfather were all born on the 26.
They are my greatest mentors—I've learned important lessons from all of them. From the basics, how to tie my shoes, swim, ride a bike, to understanding how important education is, how to work hard and love yourself.
From them, I know all the ways I want to live and mistakes I should avoid. I'll never know anyone else who loves me in the wild, reckless, unconditional and strong way they do. And now, in my adulthood, I live pretty far from all three of them, but this tattoo makes me feel like they are right by my side no matter where I am.
5. Radhika Menon
It's a story I tell often: After graduating from college in 2013, I moved from suburban Michigan to New York City to work in the entertainment industry. Against every bit of logic and sanity, I transplanted myself into the hustle and bustle of NYC with nothing more than an internship and a 1-month sublet in place. Oh yeah, and my dreams.
My tattoo is of a pilcrow, that paragraph symbol you probably haven't seen since high school English class. There's the obvious connection to my identity as a writer, but it also represents a new chapter of my life in New York where I threw caution to the wind and took a chance on myself.
6. Priya Arora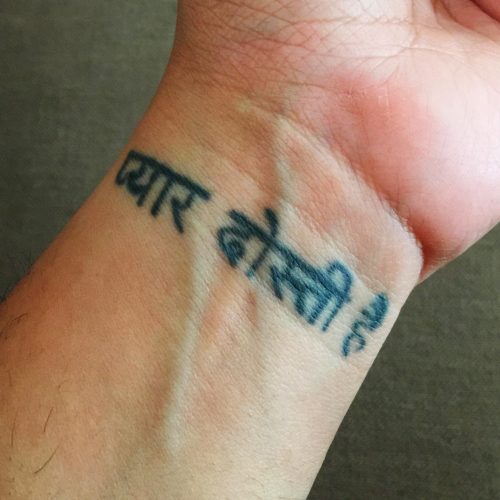 The tattoo on my wrist reads "pyaar dosti hai" in Hindi. I had always wanted this dialogue from "Kuch Kuch Hota Hai" as a tattoo—to me, it stands at one of the simplest and most truthful definitions of love: love is friendship.
At love's core, whether romantic or platonic, friendship is what makes it stronger. The reason I decided to get it on my wrist is because I wanted to be able to see the tattoo every day—it's also in a place where I used to self-harm over a decade ago. This tattoo helps remind me of how far I've come, how much love, light and friendship I have been blessed with, and without which I would not still be here today.
7. Proma Khosla
I first thought of this
tattoo
in the summer of 2008 and didn't actually get it until
three years later
. These three little stars appear on every single page of the U.S. editions of the "Harry Potter" books.
I grew up a huge Harry Potter fan and joined the fandom as a teenager, where I found my home at conventions and wizard rock shows and among people who love these books as much as I do.
The
tattoo
is a reminder and a souvenir from that era of Potter, the friends I'm still incredibly close with and memories we made, and continue to make.
8. Nidhi Singh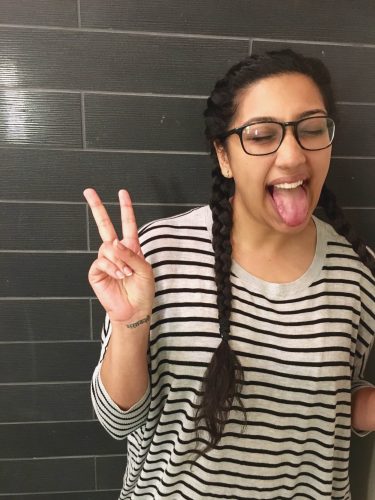 Sometimes a little spontaneity can be the best medicine.
Last fall, I decided to buy a ticket for a solo adventure to Hong Kong. I was (maybe sort of still am?) at a point in my life where I needed a breath of fresh air.
Anxiety just sucks.
While on this trip, I felt like I was on top of the world, flying above everyone and everything. On the last night of my trip, I got "Masakali" 
tattooed
on my wrist. The namesake song from "Delhi 6" has always resonated with me. I love the lyrics and how liberating they are. I essentially wanted to be Masakali.
Getting it
tattooed
on my wrist was the perfect way to memorialize the trip and its importance to me. Although the spelling is questionable since Masakali isn't a real word/name, I still love it!
9. Jasmin Rahman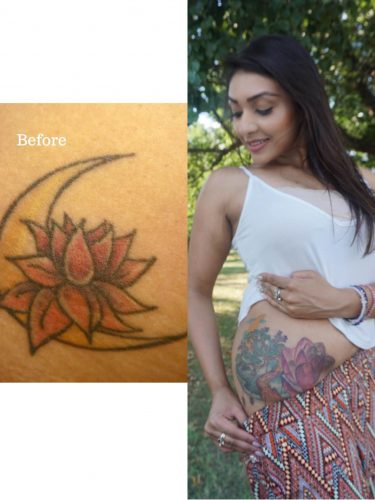 The ink etched into my skin today has evolved significantly since the first time I sat under the gun at the age of 18. A multitude of transitions in my life, including dating failures, career shifts–all part of a quarter life crisis–plus the opportunity to rectify the scarring on my shoulder from a bad artist, led to a complete revamping of my tattoos at age 25.
The year-long journey to revitalize the canvas that is my body, which started with my right hip (photographed above), and includes a determined lotus blossoming from the dark depths of the mud, new moon signifying new beginnings, Qu'ran inspired Iote tree facsimile with fruits and angels representing firm roots in a harsh yet nurturing environment, my maternal grandfather's ring in the form of jewels dripping from my hip onto my thigh.
My left shoulder (photographed below) houses mendhi inspired by my ancestry, a tiger lily representing my mother, and orchids for my maternal grandmother, aunt and uncle.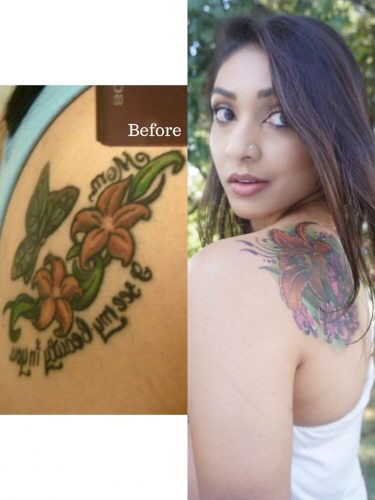 Viewed as the rebel, multiple-holes-in-her-ear daughter of a single divorcee mom, I never spoke to her before getting tattoos—I knew she had a fear of the gossipy-aunty-brigade. My mom's initial disappointment shown through at a family event when she discovered the tattoo on my shoulder as it was poking through five layers of makeup that had rubbed off under a sari blouse.
Her concern primarily lies with the stereotypes of not just a brown girl with tattoos, but a Muslim girl with ink. I have faced ridicule from friends, and even men, in regard to my form of self-expression, including comments such as "Tattoos are a deal breaker" or "You can't be buried in an Islamic cemetery because tattoos are not permitted as a Muslim."
But my ink represents my journey as both an artist and a woman, so it's here to stay.
---
Brown Girl Magazine is an online publication featuring lifestyle, culture and entertainment news, tailored for the young South Asian woman living in the diaspora.