by Duriba Khan
This post was originally published on our partner website India.com.The following piece is a satirical take on cultural stereotypes. The points here are not meant to be taken seriously, as it is only for humorous purposes.
The sound of the giggles and shouts of neighborhood children running another soccer or cricket match rings in your ear. The image of a sizzling pakora, drenched in carbs and the perspiration of angels, being swiftly handed over to you by a street vendor flashes in your mind. The late night shenanigans with cousins, aunts, and uncles laughing until your stomach hurts imitating one another, playing card games and just forgetting about troubles, even for a little while. The twinkle of the city lights, that rush you get when trying to catch an auto rickshaw. You miss it all.
Somehow, not even Forever 21 could match the uncontested, intricate and colorful churiya stands at Charminar. The cookies from your retired sweet neighbor Susan with wispy, cloud-like hair and a voice like butter could not combat your nani's kheer. And, as much as you try, bargaining with a street vendor for a knockoff Louis Vuitton is a LOT easier than asking the lady at Neiman Marcus if you can use the restroom and maybe steal one of those fancy cookies.
Yes, you're grateful for the properly functioning air conditioning, only having to worry about your problems and agendas, and being able to leave your suburban neighborhood at any time of day, but there is truly a certain magic about being overseas. A type of magic you're craving tonight.
But worry not. Today, yesterday, and the day before, I too, missed the motherland. So naturally, I prepared a list of comforting options.
1. Wear salwar kameez outside.
You can argue all you want, but there's no way Victoria Secret's PINK sweatpants or Nike basketball shorts can prove more comfortable than a soft set of salwar kameez. Yes, people might stare a little longer than usual and they might even compliment your "exotic cultural garment." People may even speak too slowly, or ask you where you're from. As a response, bust out a long sentence complete with 15 SAT level vocab words (plus five points if you speak in a British accent).
2. Hail a cab instead of taking your Honda Civic/Accord or Toyota Camry/Corolla.
There is truly something exhilarating about using all the power vested within your epiglottis to, take a breath, swallow, then scream "TAAAAAAXXXXIIIIIII!" that resembles the motherland. Don't you miss that rush? That sense of accomplishment when one finally pulls up, that feeling of defeat when one doesn't…isn't it all making your blood rush as you read?!
Today, instead of taking your usual ride to school, work, or wherever you need to be, call a taxi for the original motherland experience. Extra points if your driver is a creep with a handlebar mustache who keeps glancing in the rearview mirror and won't stop calling you behenji.
3. Never let your boyfriend in your house.
Instead, have him throw pebbles at your window, "Kuch Kuch Hota Hai" style. Have your neighbor Jeff, the Republican father of four, beat your boyfriend up (because papa couldn't make it). Sure, your boyfriend will get a few bruises and, perhaps, a broken spine. But homegirl, if you want the experience, you have to sacrifice.
4. Force yourself to eat two more rotis than you can handle.
Now, this option is for those who are REALLY committed to the ~motherland sensation~. This option means eating until you're full and can't fit any more food into your belly and then some.
5. Bring your own special silver cup to your Starbucks barista (still, his Caramel Macchiato will not compare to our roadside masala chai).
Arguably, the best part of going home is the food. Food in the motherland is delicious, whether it's prepared at a five-star inn or on the street. But of all the miles of flavorful street food the motherland offers, the most original is the chai. Often stirred to perfection with a few teaspoons of masala and served in that signature silver cup, nothing can replicate the joy that follows. However, we can come close. By using the silver cup, we trick our brains into believing that our beverage is actually the cutting chai we love.
6. Ask all your friends to set you up with strangers (who are medical/law/engineering students, of course).
Nothing says home like a range of suitors you have nothing in common with. For the true motherland vibe, practice master rejecting despite your family's pleadings. Extra points if you manage to escape an arranged marriage. Double those points if you can do it in your wedding dress.
7. Be super kind to strangers, because, like in the Motherland, SOMEHOW, one of them may have raised you.
This one speaks for itself. That guy, angrily yelling into the phone on the subway? There's a 99 percent chance he might be your grandfather's cat's cousin's uncle. What can I say? It's a small, small world. If they somehow remember you and cry when they see you, stroke your hair and comment on how much older you've gotten, hug them back. After all, you basically owe your existence to someone who raised you when you were four and never contacted you again!
8. If someone is getting married, force a bunch of 10-year-olds to make a dance to "Chittiyan Kalliyan."
And this last option applies in the event of a marriage. I don't care if your co-worker Cindy is marrying Tyler, her quarterback high school sweetheart; if you need that motherland experience, you've got to do this.
First of all, you need to find four to five 10-year-olds with a sense of coordination (preferably brown, so you don't have to teach the lyrics). If you can't find any at Starbucks, use Instagram follower apps to recruit! Then, teach them a dance sequence from a generic video you found online. Have them perform, and voila! It's cousin Vishnu's sangeet all over again.
---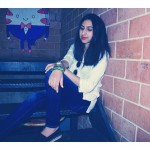 Duriba Khan, or "D-Dawg," is a sixteen-year-old blogging, vlogging, photographing, filmmaking, sketching geek who enjoys long, romantic walks to the refrigerator. She is half-Pakistani and half-Indian and currently resides in Austin, Texas. Duriba also feels uncomfortable writing about herself in the third person. For more of Duriba's work, check out her blog.