Although contrary to the title, I slept comfortably and peacefully for all four nights spent in the city, the beautiful attractions left me wide-eyed and sleepless during the day. It is little known by most that Seattle is the home of Microsoft and Amazon, whereas Seattle's affinity for coffee via its invention of Starbucks is more commonly known. This very mysteriousness paired with familiarity drove me to plan a trip with my best friends to the city that left me awed at all that it had to offer. The following list consists of places I recommend visiting if you find yourself randomly wandering through the Pacific.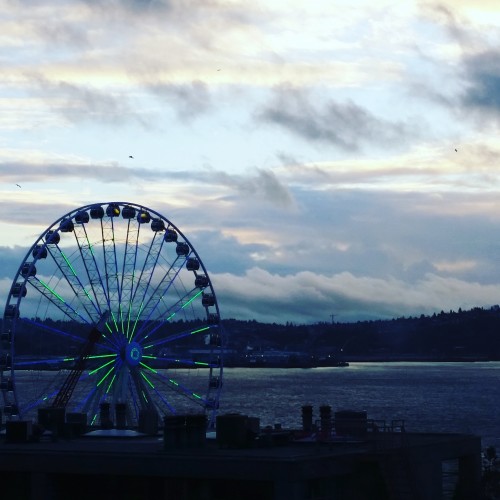 1. Chihuly Glass Art Museum
Dale Chihuly, born in 1941 in Tacoma, WA, developed the refined style of glass art that is displayed in this museum, one of Seattle's most intriguing attractions. The colors and objects demonstrated via the artistic intricacy in his glass work are truly admirable. For those of you who fear museums, this one's not your typical one because it's a sight for young and old!
2. The Space Needle
I know this one's probably a given as it is Seattle's most well-known tourist attraction, which draws in thousands of visitors every year. However, what I was unaware of was that with the purchase of a Seattle City Pass online [this allows you to visit five attractions for an incredibly low price], you can get both a day and night view from the Needle's observation deck. Both views differ so much that they are equally well worth your time. The best time to go during the day is in the morning (around 8-9 am), so you can see the fog clearing up and adding to the allure of the city.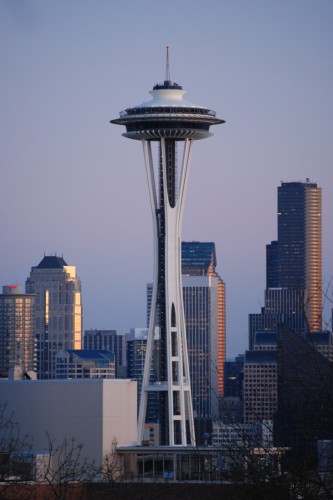 3. Woodland Park Zoo
A 40-minute bus ride away from the Space Needle, this was another attraction included on the Seattle City Pass, and one that turned out to exceed my expectations. Zoos are usually fun for all ages and don't vary much from city to city. However, the Woodland Park Zoo was efficiently organized and sectioned off into specific continents the animals were native to. The zoo consisted of so much nature I felt like I was taking a hike through the woods viewing different species of animals as an added bonus.
4. Argosy Cruises
The pick-up for the 1 hour narrated cruise was right in front of the convenient waterfront. The cruise gave us a view of the Puget Sound and the Seattle skyline. The cruise guide shared interesting stories about his dear hometown. In fact, I learned that the city's name comes from a spin-off of a Native American chief whose name the white settlers had a hard time pronouncing!
5. Gum Wall/Post Alley
The name literally suggests what this man-made attraction is all about. Formed in 1993, the gum wall continues to be a colorfully sticky Seattle attraction. Even if you are not a fan of gum [and stickiness], the area the gum wall is in—Post Alley—still has a variety of shops and cafes that are worth a glance. One of my favorites was a store made for maps and all the wanderlusters out there.
6. Pike Place Market
If you've been following the farmer's market hype, Pike's Place Market is the place to be. From your traditional fresh organic produce to locally hand-crafted jewelry to vintage cigarette posters, there is truly something for everyone. Watch out for the occasional pet turkey that might waddle quickly past you!
7. University of Washington
Although a little far from downtown Seattle, the efficient bus system will transport you from near the Space Needle to a completely different era at the University of Washington or "UDub", as the locals call it. Even at night when I visited, the university exudes beauty and architectural triumph. Take a walk through the Quad and admire the surrounding buildings and libraries. If you get hungry, check out Big Time Brewery on University Way for good food and beer.
If you find yourself walking the rainy streets of Seattle, attempting to hold on to your umbrella in the brisk, wet wind, be sure to stop and take in the sights and smells of the exuberant city. Pick a random café, or sip on your lovely Café Viennese at Uptown Espresso, and look out the window at the gorgeous Seattle skyline. You won't be disappointed!
If you would like to share a travel story for our weekly #TravelTuesday posts, be sure to email our lifestyle editor Ashni Mehta at Ashni.Mehta@0mq.349.myftpupload.com.
---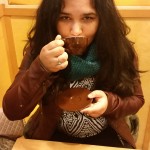 Anuja Shashipadme is a recent graduate of the University of Virginia with a double major in Cognitive Science and Spanish literature. When she's not drinking coffee, you can find her traveling to different places, writing poetry, or getting lost in a good book.