Managing Editor of the Sikh Love Stories Project, Meeta Kaur, complied a series of  love stories written by Sikh-American women into a book titled "Her Name is Kaur: Sikh American Women Write About Love, Courage, And Faith." Each story allows readers to enter the psyche and experience of Sikh-American women as they each uniquely fall in love. Kaur holds an MFA in creative writing from Mills College, and is known for writing in various publications, including  Hyphen Magazine, Asian Week NPR and Sikh Chic. At present she is writing essays to combat social issues in the Sikh-American community. During her free time, Kaur enjoys spending time with her family, cooking and exploring her spirituality through her writing. 

Below we speak to Kaur about everything you need to know about the collection of 25 stories:
1. It will help you understand the everyday lives of Sikhs in the community.
As a community we try to live up to our ideal of being protectors and defenders of civil and human rights. Publishing these stories shows our tender and compassionate side as well. It gives everyone a greater insight into our social lives and how we deeply feel as we go through our lives."
2. These are NOT your typical love stories.
Western love stories perceive love as just between a man and a woman. We wanted to expand the notion of what love is and how we experience it. We have other relationships for instance with family, with friends, with our sacred work in the world and even God. There are multiple love stories in everyone's lives."
3. It shows you to love not only others, but also yourself.
We also include stories on self love, dignity and self respect which are critical to operate a healthy life. We've given our writers the freedom to express their unfolding love story with themselves."
4. "Sikh Love Stories" doesn't just include love stories.
We've featured Q&A's with Sikh American women who inspire us, balancing the cultures, integration into new societies and so much more."
5. The writers are brave and talented individuals trying to share their stories with the rest of the world.
Initially we sent out submission calls on social media. We got 1/3 of writers that way and just asked around. We were looking for someone courageous enough to put their story out there, someone who was confident and could keep it real. Also someone who stuck with the rigorous editing process. Quality and high standard were priority."
6.  "Her Name Is Kaur" will give you strength when you need it.
As a community if we can move from judgment to understanding we can see our women as our greatest resource, walking with our sisters through hard times, helps trusting themselves and peers. Two goals: understand others and develop empathy."
7. Even though the stories are a collection made by women, it is especially important for men to read.
It gives the Sikh man a glimpse into a Kaur's life, and about who they are and what they have become. 
Pick up your copy on Amazon today and join the first book reading/discussion on Sun., August 10 in New York City at Colombia University at 4 p.m., at the Alred Lerner Hall Room 569.  Coming up  next is a special feature of an excerpt of a story written by BG Subrina Singh!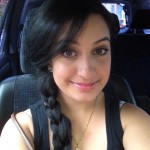 Trisha Arora is a 21-year-old aspiring journalist and broadcaster from New Jersey. She has a  passion for Punjabi culture, more specifically, Bhangra. Currently Trisha hosts her own weekly show on Radio Asia called Bhangra Beats, manages her own blog, hosts events and writes for record label E3UK, and contributes to Brown Girl Magazine. Follow Trisha's journey via Twitter or Instagram.