by Monica Bhatnagar – Follow @bhatmon
When I visit my parents, I always spend a few hours during my trip watching Indian soap operas. I like Indian soap operas. I like the drama, the clothes and jewelry, and the offbeat, sometimes farcical story lines. I enjoy watching them, but not enough to subscribe to the various Indian channels. My mother, however, loves her soaps, and I love watching them with her. My mom is 100% invested and will watch several programs each night, forcing my dad to watch his shows (sports and news) in the den.
I have noticed that the majority of these shows follow a certain pattern. The victim or underdog on any given show is the sweet, and unsuspecting female protagonist; most often the new daughter-in-law. The antagonist is the either the curmudgeonly mother-in-law or the jealous and very beautifully dressed evil sister-in-law who will go far lengths to protect her territory. While these characters or situations aren't in themselves interesting, what keeps my mom or, at least me, glued to the TV is knowing that the innocent doe-like protagonist will get revenge on everyone who has wronged her. Who doesn't like a good revenge story?
When I wrote this sketch, I was watching a show with my mom called, "Chotti Bahu." The premise of this show was your typical, young woman gets bullied by her adoptive family. But they took it a step further and murdered her. Her ultimate revenge was being
reincarnated as the Hindu God Krishna, who unleashed a mystical can of whoop-ass on the entire family. SWEET REVENGE.
Although this storyline was completely far-fetched, I wondered what it would be like to be married into a household similar to the ones on Indian soap operas. Here are "7 things every girl should know when marrying into an Indian soap opera." Hope you like it!
---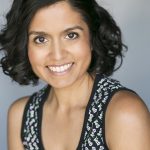 Monica Bhatnagar is a Los Angeles- based actor and filmmaker. She has worked on commercials for Lumosity, Honda, and Red Laser, and her sci-fi short film "Manikin", which she wrote, and acted in premiered at the Los Angeles Women's International Film Festival in March of 2016. Monica regularly acts in sketches for Late Night with Conan O'Brien. She also creates her own comedic sketches, including her latest, "Mediocre White Man Confidence…It's a hell of a drug". Follow her on Twitter: @bhatmon, and Facebook: @ActingMonica.