Each Halloween, I devote myself to transforming into a thing of pure horror. I am especially partial to gloomy zombie makeup and hair that is matted and knotted as if I'd never washed it in my life.
This week, however, I came across an article discussing how women can reinvent their Halloween trends to empower women and make feminist statements. The article featured costumes honoring women ranging from Rosie the Riveter to Beyoncé to Hillary Clinton. While uplifting and innovative, the article nonetheless exhibited a clear deficiency in South Asian representation. This could be for one of two reasons—South Asian women have either not made large impacts on cultural development, or they simply haven't had enough airtime to make those impressions. I began to reflect on the pool of South Asian women who inspire on an international scale and decided that it was most definitely the latter.
For South Asians living in the Diaspora, this Halloween can lend itself to the remedy of bringing South Asian women, along with their accomplishments, tenacity, and resolve, to the forefront of Western recognition.
Here are seven costume ideas, gleaned from my personal inspirations in brown womanhood, to get your wheels turning.
1. Jhumpa Lahiri
[Photo Source/Facebook]
Who is she? Lahiri is an award-winning Bengali-American author. Her first book, a compilation of short stories titled "The Interpreter of Maladies," won the Pulitzer Prize for fiction in 2000 and her novel "The Namesake" was adapted into a popular film starring Kal Penn and Tabu. Her writing generally focuses on the Indian experience in the diaspora.
How to look like her: The Lahiri look can be easily achieved with a black turtleneck, delicate fanning earrings, and a simple hairstyle of a low ponytail. For good measure, carry one of her books along with you, in hand!
2. Arundhati Roy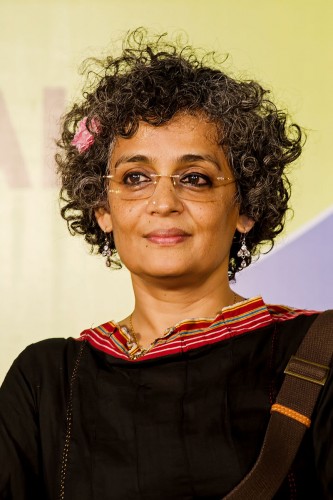 [Photo Source/Wikipedia]
Who is she? Roy is an Indian author who is famous for her novel "The God of Small Things"—a work that confronted the complex issue of caste in Indian society. She won the Man Booker Prize for fiction for this novel and went on to become a political activist in India for human rights.
How to look like her: The Roy look can be achieved with a short and black curly wig, rimless glasses, and a shawl wrapped as a stole. If you have a nose ring, even better!
3. Benazir Bhutto
[Photo Source/Wikipedia]
Who is she? Bhutto is the former Prime Minister of Pakistan who was assassinated in 2007. During her time as Prime Minister, she made hunger, housing, and health care her top priorities, while working tirelessly to modernize Pakistan.
How to look like her: Throwback Benazir is my favorite Benazir! Simply pull your hair back with a little volume at the crown, get some extra large glasses, and throw on a salwar kameez with a white dupatta over your head. For makeup, be sure to have a neutral lip and bold brows. #Zindabad.
4. Shabana Azmi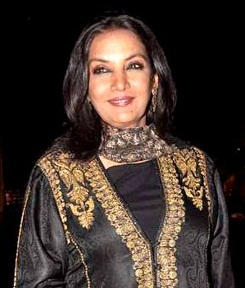 [Photo Source/Wikipedia]
Who is she? Azmi is a groundbreaking actress who has starred in highly progressive Indian films. She is one of the leading actresses in Parallel Cinemas—a movement within the Indian film industry to counter mainstream filmmaking through the exposition of serious cultural issues and neo-realist expression. To show appreciation for her work, Azmi was nominated for membership of the upper house of parliament.
How to look like her: The Azmi look is just so easy to achieve. Leave your hair open (long or short, she's had both!), part it in the middle, and rock your favorite kurti and shawl with a statement bindi.
5. Seeta Devi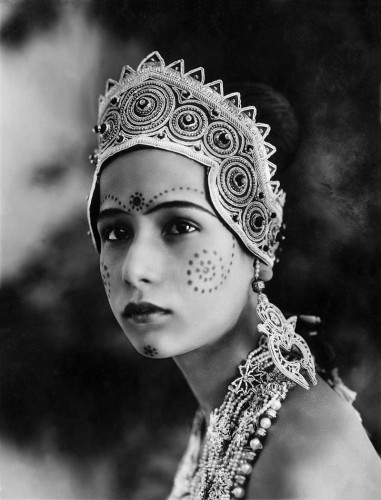 [Photo Source/Wikipedia]
Who is she? Devi is an Anglo-Indian silent film star and was the first Bollywood actress to kiss on screen in 1929 in the film "A Throw of Dice."
How to look like her: To become the iconic Devi, pull your hair back into a low bun with a middle part, wear a large bindi with statement earrings, and layered strands of pearls over a tube top. For good measure, throw in a speech bubble that reads, "Pucker Up!"
6. Sampat Pal Devi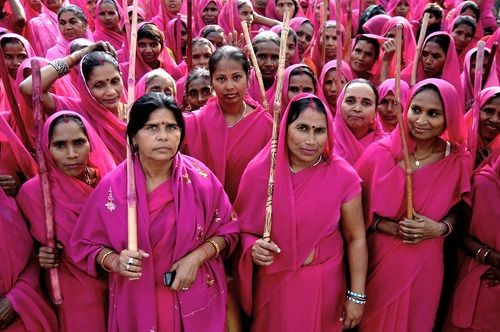 [Photo Source/Pinterest]
Who is she? Devi is an Indian social activist and the founder of the famed Gulabi Gang that first emerged in Uttar Pradesh as a response to widespread violence against women. The group is iconic for wearing pink sarees as they venture into the public eye to demand justice for crimes of violence against women.
How to look like her: To look like this Gulabi Gang founder, you must look like you are ready for a revolution. Slick that hair back and throw on a bright pink sari with a black blouse to recreate the photo above—and don't forget your self defense stick!
7. Lilly Singh
[Photo Source/Facebook]
Who is she? Singh is Punjabi-Canadian and is well known as none other than "Superwoman." She is one of the highest earning YouTubers in the world as a comedian who creates both sketches and conversational routines discussing Indian identity within a Western context.
How to look like her: Her classic look obviously requires a t-shirt with the "Super" symbol. Leave your locks down and don a backward baseball cap—preferably a red one. Add the largest smile that you can and, there you have it! And, since Singh portrays so many characters on her YouTube channel feel free to pick whichever one suits your fancy.
Halloween is becoming a valuable platform, where the accomplishments of our favorite brown women can be showcased thus bringing them into the limelight of territories that do not generally recognize them.
Who we choose to emulate can serve as a prime opportunity to stimulate discussion and increase recognition. Re-create these looks for Halloween and tag us in your Instagram and Facebook photos!
---
Elizabeth Jaikaran is a New York-based freelance writer, who has written everything from comedy to legal analysis. She is a third-year law student at New York University School of Law and is interested in foreign policy, international law, and corresponding theories of social consciousness and gender politics. Her favorite hobby is binge-watching Netflix with her husband.