by Preeti Singh – Follow @PreetiWrites

Mumbai, India is known to be a city of dreams and glamor, popularly known for its nightlife. It is said that the city never sleeps. It is a metropolitan city with a high paced lifestyle where people are assumed to be working round the clock. Mumbai is also marked as one of the most populated cities of South Asia.
Apart from being the home-ground of cinema, fashion, and glamor— Mumbai is also known for its dirty streets, filthy lanes, slums, stressful fast life, overpopulation, and never-ending traffic. The quickest way to commute from one corner to another in the city is via the local train which is also called the Mumbai Local or local.
It is a chaotic world that witnesses and caters to many passengers on a daily basis. I am not very fond of traveling in local trains; no matter how time-saving they happen to be, they are too crowded.
Coming from Delhi, I had always been curious about Mumbai as a city: its local language, Fashion Street, Juhu Beach, vada-pav and the auto rickshaws which have meters that clearly state 'do not touch me'. I always wonder what would happen if I touch it? The
The Bollywood knowledge sometimes works in our favor; we fairly have an idea of the city before actually being there. When I came to Mumbai for the first time, I wished to experience it all by myself, but traveling in an overly crowded local train on my own for the first time was not a wise choice. 
All travelers are fairly different from each other but they have one thing in common—'the haste'. The haste to climb in, push in, adjust themselves somehow: sitting, standing, hanging or being pushed too and fro.  At times, one does not even have to try to get off the train on their own; the crowd does the work. While the passengers don't help you otherwise, they will definitely help you get off the train without even needing to lift the foot.  A combined tight push by the healthy Aunties does it all! Zor Lagake Haiysha?
To my experience—the harder the push is, the more experienced the aunty. Like any popular brand, the older it gets the better it serves. Aunties are no less than any commercial product. They are easily available in local trains in different sizes, odors, volumes, and packages. They come with a user manual of do's and don'ts, which they are very eager to share like good customer support service. 
Let's have a look at the common Aunties you'll see:
The Commanding Aunties

They are like the senior customer care agents. They travel daily and therefore have a good deal of experience. They feel they have traveled enough to rightfully own the compartment. They even have their fixed favorite spots and will not let you stand there. I, being new, have often been scolded, guided or told where to stand in a local. 

The Overly Sweet Aunties

They give a lot of advice, whether or not you're asking for it. Your only fault was to ask "How much time will it take to reach the station?"  But, unrealizing, you just made the biggest mistake of your life! They immediately know you are a newbie, an inexperienced local train traveler. Now it's their life mission to guide you till the end; you will automatically become their offspring for the entire trip. They will even ask other fellow passengers to move so you can sit closer to them and chat. What a sweet gesture but with a little extra sugar!

The Aloof Aunties

They are the classy kind who have boarded a local train by mistake—at least, this is what they will try to pretend. They have sunglasses on even on a cloudy day, wiping their faces with a wipe while complaining about the humidity and discussing the nitty-gritty of the last kitty party. These aunties may or may not notice your existence.

The Efficient Aunties

They use the traveling time to do the extra-mundane but necessary activities like reading a newspaper, doing office work on a laptop if they manage to enough space for it or if they happen to get a larger space, you can even find them cutting vegetables—yes, this does happen! Their time is skillfully used to apply nail paint and last minute makeup touchups before stepping out.

The Business-minded Aunties

They are the local sellers. Yes, they sell stuff in the local train, from hair pins to safety pins and are amazing saleswomen. You name it, they have it all. I often end up buying stuff that I later wonder why I bought in the first place.
Aside from these lovely aunties, a few women from the local transgender community can also be seen on the train. Initially, I was unaware of them. My first experience was rather embarrassing when a craftily dressed woman approached me in a crowd and said to me in a husky voice, 'Ae chikni, de naa.' She was asking for a donation!
---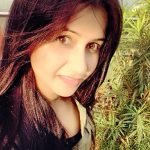 Preeti Singh, based in Mumbai, India is working as freelance French-English language interpreter, trainer and a media professional who is engaged in writing and acting projects. She has a Bachelors degree in English, Psychology, and Sociology with first division. After completing her graduation she attained a postgraduate diploma in Applied Journalism and Mass Communication. Currently, Ms. Singh is an under-process blogger at The Huffington Post and a member of the Film Writers Association (FWA), an association for television and cine writers. She has assisted in film pre-production and script writing for the Indian film fraternity. In addition, she enjoys working as an artist and has portrayed different roles for Indian television series. Ms. Singh is a multi-linguist and can communicate in English, French, Hindi and other regional languages with adequate fluency.