Your period can either be a dreadful bodily function that you have to deal with on a monthly basis or it can be a taboo subject that you embrace. Why does the topic of menstruation have to be shameful anyway? It's a natural part of the female system and the call from nature may actually give you some insight regarding the different processes that are taking place inside your body! If you are aware of the shifts on a monthly basis, it can help you to determine many different things about your health. Let's take a look:
1. Flow
Even though you may believe that you are losing gallons of blood each month, the average woman loses approximately one cup. However, the flow may vary accordingly. If you tend to have a heavy flow, this may indicate that the susceptibility of anemia (decrease in iron) is more prevalent. With the onset of anemia, there is a chance of polyps and fibroids which may increase the chance for infertility. In contrast, if you tend to have a light flow, this may indicate that there is a hormonal balance or an increase in stress. With an abnormally light menstruation cycle, a health care provider should be contacted because this may be in indicator of several conditions.
2. Color
Based on the color of the blood during your period, this can reveal a great deal about the hormonal changes in your body. The color of cranberry juice is considered to be normal since the estrogen levels seem to be at a proper level. The saturated color of red is a healthy indicator. However, if the blood is a dark and almost burgundy, this may indicate that there are low levels of estrogen which can then lead to fatigue.
3. Pain 
You're familiar with those immense cramps on a monthly basis, right? That is due to the fact that the uterine wall is shedding and there are increased amounts of prostaglandin. However, if that pain is excessive to the point where you cannot walk for several days, you may need to see a physician since this is known to be a common health problem known as endometriosis.
4. Frequency 
In a normal menstrual cycle of 28 days, the flow of blood should last between three and seven days. Of course, each woman is different and the cycle may shorten after you approach the age of 35. If your period is non-existent, there is a chance that hormonal imbalances are taking place. Some of those imbalances may be due to stress, pregnancy, excessive weight loss and the consumption of excessive alcohol.
5. In-between-cycle bleeding
If you experience bleeding in between your cycle, then this can be attributed to an excessive drop in estrogen. It is not uncommon to experience a few drops of blood in between periods, however, if it is considered to be an excessive amount, a health care provider should be contacted.
Remember: your period does not have to be an embarrassing subject. You can actually use it as a tool to check up on your health status. Give it a try!
---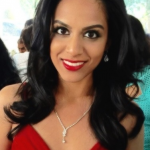 Anita Haridat is a medical researcher with her Ph.D in healthcare/business administration and her master's degree in clinical nutrition. She has several publications in sources such as EGO Magazine, Natural Awakenings Magazine, Syosset Patch, Our USA Magazine and Leading Management Solutions. Her passion for health and wellness has created multiple stepping stones for paving the way of creating a positive well-being. Her blog known as the Healthy Spectator was created to give people the tools to flourish in their own lives whether they want tips on nutrition or positive thinking.
Although Anita lives and breathes health care, she has a passion for humanity and women's issues. She enjoys writing about a wide variety of topics and she thrives through the expansion of her interests. She uses writing as an outlet to engage with others and to possibly make a difference in their lives.