by Amy Devan 
The following post was originally published on our partner website, India.com.
Weddings and special occasions are traditionally held in the spring or summer—or are they? There seems to be a new trend for fall and even early winter events to take advantage of comfortable outside temperatures and the gorgeous backdrop that Fall gives us with golden and auburn leaves.
Whether you are a guest or a host, the issue of what to wear between seasons can be a challenge. Here, we discuss four must-have staple items for your South Asian wardrobe that will effortlessly carry you from summer to fall—and beyond.
1. A Touch of Crimson
Every fashionista needs "a something red" in her wardrobe, even if her personality is ultra girly or mostly monochromatic and neutral. Whether you opt for a simple crimson blouse/choli or chunni as your red-staple, red accents can carry your wardrobe from season-to-season if styled with purpose. Choose a basic red item that offers the perfect touch of bold without consuming a look altogether, or competing with it. What we mean is that the more simplistic, the better. Heavy embroidery on your red blouse or chunni is not necessary in this case, as the focus is on the pop of color.
Unless you have been hiding under a rock, you have seen floral prints splattered all over South Asian fashion this season. More often than not, pairing a simple red choli or chunni with a floral lehenga or Anarkali adds the right amount of vibrant contrast to an otherwise soft and feminine look.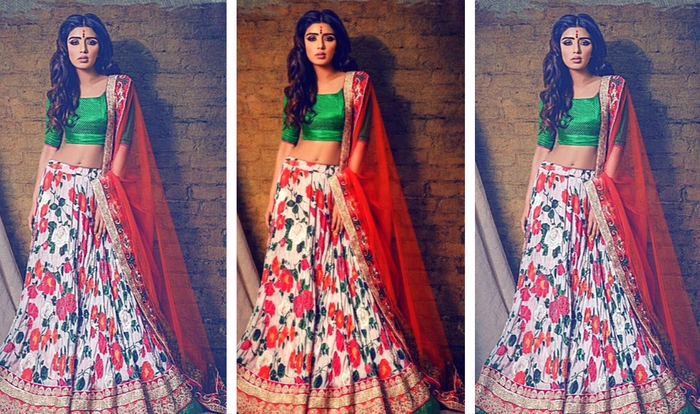 [Photo Source: Pinterest]
For the Fall, take that same crimson choli or chunni, and pair it with a black and white (or all black) silhouette. Somehow the touch of red adds a sense of royal sophistication to a look that would otherwise be something too expected. The goal is to stand out, and red will allow you to do just that in most elegant of ways. Check out how designer Payal Singhal shows this bold-meets-beautiful look: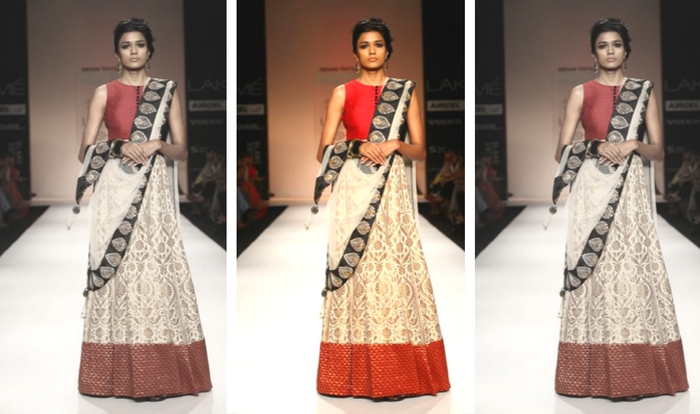 [Photo Source: Pinterest]
2. Well Fit Cigarette Pant
For retro-loving fashionistas, this is a no-brainer. For others, a cigarette pant (and especially pants with a print) may seem like a daunting thing to try. Despite your aesthetic and possible hesitation, we urge you to give this styling tip a shot before shying away. Start with a print and fabric you are most comfortable with and that suits your personality! If you prefer solid over print, go for an ivory, metallic gray, or soft gold cigarette pant. Be sure the pant fits you well, and the hemline finishes just above the ankle (or slightly higher). Showing off your ankles and just a bit of your shin will keep feeling cool on summer nights.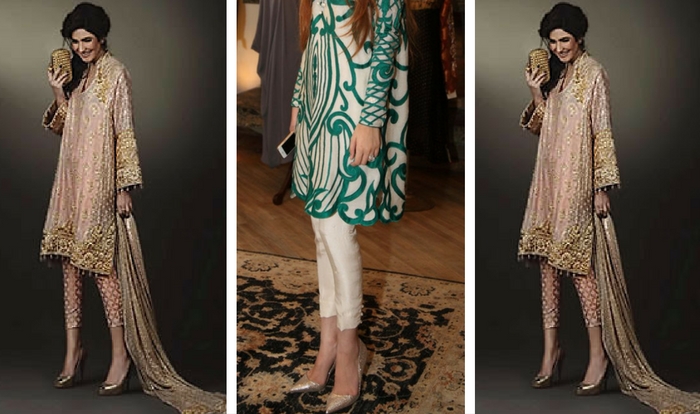 [Photo Source: Pinterest| (center) 1, (sides) 2]
If you dare to go with an embroidered cigarette pant, try a look like this: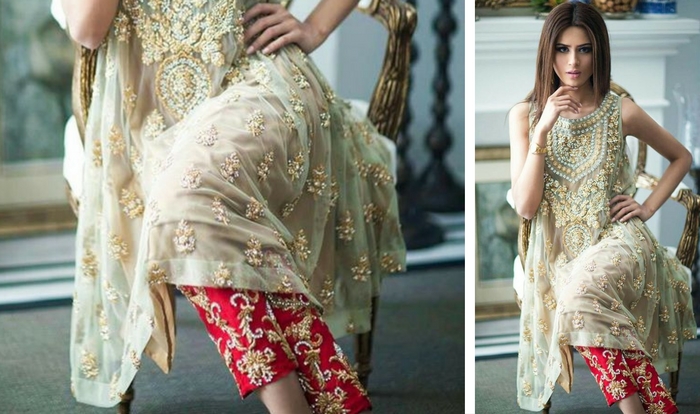 [Photo Source: Pinterest]
3. Jacket Drama
Check your existing South Asian wardrobe because we guarantee you will find a jacketed lehenga or Anarkali. If you are willing to separate the jacket from its coordinating counterparts (i.e. the lehenga skirt or Anarkali), and try something new—then this tip is for you!
Try wearing the jacket (or vest) with a simple white button down shirt as shown below:
[Photo Source: Pinterest]
Another option is with a linen kurti: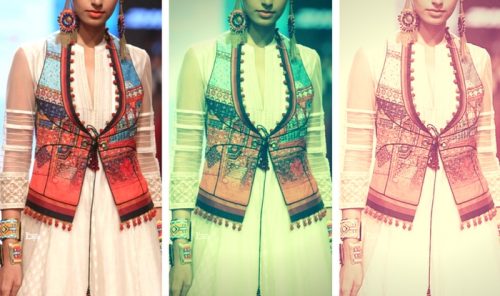 [Photo Source: Pinterest]
This style tip accomplishes three C's: comfort, coziness, and chic-chic-chic! Okay, that's more than three, but we could not help ourselves with how amazing this look is! Pair your vested white button-down or kurti with denim or black leggings for a casual event, or with a simplistic black lehenga skirt for a more traditional-inspired look. For a special occasion where going traditional is better, choose a simple round bindi to enhance your new classic look.
4. Vest-friend When You Just Can't Commit to a Season
Long boxy vests have become all the rage for fall fashion when it comes to Western wear. Topshop, for example, is currently selling fabulous "sleeveless jackets" as they like to call them in a few different colors (shop here). This may be a silhouette you are used to pairing with your favorite denim, but we suggest shifting it over to your South Asian wardrobe later this summer. Try pairing the long vest with printed, brocade cigarette pants, a lehenga skirt or the latest trend in South Asian fashion—parallels (in other words, palazzo pants). Below will give you some inspiration: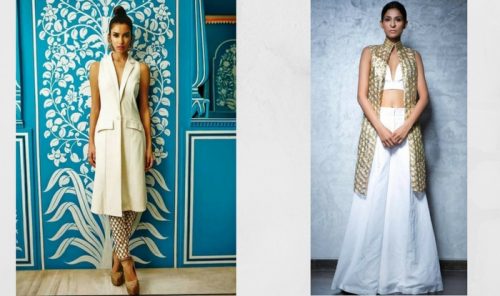 [Photo Source: Pinterest | 1,2]
This look is bound to take your wardrobe from summer to fall with an unexpected, beautiful twist!
We hope you have enjoyed our tips for easy summer to fall transitions! Keep following our style journey on India.com! We appreciate all your fashion love and promise to keep giving you all the buzz on all things South Asian style!
---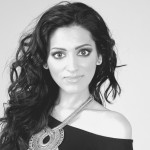 After completing her MBA in 2006, Amy Devan went on to work in marketing and business development among various industries. Though grateful for every professional path crossed, she had always been a creative spirit and ultimately decided to follow her childhood dream of design. One day, feeling overwhelmed by this unshakable passion, she left all things known to her, packed up her belongings and booked an exotic trip, half-way across the world to India – all to study the craftsmanship of her roots. Upon returning, and feeling more inspired than ever before, she moved to New York City to attend Parsons – The New School for Design. From that point, Naveda™ was born and the rest is history!