The following post is brought to you by our sponsor, IndiaBoulevard.com— a curated marketplace for Indian fashion. All photos below are courtesy of the IB team.
Dear BGS, here's a myth we're going to be busy busting today—you can only wear velvet in the winter. WRONG! We wholly agree that a velvet ensemble is the next best thing to a warm, wool blanket in the winter seasons because of its texture and thick layering. Regardless of these facts, if there's one fashion tip we want you to take away, it's this: Velvet is versatile.
Yes, it may require some nipping and tucking, and some of your renowned DIY skills (maybe not the ones that went completely wrong), but here are 3 ways we can help you wear your favorite velvet pieces all day, every day!
1. Have a velvet skirt? Pair it with a fun crop top!
I think we all have one of those all velvet, 2-piece lehengas that collect dust through spring, summer, and even fall. Our question is, why let them? We suggest saving the blouse for later but taking the velvet bottom and wearing it with a fun crop top to do the trick! Because crop tops can really only be worn in the spring/summer, your outfit would automatically have a whimsical feel to it when paired with something other than the velvet blouse. We encourage you to never be afraid to mix textures. Just like mixing prints is no longer a faux-pas, varying textures throughout your outfit can make you stand out, and look amazing!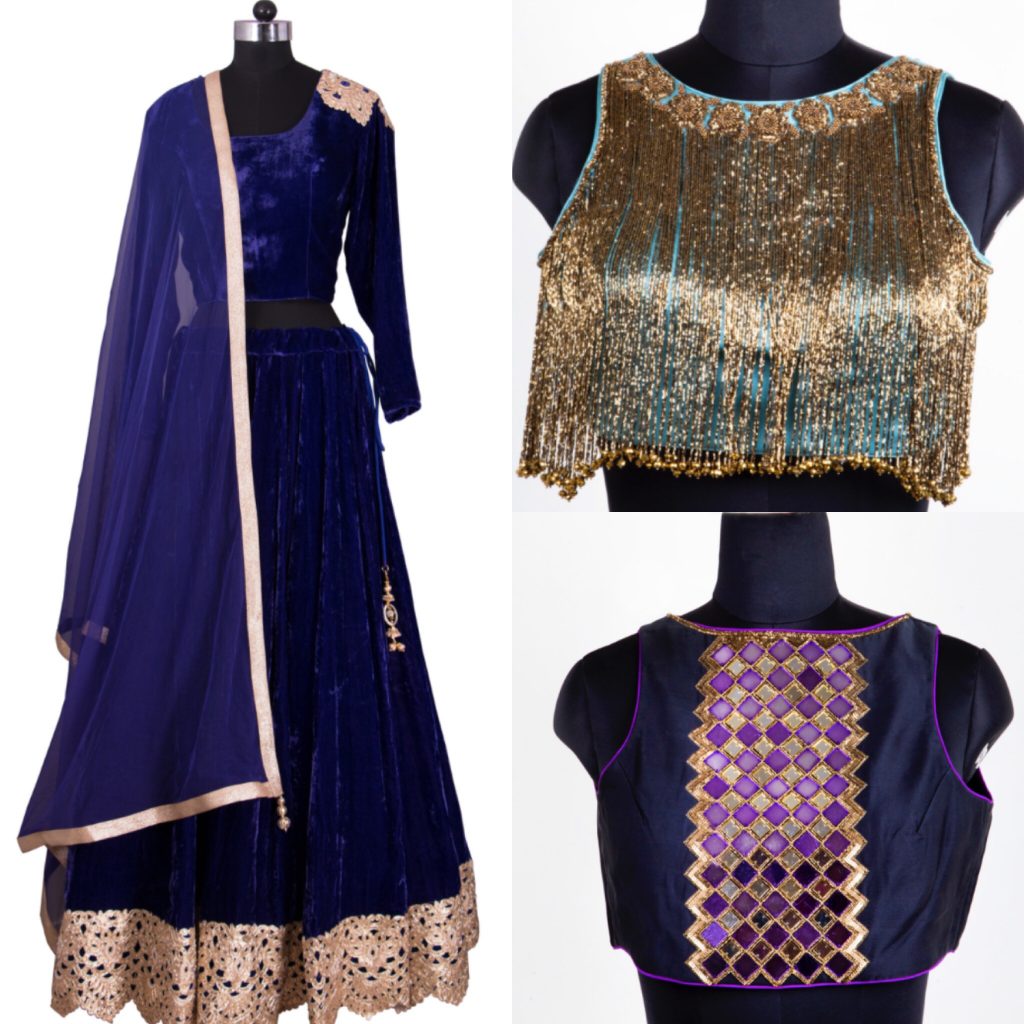 [A velvet lehenga is a great piece to have for your winter wardrobe,  but you can add a bit of oomph to the velvet skirt by pairing it with a fun crop top. Fringe? Mirror-work? Pick any texture, India Boulevard has it all!]
2. From velvet lehenga skirt to a midi, just DIY!
Ok, so are you itching to get handy again? Did your last tailoring, DIY, project go so well that it's high time to get back on it? Well then, here's a task—start snipping off the bottom of your velvet, floor-length, skirt. I think it's safe to assume that once you wear a lehenga a couple of times, you're afraid to recycle it because, well, we all want to be the Kim Kardashians of our social circle, and so it's sinning to repeat an outfit, right? Girl, we get you!
But how sinful is it to turn something old into something new? Midi, a-line skirts, have become the go-to for every fashionista. You can wear them to the office with a plain button-up, or to a bridal shower with a bit more pomp and show. Or even better, how about a high-tea event on a Sunday afternoon? Bottom line, it's always wearable. So here's how to own one without spending an extra dime:
Jump into your lehenga skirt and stand nice and tall.

Measure up to the knees (because that's where pleated, a-line skirts usually fall), and subtract ½ inch to account for the new hemline.

Remove the skirt and fold it in half, lengthwise, with hemline lining up. Continue to fold this way until you have a slim, long, triangular shape.  

Measure the length you want to cut from the bottom, up, and mark.

Follow the marks and carefully cut off the bottom of the skirt.

Fold over the ½ inch extra you left for the hemline and sew/stitch over it.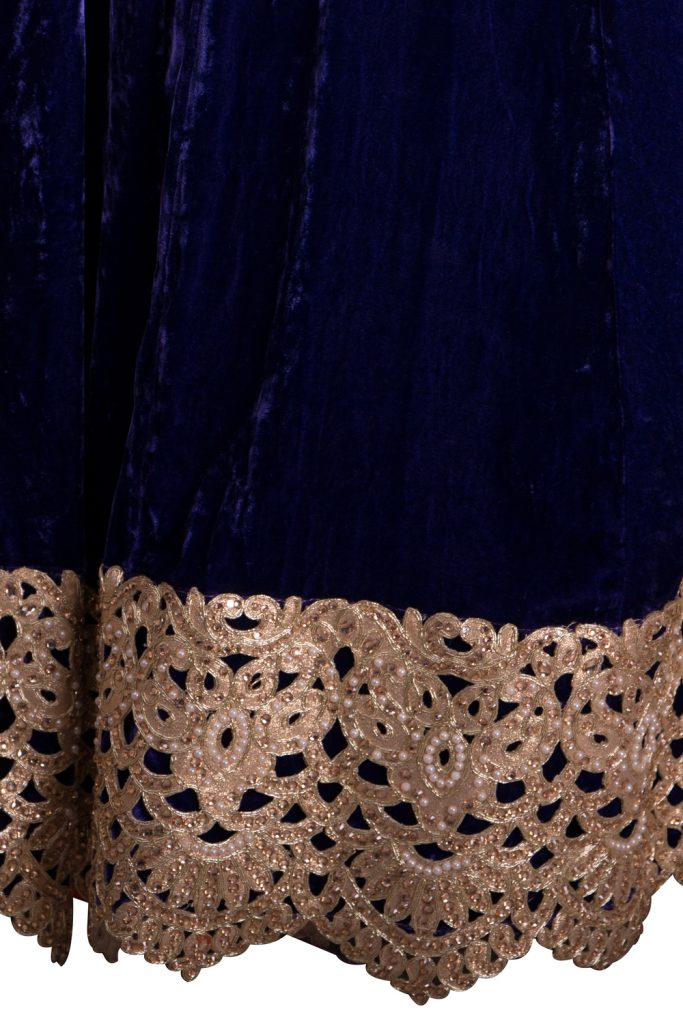 [Once you do chop off a good length of your skirt, you may be wondering what to do with the extra bit of fabric and gota patti. Never let it go to waste. Instead keep it aside and use the gota patti to perhaps enhance a simple dupatta, or cuffs.]
And there you have it, something old turned into something new.
3. A velvet palazzo, anyone?
This suggestion includes another DIY trick! Let's make the lehenga skirt into a fun pair of palazzos. Palazzos were the "it" item this summer, so get in trend for summer '17! The best part here is that you can really play around with the type of palazzo you want to make depending on how embroidered you're lehenga skirt is; if you're working with a heavily embroidered bottom, your palazzo can easily turn into a sharara to wear to your next Indian event!
Here's how to turn your skirt into a pant, easy-peasy:
Take a pair of pants from your drawer to use for measuring the length.

If your skirt is pleated, undo the pleats and lay it flat on the ground.

Take your pair of pants and fold them in half, one leg over the other. Take the skirt and fold it lengthwise, connecting the right seam to the left.

Place the pant right on top of the skirt and mark the pant line from the crotch all the way down to the ankles. Because you're making a palazzo leave a reasonable amount of space between the hemline and the entire width of the leg (this strictly depends on how loose you want the palazzo to be!).

Cut along the marked lines.

Stitch each side together, creating legs out of the skirt.
And here you have it— another wardrobe staple to rock in the new year.  
Ladies, we sure hope that we succeeded in helping you find use of everything velvet in your wardrobe! Although the DIY tips and tricks revolved strictly around how to make bottoms, there's plenty you can do to add a bit of oomph to style with this fabric!
If you're feeling super creative, try transforming your velvet piece into a blazer, a clutch, or even fun accessories like a choker. The possibilities are endless and we're sure your DIY skills, limitless!
Definitely watch this space for more DIY tips and tricks courtesy India Boulevard.
---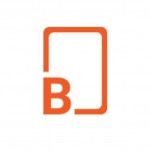 IndiaBoulevard is a curated marketplace for designer fashion. We connect customers from all over the world with a variety of designers, to make custom made outfits. We believe that every individual is unique and has a personal style. Our team combines your style inspirations with your spending preferences to customize the perfect design for you. Our mission is to make designer wear accessible to everyone everywhere.