There is no bigger foodie holiday in the U.S. than Thanksgiving. And though turkey and frankenfood versions of it (I'm looking at you, tofurkey) are the stars of the show, side dishes play important roles as a strong supporting cast. Not in my family. The sides are where we shine, leaving the turkey almost as an afterthought.
There are three sides in particular that have made their way to our yearly pantheon of beloved Thanksgiving favorites. And they do not skimp on masalas!  These family favorites are  Mirch Au Gratin Potatoes, Masala Cornbread, and Cranberry Ginger Chutney and we got all three recipes for you just in time, so you can add them to this year's menu!
MIRCH AU GRATIN POTATOES
Serves about 6 aloo-loving desis which is, like, all desis. 
Ingredients
6 Russet potatoes, peeled, cut into thin slices (about 1/8-inch rounds)
2 tablespoons unsalted butter
1/3 cup all-purpose flour
7 garlic cloves, minced
2 cups heavy cream
1 cup whole buttermilk
1 teaspoon cumin powder
1 teaspoon garam masala powder
1 teaspoon chili powder
½ teaspoon salt
¼ teaspoon black pepper
1/8 teaspoon nutmeg
1 ½ cup shredded smoked Gouda
How To Throw Down
Preheat oven to 400 degrees Fahrenheit.
Butter a 11×13 casserole dish. Tightly arrange potatoes in rows with pieces overlapping. Set aside.
Melt butter in a large pan over medium heat/flame. Add garlic and flour and cook for 1 to 2 minutes or until garlic is fragrant. Add heavy cream, buttermilk, cumin powder, garam masala powder, chili powder, salt, black pepper, and nutmeg. Whisk until combined.
Continue cooking for an additional 2 to 3 minutes until the sauce comes to a simmer (not a boil) and thickens. Whisk in Gouda and cook until melted. Remove from heat.
Evenly pour spiced cream mixture over potatoes. Cover casserole dish with aluminum foil and bake for 35 minutes. Remove foil and cook uncovered for an additional 40 minutes. Remove from oven and serve hot. 
MASALA CORNBREAD
Serves about 8 people though, I dunno, I can devour half of this myself.
Ingredients
2 cups whole buttermilk
Two 14.75 ounce cans "sweet corn cream style"
8 tablespoons (1 stick) unsalted butter, melted
2 ¼ cups all-purpose flour
2 cups yellow cornmeal
¾ cup dark brown sugar
4 teaspoons baking powder
2 teaspoons baking soda
1 teaspoon cumin powder
1 teaspoon coriander powder
1 teaspoon salt
¼ teaspoon nutmeg powder
1 bulb green onions, chopped (use green and white part)
½ cup cilantro, chopped
7 garlic pods, minced
How to Throw Down
Preheat oven to 350 F degrees.
Combine wet ingredients—buttermilk, creamed corn, and melted butter— in a bowl and stir.
In a separate bowl combine dry ingredients— flour, cornmeal, brown sugar, baking powder, baking soda, cumin powder, coriander powder, salt, and nutmeg powder— and stir.
Combine wet and dry ingredients with green onions, cilantro, and garlic and stir. Pour batter into a greased 11×13-inch baking dish. Bake for 55 minutes. Remove from oven and serve hot.
CRANBERRY GINGER CHUTNEY
Serves about 4 hangry to 6 "normal" people.
Ingredients
24 ounces cranberries
11½  fluid ounces orange juice
3/4 cup dark brown sugar
2 tablespoons grated ginger
½ teaspoon cardamom powder
¼ teaspoon nutmeg powder
¼ teaspoon cinnamon powder
2 bay leaves
1 large curry leaf
3 cloves
How to Throw Down
Put all ingredients in to pot over high heat; bring to a boil. Reduce heat to medium and simmer for 15 minutes, stirring intermittently. Remove from heat. Discard bay leaves, curry leaves, and cloves before transferring to serving dish.
To see more of Soni's original food articles and comics, visit facebook.com/sketchydesi.
---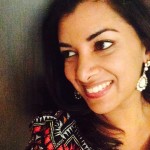 Soni Satpathy-Singh is a recipe writer and developer who resides in Manhattan. She is either always cooking or eating be it for work or simply because she loves to! She is working on her own cookbook. To see more of Sketchy Desi's work, visit facebook.com/sketchydesi/ or stay tuned for upcoming posts on Brown Girl Magazine.