Let's take a trip back in time…
The year is 1994. I was turning five-years-old. Bill Clinton is the president of the U.S. It cost about a buck for a gallon of gas and only four bucks to watch a movie in theaters. Michael Jordan has left basketball, the World Series is canceled, and the Dallas Cowboys are the Super Bowl champions. Nirvana is one of the biggest bands in music, and a young rapper by the name of Nas is releasing his debut album.
Meanwhile, in upstate New York, at Binghamton University, eight young men are turning a dream into reality.
On February 7, 1994, these men stepped forward to the world and dared to be the first for generations to come. They created the first South Asian Greek organization in the world, Iota Nu Delta Fraternity, Inc.
And what better time to create history than 1994? It was a bold time. It was a time when America challenged its people, no matter their race or creed, to step forward and claim what was theirs. The South Asian community in America was still building its identity and was often misunderstood by others. These misunderstandings built the common stereotypes South Asians are challenged with even to this day. The courage of immigrant parents leaving their lives behind to build a future for their children had gone unnoticed. But many of those parents knew something important; their children would have the opportunity to prove a South Asian's place in America. This is exactly what Iota Nu Delta's eight founding fathers dared to do.
There was no such thing as a "South Asian Fraternity" or sorority at the time. South Asian involvement in Greek life at colleges across the country was essentially non-existent. That soon changed after 1994.
Our distinguished founding fathers envisioned a family of brothers that would provide service to humanity and leadership while uplifting our culture.
But the big question remained: How could a group of eight men do this and continue to do this, forever? We began to expand the brotherhood through family and close friends, working our way from New York to Philadelphia.
This expansion gave birth to two ideas that our Fraternity lives by: The quality of the brother is more important than the quantity of brothers. Second: The Fraternity must stay a family to truly emphasize "Brotherhood Eternal." And twenty-one years later, we remain true to our founding ideas.
In the years following 1994, similar organizations arose. Those organizations grew rapidly and boasted of their growth and large membership rate. Today, they proudly gloat 2,000 – 3,000 members nationwide.
But we remained true to our identity and the vision of our founding fathers. And as for our number of initiated members: 939. This is the number of quality brothers we have worldwide.
Now, how do we continue to "keep it in the family?" No longer is only blood or close friendship a primary indicator of potential. Being a brother now means more than sharing a pre-existing bond; it means building the bond through a common journey, a common goal and a common will. No matter race or creed, people who show the potential to become a brother and uphold the fraternity's mission are welcome.
How does Iota Nu Delta find this individual?
We do not rush. We recruit. To support the idea that the quality of brothers is more important than the quantity of brothers. The fraternity strives to actively search for unique college students who show the ambition to do great things in life. Our expansion team is active all year in search of prospects at colleges and universities around the nation, who wish to bring our brotherhood to their respective campuses.
There has never been a more exciting and promising time to be a brother of Iota Nu Delta than now. The organization is experiencing its own renaissance, exploring new ideas and practices in all its fields. Completing two decades of brotherhood has been a humbling and enlightening achievement. It has allowed our leaders to return to the roots of our Fraternity's success: Setting precedents for the world in a bold and professional way.
Twenty-one years ago, I was turning five-years-old; my only responsibility was keeping my toys neat, my biggest concern was making friends at school, and my best dreams came during nap time. I did not know it then, but 21 years later and 939 brothers later – I can truly appreciate what eight young men in upstate New York were dreaming of in 1994.
To learn more about Iota Nu Delta Fraternity, Inc., visit their website, 'like' them on Facebook and follow them on Twitter. 
[divider]
About Iota Nu Delta Fraternity, Inc. 
Iota Nu Delta, the First South Asian interest fraternity, develops well-rounded men to be tomorrow's leaders–bold individuals, who strive towards the forefront of progress in our global society. First and foremost, they must uphold their core responsibilities–to Faith, Family, Academics and Career. Men of Iota Nu Delta engage in the lifelong cultivation of Mind, Body, and Soul. They come from diverse backgrounds, but each shares the bold ambition to accomplish greater things in life. In their quest, they are empowered by the resources of a national network that is built not merely by "membership in an organization," but by the unbreakable bonds of Brotherhood Eternal.
What is our mission?
Iota Nu Delta uplifts its men in their duties: to serve, to lead, and to accomplish greater things in life.
Bound by Brotherhood Eternal, we shall:
1. Cultivate lifelong academic and professional excellence.
2. Extend meaningful service to humanity and leadership in society.
3. Promote understanding of the diverse South Asian cultures.
Click here for more quick facts about Iota Nu Delta.
[divider]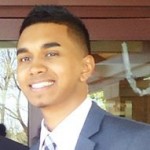 Binoy Babukutty is a 25-year-old financial analyst from Queens, New York. A graduate of Baruch College, he is also the vice president of marketing and development for Iota Nu Delta. Follow him on Twitter to get to know him better.