by Nikki Dodani
This post was originally posted on The Nikki Standard. 
Ever since I was a child, my mom would massage coconut oil into my hair and have me sit around for a couple hours or sleep with it in my hair, over night (and I'm sure I'm not the only Brown Girl who's experienced this).  Lo and behold, after a thorough rinse, my hair would not only be soft and shiny, but my scalp would be dandruff-free as well; and of course, the best results for last— I would walk out with less of a frizzy mane at the end of this natural treatment!
I constantly have to take the time to revitalize my hair with coconut oil because of the amount of heat styling and dyeing it goes through. Not only does coconut oil naturally restore my hair, but it also adds moisture to my skin. Coconut oil can be absorbed naturally in a number of ways to help our bodies. With the lessons handed down from my family, and personal experimentations, I've listed numerous ways coconut oil has changed my life.  Try these hacks out and let me know what you think, or if you have any other ways you've used this natural product!
1. Skin moisturizer
Applying coconut oil onto skin can heal irritations, dry and dark elbows, and simply overall moisturize.
2. Face moisturizer
While we're lead to believe that spending hundreds of dollars on brand name face moisturizers are worth the cause, I suggest you pocket that money and invest in coconut oil.  Applying a small amount to your face won't clog pores, will treat dry skin, and add that natural glow.
3. Repair Cuticles
No need to buy cuticle creams or nail oils, coconut oil will do the trick.
4. Eye Cream
Simply apply a small drop and rub it around the corners of your eyes.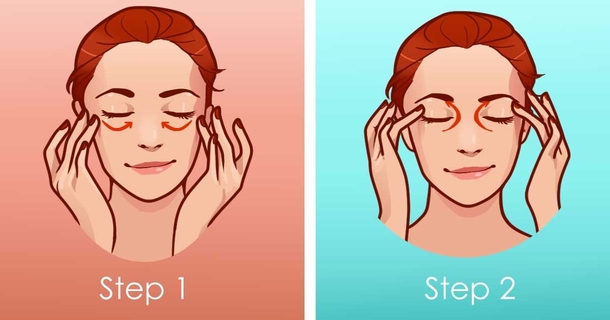 [Photo courtesy: lovethispic.com.]
5. Bath Soak
Bath oils are used so commonly, but you don't have to purchase oil bars, or perfume oils to get the same experience.
6. Eye Makeup Remover
Whether you're out of eye makeup remover or trying to cut back on beauty buys, pour some coconut oil on a cotton ball or pad and voila, eyes are makeup-free. Yup, even that pesky waterproof mascara.
7. Prevent Stretch Marks
Pregnant or not, stretch marks are no friends of ours! Rub coconut oil plain, or mixed with lotion or vitamin E, to areas prone to stretch marks.
8. Body Scrub
A big winner in my books! Coconut oil mixed with equal parts sugar will be a wallet-friendly and effective body scrub for daily use. Coconut oil will be easy on your skin while the sugar helps buff away that dryness or ingrowns.
9. Lip Moisturizer
Chapstick can become addictive and inevitably dry lips out even more if you stop using it, so use something more natural to keep those lips plump and glossy. (No need for the Kylie lipkit right?! Well, maybe not).
10. Topically
This is great for any rashes, cuts, burns, and insect bites.  Coconut oil contains antibacterial and antioxidant elements that help soothe skin, as well as reduce inflammation. Use a generous amount of coconut oil where you're prone to eczema. This natural remedy will reduce redness, inflammation, and itchiness due to the oil absorption via skin tissues.
11. Heal Broken Skin
Just like that of its topical healing properties, coconut oil helps to strengthen skin tissue.
12. Shaving Cream Alternative
Certain shaving creams can actually dry out your skin because of their ingredients.  Pour some coconut oil on to your legs and you'll get the same hairless results, but with shinier, healthier looking legs.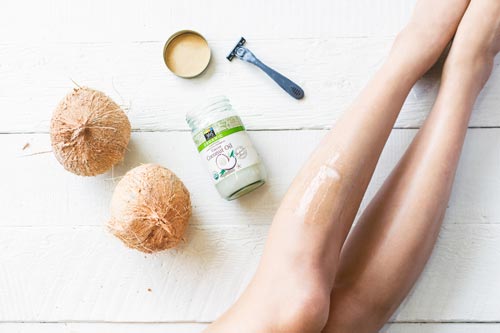 [Photo courtesy: Heart Bows & Makeup.]
13. Aftershave
Shaving can be harsh on skin, thus causing redness, razor burns, ingrowns, or cuts.  Calm the skin by rubbing on coconut oil after your shower.  Instead of towel drying your legs let the water and oil be absorbed and dry naturally.  This will add moisture and shine to those stems.  You can even mix it with lotion for those with extra dry skin.
14. Intensive Deep Conditioner and Hair Growth Stimulation*
This is a personal favorite of mine, and so a treatment I do weekly.  Massage coconut oil into the scalp and throughout your hair and sit for however long you can.  Massaging the scalp stimulates hair growth, or you can use hairguard, while the coconut oil on the scalp takes care of dryness that causes dandruff.  Soaking the hair with oil allows for absorption, which softens damaged hair and adds shine. In other words, this makes for a great intensive at-home deep condition.
[Photo courtesy: Marico.]
*Pro-Tip: The longer it's in your hair, the better. I prefer to sleep with the oil overnight and rinse in the morning. If you choose to do this, wrap your hair into a loose bun, wear a shower cap if comfortable, or place a towel over your pillow cover.
15. Split Ends
While coconut oil won't fix split ends, it will be a temporary solution. Run coconut oil through the ends of your hair to prevent further breakage and to add back some shine.
16. De-Frizz*
Fly-aways are a ladies foe. Battle those stray hairs with my trusted friend, coconut oil.  You can dab those hairs directly or pour coconut oil into a spray bottle and spritz over your hair.
*Pro-Tip: By adding water to the spray bottle, it will dilute the oil so that your hair doesn't get weighed down or look oily throughout the day, especially for those with fine hair.
17. Dry Skin on the Bottom of Feet
Just like the body scrub, mixed with equal parts salt, you can skip a few salon visits.  Use a pumice stone to buff away those calluses and patchy areas.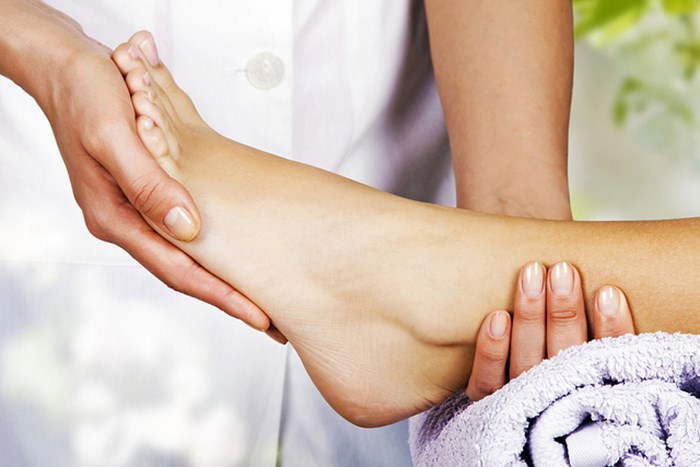 [Photo courtesy: Lucy Bee.]
---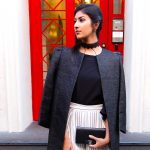 Nikki is an NYC-based blogger sharing tips, tricks, and trends with a side of sass and sarcasm. She is inspired by her Indian roots, showcasing a cross-cultural blend in her personality and style. Nikki aims to bring originality and a dash of audacity into her readers' wardrobes, giving them the courage to pull off any look. She hopes The Nikki Standard becomes a guide for all her readers to create and elevate their own style standard.