Seventeen years ago today, Hrithik Roshan and Ameesha Patel (playing Sonia Saxena) catapulted to superstardom with the release of the blockbuster hit "Kaho Naa… Pyaar Hai," which was the highest grossing Bollywood film of 2000.
While the former actor has achieved far more success and popularity in Bollywood since then, we can never forget the undeniable chemistry between Roshan and Patel, the unexpected yet pleasant surprise of seeing Roshan in a double role as Rohit/Raj Chopra, and the iconic dance moves that we still never hesitate to break into at desi parties today. Let's take a walk down memory lane and revisit the 17 best moments of the Rakesh Roshan-directed film (warning, spoilers ahead)!
1. The Opening Scene: The God that is Hrithik Roshan is Revealed for the First Time
Who can forget the first time you saw Roshan turn around to the "Heyyyyy heyyyyy…" music and felt as if his beautiful green eyes were piercing your soul?! At this moment, there was no question that you were about to enjoy a heartbreaker with an undeniable screen presence for the next three hours. *swoon*
2. The Heartwarming Chemistry Between Rohit and Amit
Even though Abhishek Sharma as Amit, played Roshan's little brother in the film, and had a minor role in the film, the relationship they shared formed a crucial detail in the plot line of the movie.
3. Ameesha Patel's Debut Scene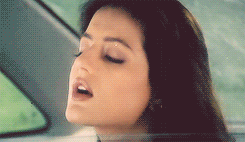 [Image Source: Rozaana/Tumblr; Filmkraft Productions]
Patel gave us serious hair goals when she flipped her luscious locks that caught Roshan's attention the first time he sees her. We're not really sure about the fashion sense and accessorizing with the gold sticker, though. Nevertheless, this scene and instant connection between Patel's and Roshan's characters got us rooting and hoping for their love to blossom.
4. Hrithik's Dancing Debut in "Chaand Sitaare"
The first full-length song and dance number in the film, "Chaand Sitare" got us all wishing we were the ones being serenaded by Roshan's dancing and sweet lip-syncing to Kumar Sanu's beautiful voice, telling us that we're perfect just the way we are. #goals
5. Falling "Deeper" in Love in "Pyaar Ki Kashti Mein"
Fortunately for us, the movie doesn't get very far without another song and dance for our viewing pleasure.
6. Hrithik's Cute Magic Trick Scene
Roshan shows off his charming innocence as Rohit during this comedic scene in the movie and reinforces why he becomes India's sweetheart after the film.
7. Rohit tries to Save Sonia's life When They're Stranded and Declares his Love, Which Leads to…
8…"Kaho Naa Pyaar Hai"
9. Commentary on Social Class Structure in India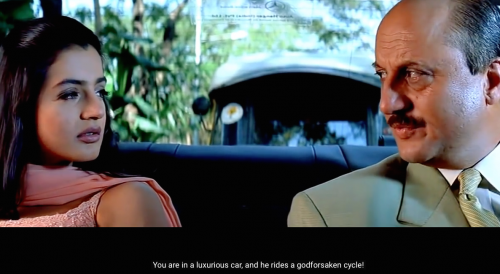 Like many Bollywood movies, the main reason why the lovers in the film can't be together is because they come from different socioeconomic classes. At this pivotal moment when Sonia chooses Rohit over her father (played by Anupam Kher), the film makes a powerful statement of how differentiating between people based on wealth is truly just a mental and social construct.
10. "Ek Pal Ka Jeena"
Few can argue that "Ek Pal Ka Jeena" is one of Roshan's most iconic dances of all time. Although we got a taste of his dancing skills earlier in the film, the mysterious and sensual portrayal of Raj Chopra in this dance number has made millions of people go crazy and attempt to mimic Roshan's signature "gas pedal" move.
11. "Na Tum Jaano Na Hum"
12. The Moustache Prank
The silent Sikh child from "Kuch Kuch Hota Hai" (Parzaan Dastur) made his big screen return in this film by playing a prank on his mother using a fake mustache that Raj wears to disguise himself in front of Sonia. Too cute!
13. Johnny Lever's Comedy Scene
You know you're going to let out a few laughs when you see Johnny Lever on screen. Lever's special appearance as Inspector Parab in the movie, to provide some comedic relief at a climatic moment, certainly doesn't disappoint! Check out his brief scene above.
14. The Biggest Shocker…This was Secretly Kareena Kapoor Khan's Debut, too!
Yes, you read that right! Kapoor was supposed to play Patel's role until she backed out of the project, but until not after filming a few scenes. In fact, the production team accidentally kept a scene that she shot in the final movie, seen below!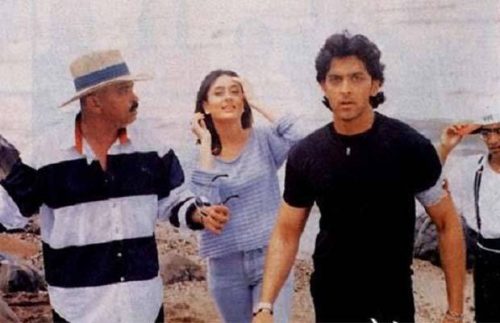 [Image Source: India Today/Filmkraft Productions]
In the frame immediately after, you can see Patel wearing similar clothing, but it's evident that this is Kapoor instead. Whoops!
15. Amit is Reunited with his "Brother"
After thinking his brother Rohit has come back to life, Amit confides in Raj about what happened on the night of Rohit's accident and provides some crucial information that carries the plot forward for the rest of the film. Seeing Amit in such a shocked state was heartbreaking, and this moment pulls at your heartstrings when you see just how much Amit missed his brother when he was gone.
16. "Dil Ne Dil Ko Pukara"
A final dance number with Roshan wearing a sparkly t-shirt and shiny pants? Yes, please!
17. Happily Ever After
Of course, Sonia realizes that she loves Raj, her knight in shining armor, and all is right at the end. Perfection.
What was your favorite part of "Kaho Naa…Pyaar Hai"? Let us know in the comments below!
[All Images (unless specified) Courtesy of Screenshot/Filmkraft Productions]
---
Tina Lapsia is a graduate of the University of Connecticut and studied political science and economics with a minor in Spanish. She is passionate about politics, feminism, and women's rights, and wrote her senior thesis on the impact of the 2012 Delhi gang rape case in India. Tina is a fervent Bollywood fan and dance enthusiast; when she's not listening to Hindi music, you can find her dancing to it. She aspires to have a career in public service in the future.