by Ashni Mehta
Zoya Akhtar's latest film, "Dil Dhadakne Do," which stars Priyanka Chopra, Ranveer Singh, Farhan Akhtar, Anushka Sharma, Anil Kapoor and Shefali Shah, made quite a splash at the box office. And no, that is not only because of the movie's drool-worthy star cast and upbeat dance numbers.
"Dil Dhadakne Do" follows the wealthy, yet extremely dysfunctional Mehra family as they embark on a 10-day cruise with their friends and family. Throughout the film, Akhtar explores the intricacies of relationships within Indian society and more specifically tackles the issue of gender inequality in Indian culture. The hilarious dialogue throughout the movie calls attention to the hypocrisies and double standards females face on a daily basis, many of which go unnoticed.
Here are 13 times "Dil Dhadakne Do" perfectly highlights Indian society's inadvertent sexist attitude towards women:
1. Ayesha's name is not on the invitation card even though she had planned the entire cruise, this is due to the fact that she is married and her last name is no longer Mehra.
Because once a woman gets married she is forced to give up the family she was raised in.
2. Ayesha's mother-in-law makes snide, under the table remarks about Ayesha talking about business at the dinner table as she feels it is inappropriate for women to discuss matters of business.
Because a woman's only job should be to manage the household.
3. Kabir often expresses that he does not feel like he should take over the family business. Kamal and Shefali always respond by saying, "if you don't who will?"  As if they don't even have another, clearly more qualified, child.
Because a daughter can never be capable of taking over the family business.
4. Noorie Sood's family is made a joke of because her fiancé left her at the altar for another woman, and she was having difficulty finding someone else to marry. But her fiancé, who is actually to blame for breaking off their engagement, received essentially no blow back. Her own mother even blames her.
Because no matter what happens in a relationship, it is always the woman's fault, and only she will be disgraced.
5. A family friend recognized that Ayesha was listed in Forbes' Top Ten Entrepreneurs list. Instead of taking pride in his daughter's achievement Kamal brushes off her success and says "next year it will be my son's name in the magazine."
Because when a daughter is ranked in a prestigious list, it doesn't really count.
6. Kamal publicly announces that all he wants is for Ayesha to give him a grandson in front of all of their friends and family.
Because a woman's only responsibility is to get married and provide grandsons (not granddaughters).
7. While one parent comments that her daughter's clothes are not revealing enough, another parent comments that her daughter is not covered up enough. At one point, one mother comments on her daughter's attire by saying she looks like a mess. And her daughter's younger sister sarcastically remarks (trying to verbalize her mother's thoughts) if you don't get all dressed up, how will you be able to trap a guy? At this age, that's all you're supposed to do.
Because a guy falling in love with you is dependent on whether or not you are wearing a jacket over your dress.
8. Ayesha tries to talk to her mother about her marital problems and her mother's response was simply to give up her career and start focusing on her family.
Because you can't possibly be a female, have a career and a happy marriage all at the same time.
9. When discussing satisfaction in a relationship, Ayesha's mother said she will never have a lack of things. Ayesha remarks if that's what will make me happy, why didn't you just get me married to a shopping mall? (Also completely disregarding the fact that she can buy anything she wants on her own.)
Because the only thing a wife wants from her husband are material possessions.
10. Pluto, the Mehra's dog who narrates the entire film, even points out that if a guy dates a girl the family is happy about it, but if a girl is dating a guy, it ruins the reputation of the family.
Because….well, double standards are just a normal part of society.
11. When discussing women's right with Sunny, who is a journalist, Ayesha's husband uses his family as an example of a family that is progressive. He even goes as far as to say that he allows Ayesha to run a business. Sunny argues that Ayesha does not need Manav's permission to run a business. The essence of allowing someone to do something entails that you have some authority or control over them.
Because a wife should always ask her husband for permission to do, well, anything, right?
12. When Ayesha finally tells Manav and her family that she wants a divorce, they suggest that having a baby will solve all their marital problems. Then they tell her that if she gets a divorce, she will no longer be welcome in her parents' house.
Because it is solely the woman's responsibility to make the marriage work.
13. Ayesha herself is not proud of her achievements. She says no one except for Jamal Uncle cares what she does with her company, and all anyone cares about is her having a baby. Later on in the movie, she has a cathartic moment when Sunny recognizes her as a self-made woman that started her business by selling her jewelry. It took her until that point in the movie to take pride in her own success and understand that she deserves the same recognition as a man in her position.
Because a woman does not deserve to take pride in her life's work unless it involves raising children.
"Dil Dhadakne Do" approaches the controversial role of women in Indian society with intelligence, wit and amusing rhetoric, and successfully drives its point across while still enabling its audience to relate to the film.
---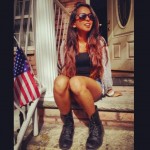 Ashni Mehta graduated from St. John's University with a degree in Psychology. Currently, she is the Community Manager at Corporate Suites Business Centers, as well as a professional Bollywood dancer with Sonalee Vyas Dance Company (SVDC). She is a passionate aerial yogini and a self-proclaimed foodie. During her free time, you'll find her eating and laughing her way through NYC.