by Prachi Jain
Some want to talk ill about feminism but we promise, it really is less controversial than it seems. All it does is call for an equality of gender in social, cultural, economic and political order of a society.
And we can't lie, 2015 shaped up to be a pretty good year for us, feminists (and this includes feminist men!). From not having a proud legacy of gender equality to the unfettered spirit of feminism spreading across the entire South Asian diaspora, this is just the badass attitude we need before ringing in the new year.
So, we compiled a list to show exactly how badass feminists got this year. Read and share! 
1. Run, Kiran, Run!
Period shaming has been prevalent in South Asian societies, where women don't have access to sanitary pads and discussions about periods are taboo, Kiran Gandhi, a Harvard Business School graduate, ran the London marathon with period blood dripping down her legs. 
"I ran with blood dripping down my legs for sisters who don't have access to tampons and sisters who, despite cramping and pain, hide it away and pretend like it doesn't exist. I ran to say, it does exist, and we overcome it every day."
As Gandhi's period began on the day of the marathon, she said she made the decision to avoid the discomfort of a tampon and ran whilst bleeding freely.
Gandhi wrote a blog post analysing her decision and stated:
"A marathon in itself is a centuries old symbolic act, Gandhi wrote. "Why not use it as a means to draw light to my sisters who don't have access to tampons and, despite cramping and pain, hide it away like it doesn't exist?"
"Why I ran a marathon on my period without a tampon" by @MadameGandhihttp://t.co/b0ataYsqaV

— Victoria Derbyshire (@VictoriaLIVE) August 12, 2015
2. Kirron Kher Knows How to Shut Em' Up
Speaking on the controversy about Leslie Udwin's infamous documentary, "India's Daughter," which captured the harsh reality of Jyoti SIngh's 2012 gang rape, Chandigarh MP Kirron Kher didn't mince words at Lok Sabha. She vehemently stated it's the mindset of people that cause rape, not the clothes women wear. 
"We have to tackle this problem right from the grassroots where the mindset becomes such that you insult women. You do not understand that the right to their bodies, to give consent is theirs. It cannot be allocated to somebody else."
3. Bollywood Finally Sheds Its Size-Obsessed Stereotypes
"Dum Laga Ke Haiysha" must be hailed for shedding Bollywood's size-obsessed stereotypes and proving that all women are deserving of love, no matter how they look. Bhumi Pednekar plays Sandhya, a plus-sized woman, who falls for her husband from an arranged marriage but smartly realizes she does not deserve to stay in a relationship where she is disrespected for something so trivial as her weight.
4. A Woman's "Condition" Should Come Never in the Way
Being pregnant is no reflection on the quality of work a woman can do. Anouk, an Indian clothing brand, creates a hard-hitting short film depicting a pregnant woman, Shaheen, a brilliant architect, who confronts her boss when her "handicapped condition" (a.k.a baby bump) comes in the way of her promotion. Watch the video above to see how she showed her boss who's the real boss. 
5. Cue Beyonce: "Who run the world?! GIRLS!"
Imagine a world run by women? Well, that actually happens in "Man's World." Produced by YFilms, the mini-series shows Kiran, a man who believes the world is really unfair to men. Fed up, he prays for a parallel universe in which women and men interchange places. And before you know it, he wakes up in a world run by women.
Although the series exaggerates and agonizes over Kiran's situation on being a 'poor' man in a woman's world, it ends with a message about gender equality.
6. India's First Female Buddy Film Takes the World for a Spin
2015's "Angry Indian Goddesses" rightfully placed second in the People's Choice Award category at the Toronto International Film Festival for its portrayal of the strong female spirit. The film begins with a young woman calling for a reunion of her group of girlfriends to announce her upcoming wedding. What follows is a beautiful and honest tale of female friendship, hardship and the everyday lives of women that all film industries need to embrace, not just Bollywood.
7. The Time Anushka Sharma Got Real About Bollywood's Double-Standard
We love new-age Bollywood actress Anushka Sharma for many reasons, but most of all, we admire her unapologetic way of standing up for women. When the outspoken 27-year-old was questioned by film critic Anupama Chopra on sexism, the wage gap, and the need for actresses to be "young and desirable" in the industry, Anushka did not shy away.
Men can work as long as they want to, even when they've aged. They're still amazing and cool, and I have no problem with that. But why is that women are only okay till they are "young and desirable"? So desirable means what? There's a sexual connotation attached. So we are looking at women in that way in films only.
8. Kangana Ranaut Doesn't Need a Fairness Cream Cuz' she's the Queen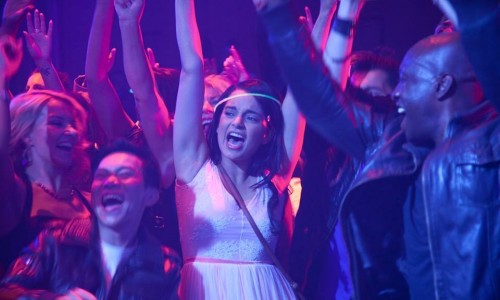 To  reject a high paying endorsement for a fairness cream takes a lot of courage. But the "Queen" actress, Kangana Ranaut, did not care about the Rs. 2 crores fairness cream brand endorsement, instead, she publically ridiculed the need for a fairness cream.
"Ever since I was a kid, I have never understood the concept of fairness. Especially, in such a case, as a celebrity, what kind of an example would I be setting for younger people? I have no regrets about turning this offer down. As a public figure, I have responsibilities," Kangana said to the Hindustan Times in May."
9. Girl-on-Girl Hate Gotta Go
IISuperwomanII aka Lilly Singh, our true love, makes it to this year's list for recently starting the ?#?GirlLove? campaign! The social media campaign, which has sparked thousands of positive Tweets from many of Superwoman's celebrity friends include Shay Mitchell, is all about getting rid of girl-on-girl hate foreva.' Show your #GirlLove for Superwoman by Tweeting her our story!
10. Don't Tell me When to Get Married
Bollywood Actress Katrina Kaif stars in Titan Raga's latest media campaign #WillKatrinaSayYes to highlight all of the different ways South Asian society places immense pressure on young females to get married. No one got time for that. We're too busy making moves.
11. We Need More MARD Like Farhan Akhtar
In March, Bollywood actor-filmmaker-singer Farhan Akhtar spoke at the United Nations in front of a room full of virtually all females about "Men Against Rape and Discrimination," or MARD, a social campaign he launched two years in India "to make people think more positively" and work toward women's empowerment in India and the need to end gender inequality.
Last year, Akhtar was appointed as a Goodwill Ambassador for UN Women, the UN Entity for Gender Equality and the Empowerment of Women, and being the first man to take on such a role for UN Women is a huge step in the right direction.
"There was a time where you didn't hear about what was going on in people's homes," he said. "Women were afraid to talk about if they were the victims of rape. More often than not stigma of rape attached to the victim than to the perpetrator. I think those things have changed. A lot of women have a lot more courage to speak about what's happening with them."
So, there you have it! Our top 11 South Asian feminist moments of the year! Don't be shy, share it with your friends! Happy celebrating! xo