We have the ultimate list of "old-is-gold" hits and some recent songs that will go down in history as Bollywood classics. Let's kick off our list with a typical Bollywood romance setting.
Best Bollywood dancing in the rain songs:
These songs are full of enthusiasm and despite the downpour,  the Bollywood stars aptly express their emotion of whimsical LOVE and DREAMS!
1. "Mere Khwabon Mein Jo Aaye" — "Diwali Dulhania Le Jayenge" (1995)
2. "Koi Ladki Hai" — "Dil To Pagal Hai" (1997)
Best summer love songs:
Moving on to some tunes you could bop your head to while you are thinking of your summer romance.
These songs confess love for each other in the most romantic ways! The classics, like "Kutch Kuch Hota Hai" never get old and express every emotion of newly found love with beautiful scenery–of course!
3. "You are my Soniye"– "Kabhi Khushi Kabhi Gham" (2001)
4. "

Ooh La La Tu Hai Meri Fantasy" –

– "Dirty Picture" (2011)
5. "Kuch Kuch Hota Hai" – "Kuch Kuch Hota Hai" (1998)
Best Bollywood Summer Beach Songs:
What else do we love about the summer time? Oh yeah, trips to the beach!
The scenes in these Bollywood movies are simply breathtaking. During those hot months of the summer, there is one place we would all like to be 24/7– the beach! These songs with the beach as their backdrop take us to paradise and allow us to fantasize about our own special beach romances.
6. "Kaho Na Pyaar Hai" — "Kaho Na Pyaar Hai" (2000)
7. "Tauba Tumhare" — "Chalte Chalte" (2003)
Best Summer Wedding Jams:
Summer time equals wedding time, and who throws a better wedding then Bollywood?
If you have attended a wedding this summer, it is almost a guarantee that one of the performances included these two songs. if not, there were defiantly played a couple times as you jammed out on the dance floor!
8. "Dilli Wali Girlfriend"– "Yeh Jawani Hai Deewani" (2013)
9.  "Ainvayi Ainvayi" — "Band Baaja Baarat" (2010)
10. "Chane Ke Khet Mein"- "Anjaam" (1994)
Taking it back to what use to be the "go to dance number" for weddings!
11. "Baby Doll" — "Ragini MMS" 2 (2014)
Lastly, the hottest Bollywood song of Summer 2014!
[divider]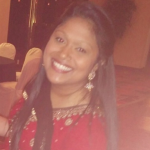 Subrina Singh is a passionate young writer. After completing her degree in all things Indian at Stony Brook University, she is now pursuing her Master's Degree at Columbia University. More recently, she has become committed to using her experience with mental illness to help better the mental-health awareness within the South Asian community. Subrina enjoys writing, reading and drinking Starbuck's Passion Tea Lemonade while singing Bollywood hits of the Golden Era. Follow Subrina on Twitter for her reactions to Pretty Little Liars every Tuesday night!